The Right Place at the Right Time
"I have observed something else under the sun. The fastest runner doesn't always win the race, and the strongest warrior doesn't always win the battle. The wise sometimes go hungry, and the skillful are not necessarily wealthy. And those who are educated don't always lead successful lives. It is all decided by chance, by being in the right place at the right time."
-
Ecclesiastes 9:11 NLT
If you carefully and thoughtfully read the verses above penned by King Solomon, they can either make you rejoice or get depressed. Here, he says that being the fastest or the strongest won't necessarily make you a winner. And being highly educated or skilled won't guarantee that you will be successful or prosperous.
I take great comfort in the fact that Solomon ends this verse by concluding, "It is all decided by chance, by being in the right place at the right time." Why do I find this comforting? Because I have gotten in the habit of praying daily, "Lord, please make sure that I am always in the right place at the right time." I know that God sees the big picture, while I only see a snapshot. Scripture says that the Lord knows the end from the beginning, and He is ultimately in control. (Isaiah 46:9-10 AMP)
To this day, I still marvel over the fact that more than 45 years ago, God lined up countless circumstances and people so that my husband, Joe, and I could meet in the same class at the same college, at just the right time. Then, God orchestrated our move to Nazareth, Pennsylvania, when our children were school age so that our oldest son could launch the first successful Bible Club at his public high school, and so that both of our sons could meet their future wives. There were times when Joe and I felt as though we were victims of our circumstances, but the truth was that God was directing our steps, and causing us to be in the right place at the right time, so that we could fulfill our divine destinies.
The best thing that you and I can do each day is to obey God's Word which says, "Trust in the Lord with all your heart; do not depend on your own understanding. Seek His will in all you do, and He will show you which path to take." (Proverbs 3:5-6 NLT) In other words, if we will get up each day asking and trusting the Lord to direct our steps, He will make sure that we are always in the right place at the right time. Then, our provision, protection, and success are guaranteed by God Himself!
Prayer: Lord, I thank You that because I belong to You, You are ordering my steps and directing my paths. Remind me often that it is not my abilities, gifts, or talents that will ensure my success, but You causing me to be in the right place at the right time. When I am feeling as though I am a victim of my circumstances, readjust my focus, and help me to see things from Your perspective. Thank You for leading me along the paths of Your greatest blessings all the rest of my days!
-
J. M. Farro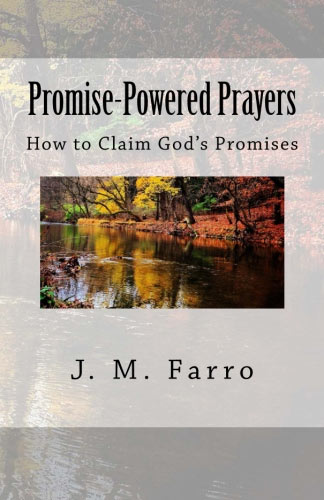 Promise-Powered Prayers Paperback Book

**To order J. M. Farro devotional books on ETSY.com using a credit card, PayPal, or Etsy gift card, Click Here. Books sold through ETSY can be signed and personalized by the author at your request. To place an order on Amazon.com, Click Here.
Full List of Devotionals
The devotionals aren't just limited to weekly! All previously featured devotionals are archived here for your convenience and easy access.
Click here
to view many more archived, Spirit-filled devotionals about everyday situations written by J.M. Farro!
Connect with J.M. Farro

*To place an order for J.M.Farro's books on Amazon.com,
Click Here
.
*Subscribe to
J.M. Farro
's FREE audio Podcast via
RSS
*
Follow
J. M. Farro on
Twitter
!
*Visit her
official website
at
JMFarro.com
!
*Send any questions or comments you may have to
J.M. Farro
via our
Contact Form
!