Mitch Langley
Break These Walls Down

Street Date: January 18, 2015
Style: Contemporary / Worship
Artist Website: MitchLangley.com

Mitch Langley was featured on JFH a little over a year ago with his debut, Grace Defines Me. His sound was reminiscent of contemporary artists without being a copycat. But can he keep that up with his latest release, Break These Walls Down? Spoiler alert: he sure can.

"No One Like Our God," opens the album up, for lack of a better word, epically. The drums have an almost war-like rhythm without being over the top. Lyrically, it's not breaking new ground, but musically it is a strong opener that sets the tone for the rest of the album. "There's Power In the Name" gives listeners a more methodical experience as Langley sings of God's faithfulness; it is matched perfectly with the tender instrumentation. Melodically, it is easy to sing along to while not feeling like last week's music.

"Revolutionary" returns to that epic sound, but this time is matched with passionate piano. Langley's call for us to carry our cross is done graciously and all of the while pointing to Christ's work rather than the believers. "Grace Oh Grace" continues this feeling with a more light-hearted feeling, which gives the album some excellent dynamic.

The title track gives listeners a beautiful acoustic breath of fresh air, complemented with light cello. Langley's sound on this song is reminiscent of Mark Schultz, but with less story-driven lyrics. This track could easily be on any CCM radio station and wouldn't feel lost in the abyss of pop songs. "My Hope Lies In You" and "Risen King" continue with the acoustic sound, albeit layered with synths, the return of the aggressive drums, and guest vocals that fit well with Langley's sound. The latter track is actually led by someone other than Langley himself, which speaks volumes about him as an artist. This album isn't about Mitch Langley, it's about our good King.

"When I First Believed" is truly one of the sweetest moments on the album as it has a folky sound that has more of a story to it. Lyrically, it speaks of Christ's complete work as he sings, "In that moment when I had first believed, your love restored my soul. When I trusted in amazing grace, you made me pure and whole." A fantastic truth to sing about; Christ's work is not incomplete but is finished from the start.

The album closes with the poised cover "In Christ Alone." It stays close to Stuart Townend's original melody, but is very much Langley's own rendition. His arrangement could definitely be sung by any church but is really special with his additional vocal interludes. It's a strong conclusion to a solid album.

The only complaint that I have with this release is Langley's cover of "This Is Amazing Grace." I am of the persuasion that feels that a modern song shouldn't be covered unless the intention is to reconstruct it. Unfortunately, this doesn't feel too different from the original, and sadly doesn't improve upon it. It is a decent cover, but it doesn't really add to the quality of the album. Nevertheless, this album is as solid as a rock.

Mitch Langley is truly making a name for himself, but it's very obvious that that isn't the point. From start to finish, Break These Walls Down has a very humble feeling to it, all the while giving the listener a high-quality album. This release could undoubtedly compete with any CCM veteran. While some artists may suffer the pain of a sophomore slump, thankfully Mr. Langley doesn't have to.

- Review date: 1/25/15, written by Ryan Barbee of Jesusfreakhideout.com


Record Label: None


Album length: 10 tracks: 42 minutes, 15 seconds


Street Date: January 18, 2015


Buy It:
iTunes

Download It:
AmazonMP3
No One Like You God (4:11)
Power in the Name (4:17)
This Is Amazing Grace (4:32)
Revolutionary (3:46)
Grace Oh Grace (3:30)
Break These Walls Down (4:44)
My Hope Lies in You (4:50)
Risen King (4:38)
When I First Believed (3:01)
In Christ Alone (4:46)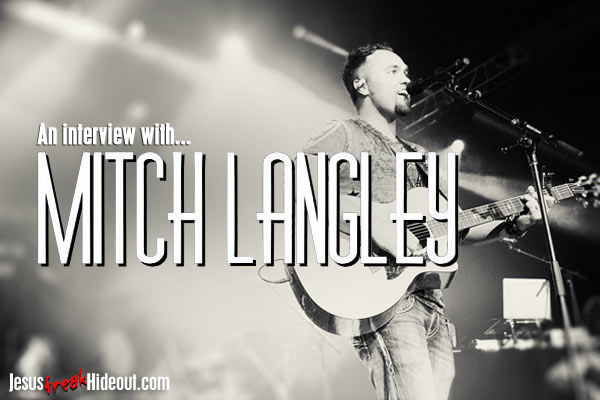 Jesus freak Hideout (Ryan Barbee): Awesome album, Mitch! It wasn't that long ago that I reviewed your last album. What's the inspiration behind this release?
Mitch Langley: Thanks Ryan! Well, the inspiration for this release is really out of growing, wrestling, and trying to understand more about God's grace and love. I believe the message we deliver to this broken and confused world is vital. As a Christian, I have been getting more and more clarity of what my role is as a messenger and presenting salvation through Jesus as a free gift for anyone to receive.

A few of the songs are based off of this amazing concept that the "work" required for salvation is already done through the death, burial, and resurrection of Jesus Christ. Our role is to trust in that and not trust in our own human efforts or merits. I hope the lyrics of these songs provide the clarity necessary to not only hear His truth but be transformed by it.
JFH (Ryan): It sounds like you're trying out a few different styles on this album. Was that the goal?
Mitch: Well, when I set out to write a song, I don't necessarily think about the whole CD and that specific song fitting into a certain style or genre of music. The goal is to write the song God puts on my heart the best way I can. But as I wrote 2-3 new songs, I started thinking about the message God was showing me and what I was learning. The two covers ("This is Amazing Grace," "In Christ Alone") on the CD were impacting lives at the church, so I added those 2 along with the originals. "When I First Believed" has more of a country feel, along with a couple rocking songs and a few ballads too. So it is pretty wide spread in style and that makes for an interesting record!
JFH (Ryan): Once again, your production quality is fantastic! Did you work with the same crew from the last album? Also, was the recording process any different from the last time?
Mitch: Thanks! But no, I didn't get to work with Brian Hitt and his crew this time. They did a phenomenal job on the last record. But I stayed local this time and worked with producers Jim Barnes and Isaac Flynn in Lawrence, KS. They tracked and mixed the record and did a stellar job as well. The process was completely different as I didn't go to Nashville and I had more time each week to work in the local studio and really focus in on what the songs needed. Even though the budget wasn't near as big as the last project, I believe we accomplished what we set out to do: produce a record that brings people to Jesus and gives Him the glory that only He deserves!
JFH (Ryan): I saw on your bio that you have 4 kids! SO AWESOME! How do you manage being a husband, father, pastor, artist, etc? (Don't worry… we know you're not Superman… it's just great to get some perspective.)
Mitch: Haha!!! Man, if you asked my wife she would definitely give you the true answer! :)

Honestly, I end up falling short in balancing all of these amazing blessings. But His grace always sustains me and gives me the strength to lead my wife the best I can, raise my boys the best I can, and be an effective worship pastor. It is a ton of work, but when I rest in the work Jesus did at Calvary, and know He loves me as a son, it makes things easier. I have a very supportive wife and family in the area and that always helps too!
JFH (Ryan): If I were to look at your iPhone/iPod/whatever Android calls their phones… what artists/albums would I see you've been listening to lately?
Mitch: Jeremy Camp, Big Daddy Weave, Elevation Worship, Lauren Daigle, Kari Jobe, Chris August
JFH (Ryan): As a worship pastor, if you could give worship leaders some good advice, what would it be?
Mitch: Stay true to who God made you to be. Focus on His attributes and share those with the world. Try not to just be a great leader on stage, but be an even greater leader when no one is looking. Stay humble and don't lose hope when things don't go your way as being on the front lines in ministry is no easy task.
JFH (Ryan): Alright man… time for a fun question… if you could go on tour with any artist/band, who would it be with and why?
Mitch: The new "offerings" tour with Big Daddy Weave. Love His heart and passion for God.