Tweito
Moving Mountains/Skipping Stones

Album length: 7 tracks
Style: Indie / Americana
Street Date: October 23, 2013
Official Site: Noisetrade

Occasionally, you come across an aspiring artist that is bringing something fresh yet approachable to the table. Sadly, it doesn't happen as often as you might think, but in the case of newcomer Tweito, it most definitely is the case. With a dash of Americana and indie flair, their latest release, Moving Mountains/Skipping Stones, is a musical endeavor of immense proportions.

The album opens with the musically lighthearted, yet lyrically deep, "Skipping Stones," as Justin Tweito sings about the light of Christ opening the eyes of the blind, physically and spiritually. The music is progressive and Tweito's vocals are reminiscent of indie artists like Rooney, Dustin Ruth, and Franz Ferdinand. "Drive All Day" continues this upbeat groove, but with a ballad twist. It's easy listening music to share with the ones you love.

"Artery" introduces the softer and darker side of Tweito. It's a very introspective look at the human condition of depravity accompanied by a beautiful piano arrangement. In response to this darkness is "Joy (The Verge of Glory)," pointing to the glory and grace that Christ gives to the believer. Its cheery melody is a perfect reply to its preceding track. "Images" and "Gears" round out the album with an Arcade Fire and Sufjan Stevens sound, but don't feel as cohesive as the other tracks. Both are excellent songs, but feel like bonus tracks.

Concluding the album is "Sometimes I Don't Feel Like Doing Anything." Once again, the introspective lyrics shine through as Tweito sings, "Sometimes I don't feel like doing anything, I'm on a road on my own. I don't want to come back home… but you always call me home." The honest lyrics accompanied by bright sounding music make the song rich in quality.

To say the least, if this is the beginning for Tweito, then the future looks bright for this new artist. The music is original, the content is deep, and the creativity is high. This isn't just a good album for an indie artist - it's a good album for a developed artist.

- Review date: 11/29/13, written by Ryan Barbee of Jesusfreakhideout.com


Record Label: None


Album length: 7 tracks


Street Date: October 23, 2013


Buy It:
Bandcamp.com
Skipping Stones (3:42)
Drive All Day (3:22)
Artery (3:57)
Joy (The Verge of Glory) (3:02)
Images (4:03)
Gears (4:02)
Sometimes I Don't Feel Like Doing Anything (4:39)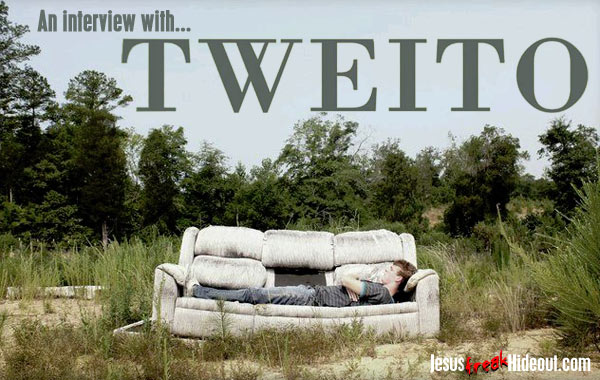 Jesus freak Hideout (Ryan Barbee): The EP is impressive. What's the inspiration behind the album's theme?
Justin: Thanks! I really tried to take truth and apply it to songs for this album. I don't want to write from just my emotions but take a step back and see the truth of what I am conveying. I hope that gives a more focused and solid foundation to what the listener takes away from their experience: that the music will take them places emotionally, but more so that their will be a grown affection for the truth of the Gospel in the lyrics. While each song may not be obviously about God or written for congregational worship, the listener is hearing about life seen through a Gospel lens.
JFH (Ryan): So why two names for the album "Moving Mountains/Skipping Stones"?
Justin: Sometimes in our lives, as Christians, we see tremendous growth and see this faith that moves mountains. Other times, we only feel as if we are capable of finding a mere stone to skip waiting for vibrant life. But really, if our faith is in God, we trust that His grace sustains us no matter what we do, think, or feel. We can take a step back and see that He is providing the strength for faith. He is strong and capable as He "moves mountains like skipping stones." So really, saving faith in Christ is only possible through the power and grace of God.
JFH (Ryan): The album artwork is fantastic! Who did the art work?
Justin: Thanks! I actually found the picture on a friend's Facebook and asked him to use it. Another friend and I simply added the fonts. It was a really cost-efficient way to get the simple, but rich art that I wanted. It also took about five minutes.
JFH (Ryan): What song was the most challenging to write?
Justin: "Images" was definitely the hardest musically. I couldn't figure out what instruments to play where. I had so many parts that I wanted to incorporate and I just couldn't make it work. It ended up sounding too busy. I decided to cut back and just use the parts that would really bring the song out. It worked and I was incredibly relieved.
JFH (Ryan): What song is your favorite off of the album?
Justin: That's tough. I've thought about it before and I really can't pick a favorite. Each one is special to me lyrically and musically. However, my favorites to listen to right now are "Images" and "Sometimes I Don't Feel Like Doing Anything." I tend to grow weary of hearing my songs after a while because they get old from recording and mixing, but those two have not gotten old yet!
JFH (Ryan): Who are some of your musical inspirations and what artists/bands are you currently listening to?
Justin: Well, there are two big inspirations that I consciously try to emulate. I really like the sound of Coldplay (no matter which album), but I also wanted to capture the rock and grunge of John Mark McMillan. I would say that, lyrically, both have influence as well. They've made me not want to settle for less than interesting ways of saying things that people have been saying for a while. Others that probably sneak in subconsciously are Relient K, The Rocket Summer, The Fray, and Citizens.
JFH (Ryan): What has God been teaching you recently?
Justin: Definitely the importance of the Gospel. The Bible, Old and New Testament alike, is focused on God's redemptive plan to reconcile the earth through Jesus Christ. I've been learning that the Gospel's importance can't be undervalued, under taught, nor underappreciated. That's also why every song I put out should be written from a Biblical worldview and should point to the Gospel through the truth it proclaims. Whether the song is about Jesus or not, He has influenced the viewpoint from which it's written.