With a few years in the music industry under his own name, Benjamin Rupe decided to change things up in 2017. With a renewed focus on his calling as a singer/songwriter, Rupe took up the mantel of Swingin Hammers, a one-man attraction featuring faith-based lyrics set to a sound that mixes Americana, folk rock, and traditional country music. The first official release from Swingin Hammers was a live EP earlier in the year, but the bigger focus is on the self-titled, full-length debut, which just released this month.

The album gets right down to business with the opening song, "Roots." With vocals that slightly resemble Bear Rinehart of NEEDTOBREATHE, the song brings steel and acoustic guitars to introduce the listener to a southern rock sound that's easy to get into. It's a sound that's really only explored in one other track, "Hangman." Most of the songs are a bit on the slower side, including one of my personal favorites, the ballad "Cold War." What sounds like a deeply personal song for Rupe, "Cold War" features mostly just him and his acoustic guitar, as he sings, "Just a product of the cold war, just another of those lost souls, just a man with the white-knuckle grip of a fist that's never thrown, I struggle everyday to stay ahead, of what I need and what they know, 'cause everytime I look, there's another baited hook with my favorite kind of lull, oh when will it end?" It's a song for the tired and the apathetic, with a glimpse of hope at the end.

Swingin Hammers is an album about facing your struggles and breaking through them. The particular hammer that's being recommended here? Jesus, of course. The final three tracks of the album are especially vocal about the Lord. "Cornerstone" is a bit heavier, lyrically, referencing Psalm 118 and Matthew 21, as Rupe laments about our collective decision to reject the cornerstone of the church. "Red" follows, though, almost in an act of redemption for our rejection of Jesus. Rupe struggles in this song to believe that Jesus truly does love him despite his sin, but sings louder and more passionately at the end when he finally understands that Jesus will take him back "just like that." The final song, "The Good Shepherd," leaves the listener on a high note, praising God for what He does to get to our hearts and rescue us. Though this is the final song on the tracklist, the album actually concludes with an acapella rendition of the doxology, putting an exclamation point of sorts on Rupe's declaration of God's goodness.

Southern rock and country have played a big role in Christian music for years, sometimes inadvertently and sometimes not. Though it's seemingly all over the place, maybe even in high demand, it takes a lot to make it really stand out. As NEEDTOBREATHE and Chris Stapleton before him, Benjamin Rupe's Swingin Hammers has managed to find what it takes. Swingin Hammers is available now, and it's definitely worth your time and money.

- Review date: 11/16/17, written by Scott Fryberger of Jesusfreakhideout.com


Swingin Hammers is Benjamin Rupe's personal blend of country, rock, and Americana. Swingin Hammers is roots music with a more traditional style of country leading the way -- think a little more along the lines of a Chris Stapleton without the southern drawl. Rupe's voice is more well-rounded and capable of singing in multiple genres comfortably. Songs like "Roots" and "Hangman" strike a strong country music chord (especially the latter), but "Breathe Again" and "Cornerstone" stray from that sound a little and move towards the arena of Gavin DeGraw -- in fact Rupe's voice is quite similar to DeGraw's in feel and sound. While folk and roots music have been making a strong showing in the Christian scene in the past couple of years, country music is still pretty under represented as a whole. Swingin Hammers continues the trend of the roots music comeback, but adds a country flare that hasn't been seen much recently. The self-titled debut album from Ben Rupe's project is an excellent listen front to back. "Roots," The Fighter," "Chains," and "The Good Shepherd" are some of the best that the album has to offer. Any of these tracks would be highly suggested for a test listen to get an idea of the sound. Swingin Hammers is an easy recommendation for fans of country, folk, Americana, and any sort of roots music. - Review date: 11/13/17, written by Michael Weaver of Jesusfreakhideout.com



Record Label: None


Album length: 10 tracks: 38 minutes, 19 seconds


Street Date: November 10, 2017


Buy It:
iTunes

Buy It:
AmazonMP3

Buy It:
Swingin Hammers' Webstore
Roots (3:35)
The Fighter (3:19)
Cold War (4:41)
Chains (3:44)
Breathe Again (3:51)
The Hand You're Dealt (4:16)
Hangman (3:14)
Cornerstone (3:31)
Red (2:46)
The Good Shepherd (5:22)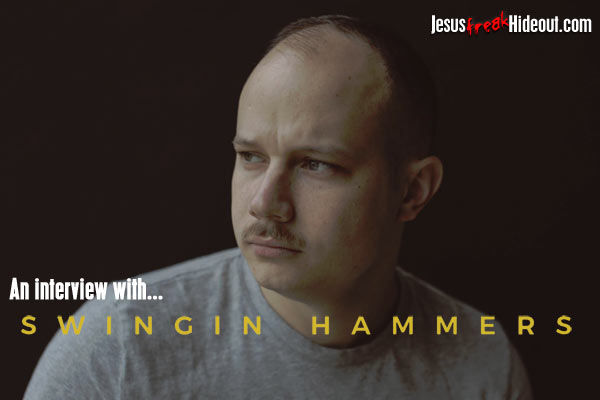 Jesus Freak Hideout (Scott Fryberger): What is your earliest memory of music making an impact on your life?
Benjamin Rupe: I sang Ray Boltz' "Thank You" on stage with my mother when I was six years old. That was the first time I sang on stage.
JFH (Scott): Your Facebook bio says "The music of Swingin Hammers is meant to demolish the walls we build up to ignore our pasts, hide from our pain, and remain lifelessly safe." With this idea in mind, how did you end up with this name?
Benjamin: My middle name is Jacob, which means "wrestles with God." Swingin Hammers is built in that idea.
JFH (Scott): To follow up on the previous question, what are you hoping listeners will take away from your album?
Benjamin: That they are not alone in their struggle with addiction ("Chains"), in the struggle with walking into the light ("Breathe Again"), or in their brokenness from their upbringing ("The Hand You're Dealt"). That because of Jesus' work on the cross, we really can be clean ("Red"), and God is pursuing us relentlessly ("The Good Shepherd").

I'd love to tell people that it's okay to wrestle with what it means to follow Jesus, as long as you're being honest with your own soul and seeking who Jesus is in the Word and in community (Church). Just don't settle for little Jesus Junior, here to fix all of your problems and make you healthy and wealthy and give you your Best Life Now! Wrestle well.
JFH (Scott): If you could go on tour with any three artists, who would you choose?
Benjamin: John Mark McMillan, Andrew Peterson, and Nathaniel Rateliff & The Night Sweats
JFH (Scott): Are you the only official member of Swingin' Hammers?
Benjamin: Yes, Swingin Hammers is a moniker. So I get to tell people, "My name's Ben and I'm Swingin Hammers." The idea is that we all are swingin' hammers at something. We all are wrestling, fighting, being aggressive with something. Mine happens to be my flesh, my sin, these invisible kingdoms that the enemy has built around us that the Lord has sent me to tear down.
JFH (Scott): Do you plan on touring in any capacity?
Benjamin: Yes, I'm very passionate about great live music. I don't like just sharing songs. I love putting on a show, giving a concert that's unforgettable. I've been on the road all this year and will continue into 2018. I will be ending my year with my biggest tour to date, The Cornerstone Tour. I tour with a full band and put on a big, fun, kind of deep, rock show. So make sure to check out my schedule or follow me on Bandsintown or Songkick. Super pumped to get back out there.
JFH (Scott): Which one song from Swingin Hammers would you recommend to someone who was interested in checking out your music, and why?
Benjamin: Oh man. "Breathe Again" seems to be doing really well. It's one of those songs that surprised me. It's a good slow jam with a bit of country soul and it's all about confessing your sin and walking into the light.
JFH (Scott): Would you like to add anything else?
Benjamin: Thanks for having me. I would LOVE to come play your church, venue, event, or whatever, so shoot me an email, Facebook message, or whatever, and let's talk. We've got our firstborn due in 2018, so help a brotha out!