Scientist
World EP

Album length: 5 tracks: 17 minutes, 53 seconds
Street Date: May 15, 2012

There's a lot of excitement brewing in the independent scene, and a good portion of it is coming from the pop rock group Scientist. Having formed in 2011, the guys of Scientist spent the last year and a half making an effort to be interactive with their fans, including covering their songs and handing out nerdy apparel for them to wear at shows. And more importantly, they wrote some songs that make up the World EP. And, truth be told, those songs are pretty good.

Scientist claims to be inspired by bands like The Killers and Passion Pit, and if that puts a smile on your face, you'll be even happier to know that it seems to be a fairly accurate description of the band's sound. Catchy pop rock with electronic tinges make up World's sounds, with enough accessibility to make it appealing to a mass audience, but not enough to make it sound too generic. Take the opening song for instance, titled "Coming Up." The song has a fun, poppy chorus that's primed for radio play, but the verses are structured a little more akin to indie pop. Some of the song is reminiscent of Two Door Cinema Club. I'm not a big fan of the lyrics "You get me on the regular," but that's about the only thing about this song I don't like. "Deep Down" is a bit toned down compared to "Coming Up." At times, when vocalist Jesse Schaefer sings in the higher note range, he can start to sound like Charles Finn from Secret & Whisper. "Deep Down" is a good example of this high rock voice range. The melody of the song doesn't seem to mesh well with Schaefer's vocals; combined with the overall arrangement of the song, "Deep Down" ends up being one of the weaker tracks.

"Criminal" is another track that would make for a good single. I love the semi-vaudevillian piano intro and the electrorock touches in the vocals and guitars for the verses. The piano intro comes back after the second chorus, but in the form of synth, which leads perfectly into the final chorus. The chorus says "If love is beautiful, why are we all so criminal?" and would probably help make the song a hit on alternative radio stations. Our first taste of Scientist's balladry comes in the song "World," whose calm and simple instrumentation shows that it's in no rush to get to the song's end. You get a chance to really dive into the song. It's not the deepest song to dive into, but at its core, it's almost a lament that we seem to have taken our eyes off of what love really is. Coming after "Criminal," it gives the EP as a whole a strong mid-section. Closing out the World EP is "Forest." It's another slower track, but the tempo slowly starts to increase as the middle of the song approaches. Contemplative guitars, ample drums and a multitude of hand claps make up the music, rounding out the EP nicely and ending it on a strong note.

Scientist is a new duo that seems to have a bright future ahead if they keep this up. "Criminal" and "World" are the highlights here, though, again, the only real misstep is the arrangement of "Deep Down." It's not a terrible song, but the EP may have been better if it was left off the tracklist. Even so, World is a good debut EP from these two, and I certainly look forward to new material and even catching them at a live show sometime.

- Review date: 9/9/12, written by Scott Fryberger of Jesusfreakhideout.com


Record Label: None


Album length: 5 tracks: 17 minutes, 53 seconds


Street Date: May 15, 2012


Buy It:
AmazonMP3
Coming Up (3:24)
Deep Down (3:56)
Criminal (3:36)
World (3:40)
Forest (3:17)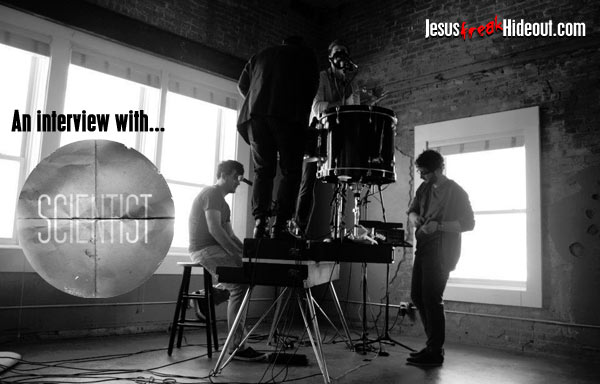 Jesus freak Hideout (Scott Fryberger): Why did you name your band Scientist? You've got to be pretty nerdy right?
Jesse: YES. We are nerdy to the core. Wherever Gameboys or oscilloscopes are found, we are bound to be near. We both love the technical aspect of music, electronics, and gear. We're constantly looking for new things to build or new ways to create music.
Brandon: Aside from that, we chose "Scientist" because scientists change people's views on things. We want to change people's views on Christianity. There's a negative stigma of the church today, and we want to show people that the negative and unloving things they've heard and seen aren't true of all Christians, and are certainly not the case with Jesus.
Jesse: One thing that really drives us is a quote from Brennan Manning; "The greatest single cause of atheism in the world today is Christians, who acknowledge Jesus with their lips and walk out the door and deny Him by their lifestyle. That is what an unbelieving world simply finds unbelievable."
JFH (Scott): How and when did Scientist come together?
Brandon: We came together around the early part of 2011. Jesse and I actually had been playing together for four years before Scientist in a worship band with Matt, our keys player, and an indie/rock band called, Fighter.
Jesse: We started writing these songs that definitely weren't for corporate worship and were far too pop to be indie Fighter songs. We, being suckers for pop music, decided to retire our old bands and put everything we are in to Scientist, and embrace the nerd inside of us.
JFH (Scott): According to your Facebook there are two official members of Scientist. Who do you have play with you for live shows?
Jesse: Brandon plays drums and I play guitar and sing. We have a third musician, the great Dr. Matt Humphrey, to play keys.
Brandon: Throughout the show, all three of us constantly switch instruments, run around, and bring people from the crowd up to be honorary doctors for the night and help us play. It can be complete insanity, but in the nerdiest and most exciting way.
JFH (Scott): Have you shared the stage with anyone of notoriety?
Brandon: Outside of having After Edmund produce the record, we have not shared the stage with anyone of major stature as of yet, but that will change very soon, as are working in the lab on big plans for our tour schedule in 2013.
Jesse: And some non-tour plans too. We've got a lot of experiments going on and being prepped for release. We couldn't be more excited about the coming year.
JFH (Scott): If you could tour with any three bands, who would you choose?
Brandon: We really respect Paper Route and After Edmund. Both bands create some of the best, most creative music we hear, and they are of a rare breed of band whose live show is as good, if not better, than their records.
Jesse: We'd also love to tour with Taylor Swift because, DANG, she's super cool.
JFH (Scott): "Criminal" is one of the strongest tracks on the EP; Tell us a little about the lyrics, "If love is beautiful, why are we all so criminal?"
Jesse: Those lyrics were actually some of the last to be written. With the verses telling the story of the song, we wanted the chorus to be a declaration. Generally, the song is about change, and how new and beautiful things can be born out of old and dead things. "Watching the dead trees bloom life in the air, making a scene of color everwhere." "If love is beautiful, why are we all so criminal?" sums up our thinking that if something as beautiful as love is right in front of us, why do we choose to be so hateful and "criminal". It's CRAY.
Brandon: It's a call for all of us to examine our lives, and show a little more love in everything we are, and everything we do. Family force 5 says it best, "Hold up, wait a minute, put a little love in it."
JFH (Scott): Do you have any new material on tap?
Jesse: Yes! We're constantly writing and rewriting. From leftover material that didn't make it on to the EP to stuff we wrote yesterday, we are ecstatic to continue forming these ideas into songs.
Brandon: There are several parts, be it instrumentals or transitions, in our live show that have stemmed from or formed into new material.
JFH (Scott): You guys do something pretty cool and unique on your official website. Can you tell us about The Experiment?
Brandon: YES. This is one of our favorite things. The Experiment is a project we started to have our fans interact with us and really be involved in our music. The way it works is, they pick a song off our EP, record/perform/arrange it in their own style, film it and send it back to us via facebook or to our email, scientistmusic@gmail.com. No matter how simple or extravagant, their video will be posted to our website!
Jesse: The cool thing for us is that we get to cover one of their songs in return! Whenever a video is submitted or responded to, we try to make a BIG deal out of it. We have the most talented fans in the world and we want to show those nerds off. We encourage everyone to get involved no matter what their skill of musicianship is.
Brandon: We want our fans to be more famous than us. They deserve it.
JFH (Scott): What has God been teaching you lately?
Jesse: Trust. God has taught us recently, and over the last year and a half recording this record that He has a plan, no matter how unknown or different than ours it may seem. He is true, even in our wandering.
Brandon: There have been times where the next step seemed impossible or invisible, and out of nowhere, God shows up. Well, not really out of nowhere, but you know.
Jesse: He's pretty freaking cool if you ask us.
JFH (Scott): Anything else you'd like to add?
Jesse: Liquid Tide laundry detergent glows under a backlight. TRY IT. It's live.
Brandon: SCIENCE.