McKinneyDawson
Above All - EP

Street Date: October 13, 2017
Style: Pop / Electronic / Worship
Official Site: Official Website
Buy It: iTunes
Buy It: AmazonMP3




Kaitlyn McKinney and Christian Dawson were once part of the band Crossing, but have since formed a worship duo under the moniker McKinneyDawson. McKinneyDawson is a pop worship project with a strong emphasis on electronic/dance elements. The pair have been traveling together for over six years and their overall goal is to point people of all backgrounds to Jesus. Their EP, Above All, is the group's first release and each of the five tracks point directly to scripture. While "Psalm 33" is pretty self-evident, they have also decided to include the scripture guide along with every song title. Often times when you hear a worship song you recognize scripture, but may not be aware of exactly where it's at, or even hear lyrics you don't recognize as a direct quote from scripture. This little addition lets you go read directly where these songs are coming from in a biblical sense. It's a pretty cool and thoughtful addition that can even lead to some good devotionals or times of study. The EP has 4 original songs, with "Lead Me" and "Only He Could Claim" being the cream of the crop. The fifth song present is a cover of a classic hymn still sung regularly today. "How Great Thou Art," written by Swedish poet Carl Gustav Boberg way back in 1885, still has value today. While the hymn has been done repeatedly by artists in the past, McKinneyDawson provide a little uniqueness with their electronic approach. Overall, it's a really nice closer for their debut. The EP has a really good and cohesive sound, and both Kaitlyn and Christian are great vocalists. The heavy electronic sound isn't overbearing and songs like "Lead Me" have some really nice acoustic guitar and other instruments added in to complement the music. Worship music lovers will definitely find enjoyment in McKinneyDawson's EP. The soft electronic pop elements are clear and present and set them apart some from the normal faces in the genre, but it's not so strong as to alienate those of more traditional instruments. The composition is a nice mix and there are some beautiful sounds to be heard on Above All.

- Review date: 12/8/17, written by Michael Weaver of Jesusfreakhideout.com

Record Label: None


Album length: 5 tracks: 24 minutes, 38 seconds


Street Date: October 13, 2017


Buy It:
iTunes

Buy It:
AmazonMP3
Psalm 33 (3:10)
Found (Romans 6:11) (4:32)
Lead Me (Psalm 119:145-152) (4:59)
Only He Could Claim (Philippians 2:5-11) (4:39)
How Great Thou Art (Psalm 145:1-3) (7:08)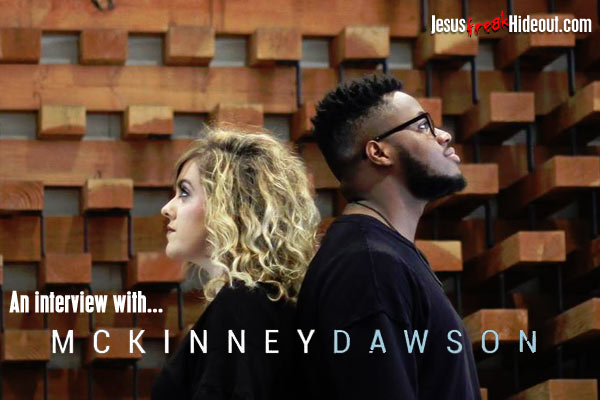 Jesus Freak Hideout (Michael Weaver): Upon leaving Crossing, what lead you two to continue making music together?
McKinneyDawson: Crossing was a great experience for us and our Crossing family still remains some of our best friends. A few years ago, the two of us felt the need to go in a different direction with the mission and style of our music. The two of us are pastors in different congregations and really wanted to write songs that spoke to what we were doing and where we were ministering.
JFH (Michael): How does the songwriting process work with you both? Do you co-write each song, or is it more like Christian writes a song and then Kaitlyn writes another?
McKinneyDawson: Each song has been different for the writing. Christian typically defaults to writing lyrics and concepts. Kaitlyn normally starts working on melody and rephrasing lyrics to be more singable. The one thing we do for every song is start and end with Scripture. We typically quote or paraphrase a scripture and then build the song out from there.
JFH (Michael): I like how you include the related scripture with every track. What gave you the idea to give listeners this extra information when listening to your music?
McKinneyDawson: Over the years, in ministry, we have experienced that people often remember songs more than they remember sermons or scriptures. But we deeply believe that the Scripture is what people need. Corporate singing in the Bible was often used to point people to what God has said and done. So we wanted to use songs to do the same thing. We want people to remember the Scripture and get it in their hearts.
JFH (Michael): My favorite song is a toss-up between "Only He Could Claim" and "Lead Me;" both are very beautiful. Is there any particular song that you enjoy, or that speaks to you personally, more than the others?
McKinneyDawson: It's hard to decide. "Only He Could Claim" means a lot because it doesn't matter what season people are in. It's really unique in that it is a song that actually calls the people of God to worship Him. "Let Him Be Exalted" is not only singing up to God but it is singing out to our brothers and sisters. It's a song that needs to be sung and heard by God's people. "Lead Me" means a lot. We've been in life seasons where God is really giving us a heart to love and need His Word more and more. We often talk about being lead by God but we need to remember that we are lead by God through His word. "Lead Me" is one of those timeless prayers for us. It's almost my daily prayer each morning that God would lead me by His Word.
JFH (Michael): I noticed on your website that you offer everything from full three-day conferences to small "2 man band" options for people to book you. Why do you feel that it's vital to be available in so many different ways?
McKinneyDawson: We just want to be available to serve the church in any way possible. If it works better for a community for just the two of us to come and do something more simple, we want to do that. We never want to be married to what we are doing. We just want to serve each community with whatever they need.
JFH (Michael): You stress that your goal is to "point people of all backgrounds to Jesus." Can you talk about why this is so important to you and how you go about accomplishing that very task?
McKinneyDawson: The purpose of everything is found in Jesus. Everything was made through Him, for Him, and by Him. Everything is held together in Him. So we really believe that everything we should do leads to Jesus. As we've grown as ministers, we've come to accept that we cannot get anyone to worship. We cannot make someone worship. Loud singing or lifted hands aren't necessarily worship. Jesus even said that people can draw near to Him with their lips and their hearts be far from Him. We also deeply believe that everyone is always worshiping. We are all always giving value and worth to something. So our goal is to point people to a God who is worth worshiping. We hope to call people to change what they are worshiping from anything else to Jesus.

So we work to write songs that really help people know who He is and call them to follow Him with their whole lives. We try to write blogs and design clothing that points people to Jesus. We are convinced that if we point people to Jesus, they will decide whether or not they will follow and worship Him. We just think He is worth worshiping.