Gerard Powell
Island Style Christian Music

Street Date: May 24, 2017
Style: Island Music / Reggae
Official Site: Official Website
Buy It: iTunes


The classic sounds of Summer are in full swing with beach tunes like "Those Lazy, Hazy, Crazy Days of Summer" by Nat King Cole and any Jimmy Buffet fanfare. Hoping to add his interpretation to those warm summer nights is Gerard Powell with his double-album, Island Style Christian Music. As the title of Powell's album implies, this is a collection of island-style covers of contemporary worship songs and hymns of old. Some tracks are absolutely recognizable, while get a bit lost in translation. A few major highlights that may be familiar to listeners are songs such as "The Old Rugged Cross," "Amazing Grace," "Oh Happy Day" and "Lord I Lift Your Name on High." In addition, listeners may notice a few childhood Sunday school songs they may have grown up with like, "He's Got the Whole World in His Hands" and "Yes, Jesus Loves Me." Sadly, I can't say many are given proper treatment or are improvements on the originals. Powell's limited instrumentation, overly auto-tuned vocals, and lacking production quality make this an album that is a lot to digest. Additionally, lasting at a staggering 26 tracks, the album starts to feel like late night karaoke at a Christian luau. Overall, Gerard Powell's music is not something I'd honestly recommend to anyone outside the target audience; this album is extremely specific in nature and would benefit greatly from a higher quality production. However, that is not to say that there is no fan base for Powell's music; it just might be much smaller than comparable musicians. Nevertheless, loyalty to an art can transcend loyalty to an artist. Furthermore, while Powell's music might not be appealing to a wide audience, he clearly displays his passion for making music to the Lord, and in that regard, no one can judge or find fault. - Review date: 6/8/17, written by Ryan Barbee of Jesusfreakhideout.com

Record Label: None


Album length: 26 tracks


Street Date: May 24, 2017


Buy It:
iTunes
Blessed Be the Name of the Lord (3:19)
He's Got the Whole World (1:49)
Praying Away (3:30)
Jesus Loves Me (2:36)
Come To Me (4:30)
Were You There? (3:17)
Precious Pearl (4:37)
Steps of the Righteous (3:25)
The Lord Is My Light (4:17)
The Old Rugged Cross (3:23)
Rather Be a Doorkeeper (4:34)
Show Me Your Way (4:15)
Iesu No Ke Ala (2:54)
You're My Everything (3:56)
I Ke Alo O Iesu (3:09)
Serve You With Love (3:54)
Holy One (4:11)
The Lord Is My Shepherd (3:01)
Everlasting (4:02)
Just a Closer Walk With Thee (5:20)
Blessed Assurance (3:18)
Amazing Grace (3:14)
Oh Happy Day (1:50)
My Wayward Heart (4:49)
I Praise Your Name (2:52)
Lord I Lift Your Name On High (2:03)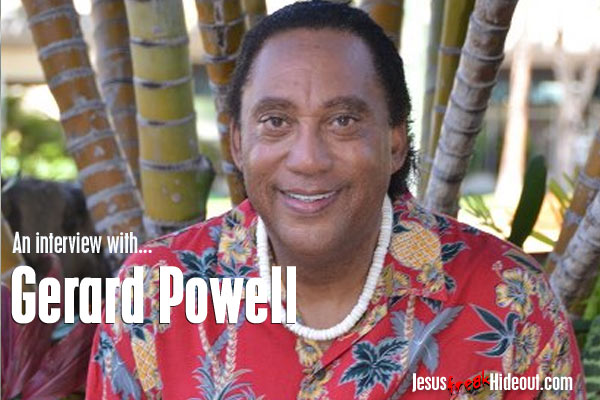 Jesus Freak Hideout (Ryan Barbee): What is the inspiration behind the album "Island Style Christian Music"?
Gerard Powell: God's Word first and foremost…I wanted to do the songs exactly as I hear it in my head…
JFH (Ryan): What is your favorite song on the album? Why?
Gerard: I don't have a favorite…All the songs I write are like babies to me…I share my babies with the world, to spread God's Word…
JFH (Ryan): What are the future plans for your music?
Gerard: The future of my music is in God's hands…I asked Him to bless it, and use it as a tool to spread His word…
JFH (Ryan): If we were to look at your recently played music, what artists and bands would we find?
Gerard: Honestly, Island Style Christian Music by Gerard Powell…I know that this is Bible based, if you listen to the lyrics, you would agree…
JFH (Ryan): What do you hope to accomplish with your music?
Gerard: My Goal, and my mission statement is to "Spread God's Word Through Music And Song…Island Style"…
JFH (Ryan): What has God been teaching you lately?
Gerard: Love thy neighbor, as yourself…We are all sinners, none are right... we all need a savior…That Savior is Jesus Christ…I could go on, but I think you understand…