Nashua, New Hampshire-based rock band KaelumWay is a fairly new band, but has already begun making an impact on its surrounding area. Opening for popular acts like Everyday Sunday and Cool Hand Luke, KaelumWay has increased their fanbase just in time for the release of their first album, Pictures of Home. It contains six songs, all of which can easily be classified as rock, though they do include some soft rock in the mix as well. Reading their bio, we discover that the band had the help of Nick Radovanovic from the band Acceptance in the mixing process, as well as Skillet's former guitarist Ben Kasica on the production side of things. Listening to Pictures of Home, you can hear Kasica's touch in some of the songs. While none of KaelumWay's music sounds like Skillet, they have some strings in some of the slower songs that are similar to what you would hear in a slower Skillet song. On KaelumWay's side of the music, it's pretty basic rock music, but one good thing they do have is passion for their music. You can really tell that they put a lot of thought into what they're playing. They also display love and a deep caring for people, which is confirmed when you see that they've supported organizations like Invisible Children and To Write Love On Her Arms. You also really get that feel when you listen to the lyrics on Pictures of Home. Highlights of the album include the opening track "Let Go," as well as "You Are Loved" and "Identity." Rock fans should check out KaelumWay, and look forward to more goodness, as I suspect that they will keep getting better with each new release. - Review date: 9/6/11, written by Scott Fryberger of Jesusfreakhideout.com
Let Go (3:28)
Breathe In (5:21)
You Are Loved (3:41)
Identity (3:23)
Eagles' Wings (5:21)
Meant to Be (5:34)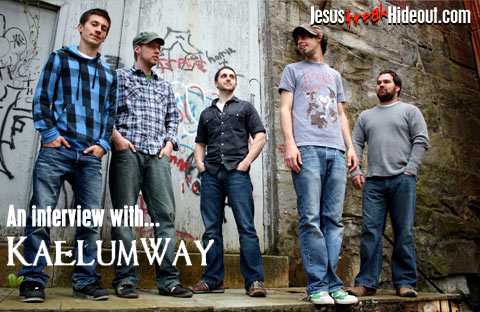 Jesus freak Hideout (Scott Fryberger): Tell us the story of the creation of KaelumWay.
KaelumWay: Before we were in KaelumWay, most of us had been long time friends that enjoyed playing music together. We spent a lot of Saturday nights together playing acoustic music in the prayer room at Grace Fellowship Church in Nashua, NH. Gradually we started writing our own music and playing out at local venues. In 2009 we started leading worship for teen retreats at Monadnock Bible Conference in Jaffrey, NH. This has led to numerous opportunities around New England.
JFH (Scott): What does KaelumWay mean?
KaelumWay: Caelum is a latin word which means "the sky" or "the heavens". At first, we went by that but soon after we changed the "c" to a "k" because "k" is clearly much cooler than "c" and bands are allowed to do things like that. We added the "way" a little bit later and have been KaelumWay ever since. It comes out sounding like a street address which has interesting symbolism. Fun side note, "caelum" is actually a 4-star constellation in the sky that makes an anti-climatic crooked line. If researched online, it has been called, "the most pathetic excuse for a constellation" which led to our first demo, "The Quest for a Cooler Constellation."
JFH (Scott): How did you get to work with Ben Kasica (Skillet) and Nick Radovanovic (Acceptance)?
KaelumWay: Through a mutual friend (Sean Ferguson), who is awesome! He ended up connecting with Ben by helping him with his website design for Skies Fall Studios. Sean passed our music along to Ben and Nick who graciously took our project on.
JFH (Scott): What are you most happy with about Pictures of Home?
KaelumWay: I think we were all blown away by the professionalism of the album. Ben and Nick did an incredible job recording, mixing and producing the album. Beyond that, I think it carries the heart of who we are as a band pretty well. Even with three songwriters there is a cohesiveness in this project that makes it feel much bigger than us.
JFH (Scott): What do you wish you would've done differently with it?
KaelumWay: The whole process was a little rushed. We recorded 6 songs in just over 2 weeks. It would have been nice to have more time.
JFH (Scott): Your bio mentions working with organizations like To Write Love On Her Arms and Invisible Children. What kind of support have you given these organizations?
KaelumWay: These are the type of organizations that are changing the world and we are honored to partner with them in any way we can. We have played multiple benefit shows for each of these organizations as well as others like Love 146 and Not for Sale. On one of the most recent Invisible Children tours we had the opportunity to play a concert before a woman from Uganda came up to talk about the radio warning system they're developing to protect the children of her country from being abducted. We also take time at each of our shows to talk about ending human trafficking and are currently recording a single that relates specifically to this injustice and how we will respond to it.
JFH (Scott): Have you begun work on a follow up album?
KaelumWay: Right now we are really excited about recording a single entitled "Overthrow" and we are always thinking of new ideas for songs or musical parts that we could incorporate on a future recording.
JFH (Scott): What has God been teaching you lately?
KaelumWay: I think each of us could answer this in a different way. We are catching a glimpse of what God's dream is for the church and learning how to be a part of that. We are devastated and angered by the injustice that we see in human trafficking and we are learning how to respond. We are amazed and humbled by the relentless love we see in Jesus and we are learning to embrace it and give it away.