25 IN 24





Director: Melody League
Starring: Jon Foreman, Keith Tutt, Bobby Anderson, Ryan Nichols
Running Time: 1 hour, 5 minutes
Theatrical Release Date: March 6, 2018
Official Site


Plot Summary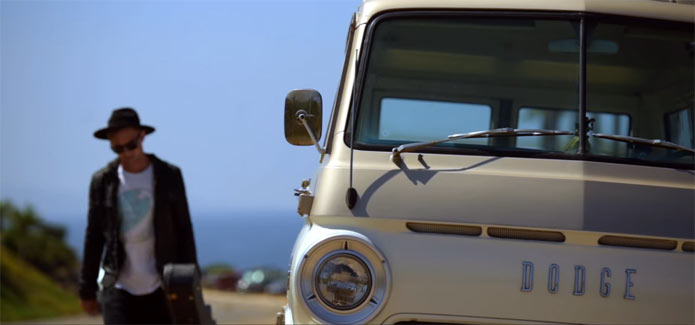 On October 24, 2015 at 10am, Jon Foreman and his friends embarked on a music journey throughout San Diego aiming to play 25 shows in 24 hours. With venues including a children's hospital, a wedding, and a Mexican restaurant, 25 IN 24 is a 24-hour musical experience exploring the polarity of everyday life, taking viewers to places that only music can go. Through his journey, Foreman discovers that the road less traveled is always worth the risk, and sometimes the only way to hold on is to let go. (from www.jonforeman.com)
Film Review
The ocean fades into view as its familiar whisper floods the ears of all who are listening. Songwriter extraordinaire Jon Foreman begins to hum a hymn of the sea while narrating a discourse on what it means to dream. "Define your dreams well, because one day...they will define you." This is both the exhortation and the encouragement that inspires 25 IN 24, the exhilarating documentary that chronicles Foreman's journey of playing 25 shows in 24 hours.
Foreman himself is no stranger to documentaries. Switchfoot has a number of tour documentaries under their belt, as well as the band's "personal journal," Fading West, the ambitions of which led to a year of filming. This project, however, required an unprecedented amount of planning, vision, and allowance for chaos. The phrase itself sounds more like fantasy than reality: 25 shows in 24 hours. Making that dream happen is already a realization of the impossible, but making a high-quality film that properly captures everything that went into that day in October is just as miraculous. That reason alone is why this film feels like a comprehensive championing of Foreman's life-giving career.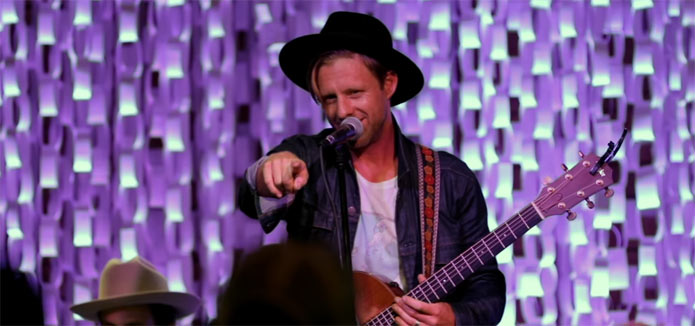 The movie begins with an attempt at explaining why Foreman birthed this crazy idea in the first place. Friends and family talk about Jon's love for music while he discusses his desire to extend the warmth and community of his aftershows into something larger. In essence, that is the heart of this entire project. Sure, it is obvious that once the concept hatched in his mind, Foreman would do all that he could until it came to fruition, but the sense of community is what makes this documentary what it is. Jon plays at an art gallery, a mexican restaurant, a wedding, a community park, a children's hospital, and even a gas station along his journey. He plays with Switchfoot members, Fiction Family members, eager fans, and even his old high school's band. At each of these locations, the people behind the cameras do well to highlight the unique personalities of both the individuals in each crowd and the physical scenes themselves. The breadth of the community that is covered makes it feel as if the entire city of San Diego received love from one of its own; it's hard not to be inspired by such an act.
As expected for such an undertaking, it's not always a light-hearted experience. Foreman occasionally lets the viewer in on his doubts regarding the significance of the event and the eternal questions that roam in his mind. There is palpable tension on his face at several points throughout the film: be it the planning process, the breakdown of the van, or one of the few other chaotic instances. Of course, after the panic, Foreman always attempts to embrace the chaos for what it is, learning to roll along with it as it comes. This minute amount of drama only helps to cement the necessity of the film's events.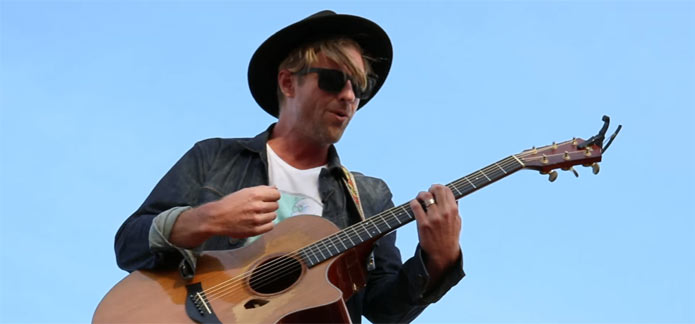 The more fundamental aspects of the filmmaking are akin to other artful documentaries. What's undoubtedly most impressive is the fact that the audiovisual quality is excellent despite the production itself being constantly mobilized. Clearly a lot of planning went into the technical side of things, as they truly only had one shot to make everything work. The visuals are usually overlaid with either dialogue from interviews that relate to that part of the day or a selection from one of The Wonderlands' 25 unique tracks. There are a number of montages, time lapses, and jumps between fast and slow-motion; the narrative is mostly told in a straight-forward manner, and these effects never get in the way. The 65-minute runtime makes the brisk nature of the day apparent, yet the second half of the film slows down considerably. It does fit the quieter nighttime tone better, but the last ten or so minutes feel a bit repetitive and empty compared to the rest of the film. Not every show is given screen time, but most of them feature at least one song, almost making this both a concert and a movie.

I remember, when I first heard about this collection of concerts, I was incredibly bummed that I wasn't able to go. It sounded like a once-in-a-lifetime adventure. The beauty of this documentary lies not only in the insight it provides into one of music's greatest heroes, but also in the chance it provides for fans to come as close as possible to knowing what this magical experience was like. That's certainly enough for most people to pick up a digital copy of 25 IN 24, but I believe that Foreman wants this film to demand more from us. This 24-hour example of charity and community challenges the viewer to fully reach for the dormant dreams that make us come alive, and after watching the impossible come to be on-screen, how could we not?

- Mason Haynie, (reviewed: 3/4/18)


Parental Guide: Brief Summary of Content

Sex/Nudity: None.


Vulgarity/Language: Jon's stage manager uses "h*ll" in a derogatory manner.


Alcohol/Drugs: Jon plays at a restaurant/bar, and a few members of the audience are holding drinks. There are drinks visible throughout the Quartyard scenes.


Blood/Gore: None.


Violence: None.

Disclaimer: All reviews are based solely on the opinions of the reviewer. Most reviews are rated on how the reviewer enjoyed the film overall, not exclusively on content. However, if the content really affects the reviewer's opinion and experience of the film, it will definitely affect the reviewer's overall rating.

To find out why we don't review R-rated movies, click here