Film Review
Many times, "chick flicks" is a genre nickname that almost always gets attached to anything that even remotely has to deal with romance. But, in reality, there are many romantic films that spread beyond its feminine target demographic to also appeal to men as well. "Rom coms" -- AKA "romantic comedies" -- often appeal to both guys and gals, like Serendipity or Hitch, but there are still often those films that are only really crafted for the female moviegoer. Home Again is one of the latter, however, offering a style and story that almost exclusively will appeal to the ladies. And, sadly, it's not one of the better ones.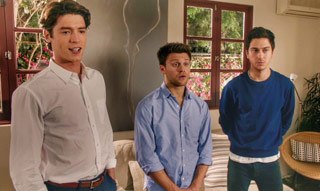 Home Again stars Reese Witherspoon as Alice, a mother of two young girls who recently separated from her husband and moved back home to Los Angeles. She's moved into her parents' home where she grew up, where her father--who has since passed away--was a successful filmmaker. The story then soon introduces three twenty-something young men who have moved to L.A. in an attempt to get a script they've written made into a movie. On the night that Alice goes out with her girlfriends to celebrate her 40th birthday, she runs into these young men who quickly take to her and go back to her house with Alice and her friends. The leader of the young trio, Harry, flirts with Alice all evening, and they nearly spend the night together, until he suddenly gets ill from having drunk too much. Before long, the boys are being invited to stay with Alice and her daughters, her estranged husband is getting jealous, and the budding filmmakers are struggling to get their movie made (and to get along with each other).
When Harry, George and Teddy first show up on screen, I immediately wondered what in the world they had to do with this plot that's driven entirely by Alice's story. But really, the story is about Alice's world when these guys come into her life. And everything just feels so contrived and convenient for the story, to the point where you feel like you're watching a 40-something-year-old woman's wildest fantasy unfold on the screen in front of you. Granted, while Reese is no longer exactly Elle Woods from Legally Blonde, she is still a beautiful 41-year-old in real life, but it does seem a little odd that the 27-year-old Harry, who looks barely over the age of 20, would be pining so intensely for Alice (even still after he learns she's a mother of 2). He's also not all that likeable, but since he's a charming, young "pretty boy," with Alice struggling with the direction her life is going, I suppose it's understandable that she'd fall prey to his advances. Even still, his approach to her is so smarmy it feels sleezy at times. Meanwhile, their friend George takes a genuine interest in helping Alice's daughters, even becoming a sort of role model and moral support for one of them, and actually idolizes the work that Alice's father has done. He's one of the few side characters that's given a more rounded story, yet he's often treated as more of a sidekick to the somehow more appealing Harry. And when both George and Teddy find themselves trying to make it in Hollywood with secret side projects as not to "upset" Harry, who tends to frown on such a thing, you have to wonder why anyone keeps the guy around at all.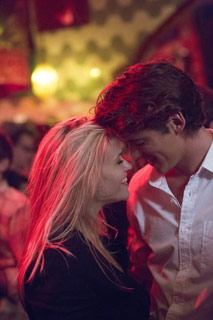 To the film's credit, it has a pleasant enough resolution, and the performances--especially from Witherspoon and Murphy Brown's Candice Bergen--make the film enjoyable enough. However, unless your guiltiest of pleasures are Lifetime Original Movies, Home Again is going to let you down in every way. Something just seems so completely off about the romantic angle of the film that it's really tough to accept it. And it's certainly not enough of a comedy to be entertaining on its humor alone. It does have its redeemable moments, though, and they usually involve some heartwarming scenes with Alice and her kids or the other guys in Harry's group. Still, despite these few moments, Home Again falls a bit flat and is one of the more forgettable films of 2017. (Which I hate to admit, because I do like Reese and I wanted to like this film.)

The content for the film isn't the worst you'll get for a PG-13 rated film, but it mostly has to deal with the sexual relationship between Alice and Harry, and I wouldn't recommend this for the whole family. When the two do inevitably share some nights together, we see some passionate kissing between the two, but the camera usually keeps what we see zoomed in to their faces and doesn't get explicit beyond that and the implications. It's also important to note that they have their little tryst while Alice is still married. Her and her husband Austin may be "separated," but they're still officially married, and the film never makes it seem wrong that Alice sleeps with Harry while still very much married. There's some swearing, including some uses of the "S" word, but there are no uses of the "F" word. However, the majority of the language is blasphemy, mostly exclamations like "Oh my G-d," but there are a few uses of Jesus' name in vain and a use of "g*dd*mn." There's also a surprising amount of alcohol abuse that leads to Harry and Alice hooking up the night they meet and him getting sick (which prevents them from sleeping together the first night). Finally, there's a little violence when things come to blows between Alice's ex and one of the boys, but it isn't bad beyond a few minor cuts and bruises.

Diehard fans of "chick flicks" and romantic films should find enough to like about Home Again. If it weren't for Witherspoon, it might be unwatchable, but as-is, it's a decent production. Still, Home Again lacks on so many levels that it makes it very difficult to recommend.

- John DiBiase (reviewed: 12/10/17)

Blu-Ray Special Features Review


Home Again is available in on Blu-Ray disc, DVD, and through the usual digital movie providers. The regular Blu-Ray disc, and its iTunes digital copy, actually only offer one, single special feature -- a director's commentary track. I was shocked to see that there is literally nothing else offered for this film. I at least expected a promo reel that interviewed the director, Reese, and some of the cast--or even the presence of a couple deleted scenes--but there's not even a trailer included. On the bright side, the HD transfer is excellent, so if you did decide to go Home Again, HD would be your best bet.

- John DiBiase, (reviewed: 12/10/17)




Parental Guide: Brief Summary of Content




Sex/Nudity: While Alice narrates the story of her father's filmmaking career, we briefly see some footage of people sitting in bed under the sheets while he stands over them with the camera; Harry and Alice make out on her bed and he gropes her on the outside of her shirt. He unbuttons his shirt while and then starts to feel sick. He then gets up and rushes to the bathroom. Nothing else happens between them that night; Alice's kids see Harry with his shirt open in Alice's room the next morning and they look surprised; Harry and Alice make out and talk about the rules of his interactions at her house, and then camera fades out (implying sex); Harry goes to Alice's room and she's in a bathrobe. They then make out and we see a montage of them hanging out and kissing and spending time together while sitting on their bed and such, suggesting the passing of time while they're maintaining a sexual relationship;


Vulgarity/Language: 5 "S" words, 3 "J-sus," 1 "g*dd*mn," 4 "G-d," 14 "Oh my G-d," 3 Oh "G-d," 1 "b*tch," 1 "h*ll," 1 "cr*p"


Alcohol/Drugs: We see Harry, George and Teddy drinking in a bar. Alice and her friends go to the bar too and we see them all partying together and drinking shots and lots of other drinks. They all go back to Alice's place drunk; The camera focuses on a garbage can full of empty bottles in Alice's kitchen; We see the guys drinking together at Alice's; A bag of weed falls out of one of Teddy's jacket; Harry drinks with movie industry executives in a restaurant; We see two more scenes of people having drinks at dinner; Alice goes on a date and gets drunk;


Blood/Gore: We see some blood on Teddy's cheek and Austin's forehead after they fight.


Violence: Teddy punches Austin twice. They wrestle on the ground while fighting.

** Disclaimer: All reviews are based solely on the opinions of the reviewer. Most reviews are rated on how the reviewer enjoyed the film overall, not on content. However, if the content really affects the reviewer's opinion of the film, it will definitely affect the reviewer's rating.