Film Review
Few directors have a filmmaking history as an actor AND director like Clint Eastwood. The 86-year-old is a living legend who is still putting together quality movies well past the age most people would be long retired. After being encouraged by someone on his team to consider the story of the "Miracle on the Hudson," Eastwood caved in and began looking into the story of Captain Chesley "Sully" Sullenberger, the pilot who landed a commercial jet on the Hudson River minutes after taking off and losing both engines after being hit by a flock of birds. But Eastwood doesn't tell it in a traditional sense, and the creativity he injects into this film only elevates what could be merely a decent film to greatness.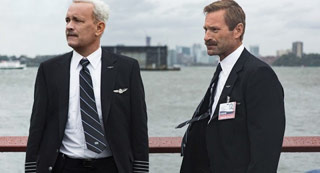 Tom Hanks steps into Sully's shoes in Sully, taking on another role about a real-life person. Hanks is such a talented actor that he's proven--and continues to prove--his versatility with each role. The film opens with the Hudson landing having already happened, and Sully and his co-pilot Jeff Skiles are dealing with the aftermath of sudden fame and moral scrutiny. An investigation soon begins to dig into the scenario Jeff and Sully faced, questioning whether or not they could have avoided landing in the Hudson. The way Eastwood presents it is tense and thrilling, with a wonderful recreation of the crash and rescue, and portrayals of both Sully and Jeff.
I'll be honest: I don't really remember this happening in 2009, but when I first heard about the film and saw the trailer, I couldn't fathom how a feature-length film could be made from this incident. However, Eastwood weaves into the story flashbacks from Sully's childhood and time in the service, and focuses on the effect the event had on him mentally, as well as his family. Aaron Eckhart (The Dark Knight) acts alongside Hanks and is fantastic as Jeff Skiles. Eastwood skips around in the story a lot, but it works well to make the finale of the film be a detailed representation of what happened that day via the cockpit recording. But we get glimpses of the event from a few vantage points sooner, which lead to the impressive rescue effort from the people of New York. It's really an inspiring tale, all the way to the uplifting conclusion.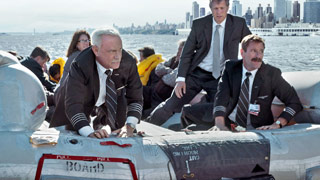 But instead of going full-on "family film," Eastwood opts for a bit more of a grown-up approach. In addition to profanity, which includes one unnecessary, flippant use of the "F" word from Eckhart (he expresses that it's "f---ing cold" outside while they're walking at night), there are several surprising scenes of violence. While Sully is spacing out after the trauma of the event, or experiencing nightmares, we see two instances of an airplane descending into New York City and crashing into buildings. It's a little too "9/11" in a way, but it helps you realize just how rattled Sully is after the crash. Some of the emotional fallout is pretty weighty, so I'd recommend caution for anyone looking for a feel good story. It's definitely inspiring, but Eastwood isn't afraid to give this real-life hero a vulnerable angle, and the film is better for it.

Sully is a sweet surprise. It's a solid drama about a real-life event that's expertly told by director Clint Eastwood. Fans of any of the central cast, or Sully's story, should definitely check it out. It's one of 2016's best.

- John DiBiase (reviewed: 12/19/16)

Blu-Ray Special Features Review

Sully is available on single-disc DVD, a 4K/Blu-Ray/DVD/Ultraviolet combo pack, and in a Blu-Ray/DVD/Ultraviolet combo pack. The Blu-Ray disc has three behind-the-scenes featurettes, and they're all excellent!

Moment by Moment: Averting Disaster on the Hudson (15:44) - This is a great little documentary where we get to hear a retelling of the landing on the Hudson, as told by the real life Sully and Jeff. It's amazing to hear them tell it themselves! (1 "S" word)

Sully Sullenberger: The Man Behind the Miracle (19:49) is a documentary about Sully's life--from being a little kid and wanting to learn to fly, to his time in the service, meeting his wife, and how the Hudson landing changed his and his family's lives forever.

Neck Deep in the Hudson: Shooting Sully (20:17) - After two really interesting featurettes about the real-life tale, we get this excellent making-of featurette. We hear from all of the central cast about making the film, taking on roles as real-life people, what it's like to work with Tom Hanks, and what it's like to work on Clint Eastwood's set under his direction. We also discover that they were able to cast some of the real-life rescue people from the 2009 rescue effort to play themselves in the movie! (1 "a" word)

- John DiBiase, (reviewed: 12/19/16)

Parental Guide: Brief Summary of Content

Sex/Nudity: We briefly see Sully with a towel around his waist sitting in a steam room; While on David Letterman's show, he cracks a joke about "brace for impact" as a double entendre to the stewardesses.


Vulgarity/Language: 1 "F" word, 7 "S" words, 8 "h*ll," 1 "b*stard," 1 "G-d," 1 "a" word, 2 "d*mn," 2 "Oh my G-d," 1 "Chr-st," 1 "S.O.B"


Alcohol/Drugs: Sully goes to a bar where he's recognized. They tell him they named a drink after him and they pour him some and he drinks it.


Blood/Gore: We see some blood on a stewardess's ankle


Violence: While Sully is seen flying a plane, it loses both engines and crashes in a ball of fire into a building after clipping another building; A taxi cab almost hits Sully while he's jogging on the streets of New York; Sully stares out a window at the NYC skyline and imagines another plane crash into a building and exploding in a ball of fire; Birds pummel the airplane, crashing into the engines, causing them to explode; The plane crash-lands in the Hudson river. The people on board panic and rush outside the plane. Some jump into the icy water and try swimming away. All of them get rescued, however; We see some flight simulations of planes crashing into things; We see the previous Hudson landing flight scenario play out once again.

** Disclaimer: All reviews are based solely on the opinions of the reviewer. Most reviews are rated on how the reviewer enjoyed the film overall, not on content. However, if the content really affects the reviewer's opinion of the film, it will definitely affect the reviewer's rating.