Film Review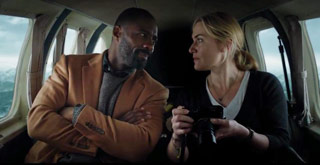 The romance genre is, admittedly, an acquired taste. However, for this reviewer, it really only takes a good story and a great cast to get me interested in the film. Upon seeing the trailer for The Mountain Between Us, I was instantly hooked by the pairing of two incredible actors--Kate Winslet and Idris Elba--and the setting being a survival scenario in the freezing isolation of the mountains. Typically, when it comes to romantic fare, I probably would prefer a romantic comedy (a la Serendipity or Hitch), but the recent rom-com release, Home Again, proved to be a far inferior effort to this more dramatic outing.
The Mountain Between Us is beautifully shot and directed by indie filmmaker Hany Abu-Assad, who set out to translate the film for the big screen in as real a presentation as possible --and the film is far better because of it. The production actually filmed ON the Rocky Mountains, subjecting the cast and crew to some of the harshest weather imaginable. There's really only one scene where you can tell green screen was used, because the rest of the film is set on-location (and even that green screen scene is on location... just not a dangerous cliff's edge). To complete the sense of reality, you have the acting caliber of Winslet and Elba to carry things forward. It really is a testament to the partnership of these three talents.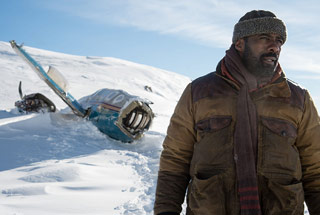 The Mountain Between Us is an intimate affair. The film opens amidst the hustle-and-bustle of an airport before it shrinks everything down to just two people and a dog on top of a mountain within the film's first fifteen minutes. From here on out, it's a survival tale that mixes elements of Gravity and Everest into a story that shows how two completely different strangers not only have to entrust their lives to one another, but grow to love each other in the most desperate of circumstances. Winslet and Elba bring a lot of depth to their characters, while Elba hides some significant mystery about his character Ben's marriage through a good portion of this duo's journey.
Modern day romances are almost always guaranteed to "seal the deal" with the characters sleeping together, and unfortunately, The Mountain Between Us is no different. As soon as the pair realize they have feelings for each other, they pretty much tear at each other's clothes and sleep together in what ends up being a pretty steamy love scene. It doesn't surprise me at all, but for those of us who adhere to the belief that sex outside of marriage is wrong, it otherwise taints the romantic aspects of the story. Unlike the aforementioned Home Again, though--and 2014's The Best of Me (which also made me uncomfortable)--Ben and Alex's consummation of their feelings for each other doesn't occur while one of them is married (although, in this case, Alex is engaged to be married). However, what I did like about Ben and Alex's romance is--aside from the night they spend together--it's a fairly sweet and charming relationship, even up until and through the film's finale. At first, it's tough to imagine these characters together, but then you can't imagine them staying apart. And, in that case, it checks off all the right boxes for creating a satisfying romantic film experience.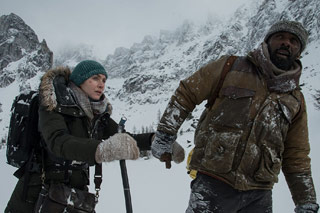 Aside from the one, pretty sensual love scene (where we see their bare backs as they undress with Ben on top of Alex in bed), content is decidedly of the PG-13 variety. After the plane crash, we see a deep, somewhat gory gash in Alex's leg before Ben bandages it up. We also see a pretty serious bruise/wound on Ben's abdomen that hints at internal injuries, but it's only briefly seen, while both characters have varying degrees of cuts and bruises on their faces that slowly heal over the course of the film. Language is infrequent, but when it's used, it's usually in bursts of blasphemy (mostly from Winslet's Alex) and other colorful language. Elba also uses the "F" word during an argument between the two.

The Mountain Between Us is a unique love story born out of some of the most dismal circumstances. It's entertaining, beautifully shot, and desperately real, but the unnecessary sex scene hampers what is otherwise a lovely romantic story.

- John DiBiase (reviewed: 12/28/17)

Blu-Ray Special Features Review

The Mountain Between Us looks stunning in HD. Even in just a standard Blu-Ray presentation, it's really a gorgeous picture with beautiful visuals. Along with the feature film and a digital copy (which works with the cross-format Movies Anywhere service), are the following bonus features:

Love and Survival: Creating Chemistry (12:42) - The author of the book the film is based on, Charles Martin, talks about writing the story and how Fox showed interest in it almost right away. The filmmakers also talk about casting the actors, while we also hear from Winslet and Elba themselves. We see some great B-Roll behind-the-scenes footage here as well, especially while they talk about Kate and her craft. Considering how physically demanding the role of Alex is, they talk about her tenacity and devotion as an actress.

Mountain Between Them: Shooting in Isolation (10:17) takes us on location to the Rockies where the movie was filmed. We learn about the hazardous conditions the cast and crew endured, how they built the cabin seen in the film on a Vancouver stage and then brought it on location, and other cool set pieces. They also show some interesting sets that ended up being cut from the final film, including an additional cave scene.

The Wilds: Survival Stunts (5:47) is all about the filmmakers' desire to keep it real for the production. The plane crash was filmed on a gimbal to simulate the motion and peril of the situation. We also get a look at how they filmed Idris Elba's slide down a mountainside, and how they installed a tank under the ice for Kate Winslet to fall into in one scene.

Deleted Scenes (14:15) - There are 7 deleted scenes with a Play All option or viewable individually. There's also optional commentary from director Hany Abu-Assad. In the first scene, we see Ben frustrated and yelling outside the crashed plane's fuselage and then trying to operate the radio inside. The second scene shows Alex on her own with the dog and we learn that Alex and Ben spend a night apart (showing they're separated longer than the time hinted at in the finished film). The third scene is a dream sequence where Ben imagines being woken up by Alex and making out with her (we see her bare back as she lies in her sleeping bag). Ben then wakes to find her asleep and her hand on his chest (like in the finished film). In the next scene, after she falls through the ice, Ben takes her to a snow cave and uses a flare to light a fire. The fifth scene shows Ben and Alex inside the cabin while he waits for her to wake up. Next is an extended scene of Ben coming back for her at the house, assembling a sled for her and pulling her through the snow (1 additional "S" word). Lastly, we see Mark talk to Ben in the hospital hallway (1 "d*mn"). They're pretty decent scenes, but I understand why all of them were cut.

Finally, we have a Feature Commentary by the director, a Photo Gallery and the film's Trailer.

- John DiBiase, (reviewed: 12/28/17)

Parental Guide: Brief Summary of Content

Sex/Nudity: Alex and Ben hug and kiss and then suddenly start passionately undressing each other, pulling at each otherís clothing. She lays down on the bed while he pulls at her shirts until we see her in her bra and she pulls of his shirt. The scene shows quick cuts of them kissing and groping each other and we see her bare back and also her pulling at the top of his pants. The scene ends soon after; Afterwards, we see them lying together and Alex is just wearing a camisole (the rest of her is under a blanket) that is somewhat seethrough and we briefly see her nipple through the shirt before she pulls the blanket up to cover her.


Vulgarity/Language: 1 "F" word, 10 "S" words, 1 "h*ll," 7 "J-sus," 3 "J-sus Chr-st," 1 "d*mn," 9 "Oh my G-d," 4 "Oh G-d," 1 "G-d," 1 "Lord," 1 "a" word


Alcohol/Drugs: There may be some miscellaneous drinking at a party and in a restaurant in two different scenes, but it's nothing significant.


Blood/Gore: We see blood and bruises on Alexís face after the plane crash; We see a brief close-up of a deep cut on Alex's leg twice before being bandaged up; We see blood on the dead pilot's frozen face; We see a discolored, bruised wound on Ben's abdomen; Ben has a bloody cut on his cheek; Alex's facial wounds are shown in a steady degree of healing throughout the film; After the cougar attacks the dog (not seen), we see some blood on the snow and blood on the dog's fur; We see Ben stitching up the dog's wound at the bottom of the screen; We briefly see the cougar's dead body with the face burned and eyes burned out from the flare; We see a dimly lit scene where Ben cuts meat off of the dead cougar and places it on an open flame.


Violence: A man piloting a plane suffers a stroke and the plane crashes, tearing in two. The pilot dies and the two passengers are injured; Ben slips down the side of a mountain but stops at the edge before falling over; A cougar attacks a dog; Alex shoots a cougar in the face with a flare gun; Ben angrily throws a pan and kicks the inside wall of the plane; A person falls through the ice and is rendered unconscious. They're rescued and are nursed back to health; A bear trap clamps down on a character's ankle as they scream in pain.

** Disclaimer: All reviews are based solely on the opinions of the reviewer. Most reviews are rated on how the reviewer enjoyed the film overall, not on content. However, if the content really affects the reviewer's opinion of the film, it will definitely affect the reviewer's rating.