RIGHTEOUS VENDETTA Release New Single "Weight Of The World"
Off The Band's Upcoming Album 'Cursed' - Now Available For Pre-Order

US Headlining Tour Begins Next Week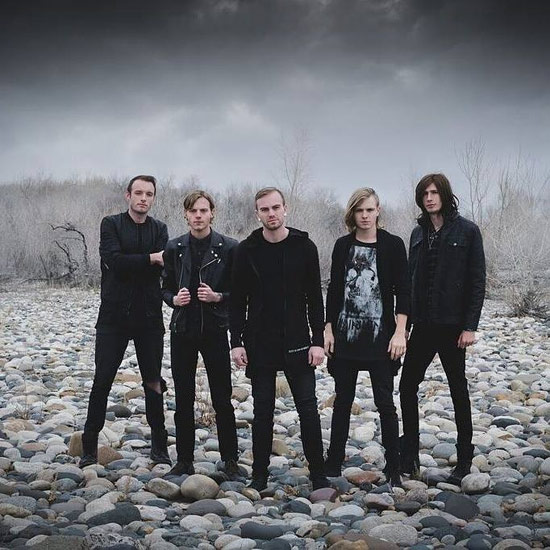 NEWS SOURCE: Century Media
February 3, 2017
RIGHTEOUS VENDETTA have revealed the first single off their upcoming full-length record, Cursed. The new song, "Weight Of The World" can be heard using the link below and is also the first instant grat track for those who pre-order the album. The pre-order for Cursed is available now via the links below, with the record slated for a March 17th release on Century Media.

Pre-Order Links:
iTunes: http://smarturl.it/RViTunes
Amazon: http://smarturl.it/RVamazon
IndieMerch: http://www.indiemerchstore.com/item/44242
In addition to the release of Cursed, Righteous Vendetta will begin their first tour of the new year next week in their hometown of Casper, WY. The five week trek will see the band performing new material off the record. A complete list of dates can be found below.
Cursed is the soundtrack to Righteous Vendetta's overall mission statement. "We've always wanted to have a positive influence on people's lives, but in a real way," Ryan Hayes (lead vocals) explains. "We want to connect with people, find common ground, and develop real relationships that aren't superficial."

The two years Righteous Vendetta spent crafting this new album was time well spent. "We put a lot of pressure on ourselves to write 'hits' at one point" Hayes confesses. "If you get too much into that mentality, you can start to lose yourself. So as we made Cursed, we focused on what we were when we started: a metal band. And we wrote a metal album."
RIGHTEOUS VENDETTA - Upcoming Live Shows

Friday, February 10th - Casper, WY @ Black Gold Grille
Saturday, February 11th - Powell, WY @ Gestalt Studios
Sunday, February 12th - Billings, MT @ Pub Station (Acoustic Show)
Thursday, February 16th - Salt Lake City, UT @ Liquid Joe's
Friday, February 17th - Colorado Springs, CO @ Sunshine Studios
Saturday, February 18th - Merriam, KS @ Aftershock
Sunday, February 19th - Tulsa, OK @ The Shrine
Monday, February 20th - Oklahoma City, OK @ Thunder Alley
Tuesday, February 21st - Wichita, KS @ Elbow Room
Friday, February 24th - Clarksville, TN @ The Warehouse
Saturday, February 25th - Birmingham, AL TBA
Sunday, February 26th - Knoxville, TN @ Open Chord
Tuesday, February 28th - Spartanburg, SC @ Ground Zero
Friday, March 3rd - Baltimore, MD @ Fish Head Cantina
Sunday, March 5th - Clifton, NJ @ Dingbatz
Tuesday, March 7th - Pittsburgh, PA @ Diesel
Wednesday, March 8th - Rochester, NY @ Montage Music Hall
Thursday, March 9th - Akron, OH @ Empire Concert Club
Friday, March 10th - Flint, MI @ The Machine Shop
Saturday, March 11th - Mansfield, OH @ Whisky Warehouse
Tuesday, March 14th - Valpariso, IN @ Big Shots
Friday, March 17th - Janesville, WI @ Backbar
Sunday, March 19th - St. Louis, MO @ Firebird
###


[2018]
Jan. | Feb. | March | April | May | June | July | Aug. | Sept. | Oct. | Nov. | Dec.
[2017]
Jan. | Feb. | March | April | May | June | July | Aug. | Sept. | Oct. | Nov. | Dec.
[2016]
Jan. | Feb. | March | April | May | June | July | Aug. | Sept. | Oct. | Nov. | Dec.
[2001 - 2015]
Visit our complete MUSIC NEWS ARCHIVE