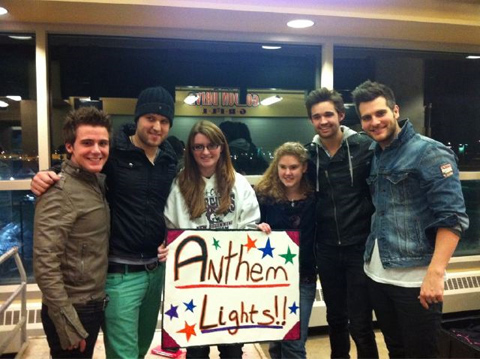 Mary and Courtney with Anthem Lights

Favorite Band/Artist: Anthem Lights
Featured Fan: Mary and Courtney
Location: Nebraska
When/Where Was The Above Photo Taken: February 3rd Sioux City, IA
What About This Artist's Music Speaks To You: It speaks to us because they're one of those rare bands that don't water down their message and they're not afraid to speak the truth.
Favorite Album by This Artist: Can't Shut Up
Favorite Song by This Artist: "Can't Get Over You"
Number of Times Seen This Artist Live: 1
Favorite Live Show Experience: Being able to get perfect, front row seats to see Anthem Lights on the Rock and Worship Roadshow tour.
Favorite Piece Of Merch/Item You Own From This Artist: An autographed T-shirt from the guys!
Website: N/A

Submit your photo and reasons why YOU'RE a fan for a chance to be featured here!