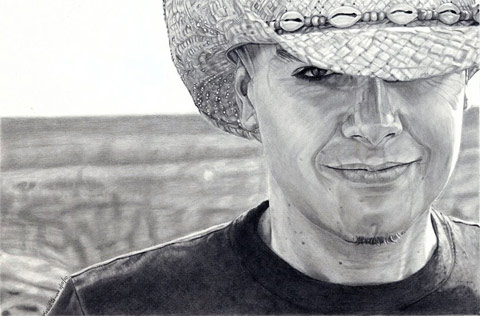 Drawing of Peter Furler by Karen Hinson

Favorite Band/Artist: Peter Furler
Featured Fan: Karen Hinson
Location: Tennessee
When Was The Above Drawing Created: August 2010
What About This Artist's Music Speaks To You: His music is so uplifting and positive. As a solo artist and with the Newsboys he has consistently delivered songs that help me grow and cheer me up! He is also one of my favorite people to draw. In fact I've drawn him 7 times!
Favorite Album by This Artist: Newsboys' Thrive
Favorite Song by This Artist: "Million Pieces"
Favorite Live Show Experience: Winter Jam 2012
Number of Times Seen This Artist Live: 1
Favorite Piece Of Merch/Item You Own From This Artist: Painted drumhead
Website: Facebook

Submit your photo and reasons why YOU'RE a fan for a chance to be featured here!