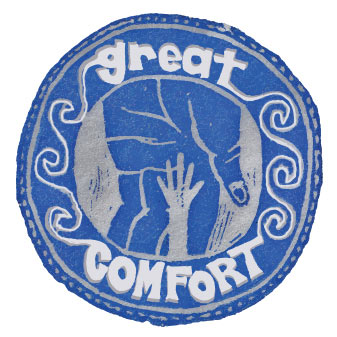 Great Comfort Records is an indie label that has been releasing organic indie projects since 2009. Founder and singer/songwriter Lenny Smith spoke with us recently (interview below) and shared seven releases with us from Great Comfort Records catalog (starting with two compilations from 2009), as well as a solo release from Smith from 2000.
Looking over the collection of records, we'll start with Lenny Smith's Deep Calls To Deep; the album is an independent release (pre-Great Comfort days) that has a southern, folk sound. Lenny captures a bit of the essence of Johnny Cash in his work, while resembling a hint of Burl Ives, vocally.
The first Great Comfort releases--the two compilations from 2009, Come O Spirit! Anthology of Hymns and Spiritual Songs: Volume 1 and Salvation Is Created: A Christmas Record from Bifrost Arts--are a nice mix of indie artists and even some well-known names. There's a quirkiness to most of the music that Great Comfort Records offers (which isn't surprising, considering their affiliation with the eccentric Danielson Family) and there's a little here that's carried over into both of these collections. My favorite of the two is the hymns collection, Come O Spirit!, which even opens with a track that features Leigh Nash of Sixpence None The Richer fame. Other notable performances include songs from Kate York, Denison Witmer and The Welcome Wagon. Salvation is Created is a Christmas compilation that is more melodic than most of the Great Comfort projects, but still has a very unique presentation that's outside of the norm or what's expected for Christmas music. Derek Webb even makes an appearance on this collection.
Next we have Glen Galaxy's 2011 album, Thankyou. This may be one of the more out-of-the-ordinary worship albums you'll lend an ear to. All of the songs came together in worship at the Abiding Place Church in San Diego (as the liner notes detail), and the album offers a folky acoustic styling with layered vocals by Glen and unusual sound effects and instruments adding texture throughout the album. The multiple layers of gritty vocals aren't intended to harmonize, so it sounds a little dissonant at times (and there's a surprising amount of lyrical water references that may rival Dan Haseltine and Jon Foreman), but overall the album remains refreshingly unique.
In 2012, Lenny Smith released a new worship album, Who Was and Is and Is to Come, which incorporates female accompaniment into the mix on much of the album. It's a higher quality recording overall than his 2000 release, and offers a nice mix of folk, rock, a little rockabilly, and even a softer approach, like in "Arise My Love," which is one of the album's best.
Possibly the oddest of the albums is Frog In The Reeds' 2013 album, Walking Tour of Spiders in the Woods. Quirky may be the best way to describe this one, which features female fronted vocals from Mary Brewer in an often dissonant manner. However, songs like "Driving and Smiling" are more tame and melodic. The lyrics are also rather dreamy and strange, as evidenced in the song "Fish Tank Dream," where Brewer sings, "You are keeping my cat alive / In a cellar closet / Must have gone through 40 lives." But most of the lyrics are quite worshipful, like this line in "Melt Like Wax," "He is a light to expose all, see and tremble / Praise Him who keeps the soul of those / Who bow before Him… The mountains melt like wax before the Lord of all the earth."
Finally, we have 2015's Sing To Your Mountain by Rachel. Rachel Galloway is a mult-instrumentalist who performs guitar, ukulele, keyboard, flute and bells on her album. Stylistically and vocally, Rachel reminds me of Bon Voyage meets Dakoda Motor Co. There's some surfer rock ("Oil of Joy"), but most of it is acoustic based and rather dreamy. Lyrically, the album is very reverent and worshipful.
If you're looking for music out of the norm for Christian music, you need look no further than Great Comfort Records and their eclectic array of music makers. For more details on all of these artists and for the latest on what the label is up to, visit www.greatcomfortrecords.com
I also spoke to Lenny Smith about the label and his own music career...
John DiBiase (JFH): Why did you start Great Comfort Records (and how long ago)?
Lenny Smith (GCR): Years ago, Daniel (Smith) and I used to have monthly meetings at a local barn-like structure. We called the meetings, Great Comfort Evenings. When we decided to start a worship label, Great Comfort Records seemed like the right name. We started the label in 2009, initially to be able to offer the Bifrost Arts albums to the wider church. We later added titles and continue to add titles.

John (JFH): How long have you personally been making music?
Lenny (GCR): I started writing worship songs and leading worship with my guitar in 1965 while in Mt. St. Mary's Seminary, Emmitsburg, Md. My son, Daniel, started his music career in high school and college bands, eventually starting the Danielson Famile band with his siblings. He now owns Sounds Familyre Records and Familyre Studios.

John (JFH): What inspires you the most when making music?
Lenny (GCR): Most of the time, I am first moved by lyrics, which I later try to put to melody. Occasionally, a rhythm will grab me first, but usually inspired words move me to write a song.

John (JFH): Do you have a process for working with artists for Great Comfort Records? Also, What have you learned about music-making from your experiences with the label and other artists on it?
Lenny (GCR): We are not actively looking for artists, but we are open to signing artists. We find that few nowadays know how to write real melodies that actually go somewhere and even fewer can add to that inspired, poetic lyrics. However, when we find them, we want them. I personally think songwriters need to read poetry on almost a daily basis. Worship songwriters need to also read theology and spend lots of time in the Bible. I am really done with shallow praise and worship songs. My heart now is all about songs TO God, ABOUT God. I don't want to sing about me very much anymore.

John (JFH): Are there any new releases on the horizon for Great Comfort Records? Or any other exciting happenings?
Lenny (GCR): My own new album of original songs will be released around June, followed by a new album from Rachel in September of this year. We will also be releasing a compilation album of 16 songs by 16 different writers/artists.

John (JFH): What are your thoughts on the current state of Christian music - or music in general?
Lenny (GCR): Christian worship music has become entertainment because the leaders are choosing a bad paradigm. God is not sitting on a throne, watching and enjoying us as we sing to Him and dance about and raise our hands in adoration. That would put us on the stage and God in the audience....as an Audience Of One. Reality is just the opposite. We Are The Audience, watching God performing his cosmic show of provision, guidance, healing, restoration, creation, evolution, adaptation, recovery, inspiration, and on and on, wonder after wonder. WHEN we see His deeds and His nature, we rise spontaneously to our feet and applaud and cry-out "Wow!" We could call our response "worship." True worship is not an action, it is a reaction.

John (JFH): Any other comments?
Lenny (GCR): We here on earth are just imitating what has been and is going on in the heavenlies, singing and praising and worshiping our Maker. Even here the birds and the whales and the elephants, puppies and babies are worshiping their Maker. The church is actually late coming to the party. In fact, most of the church doesn't even know the party has already begun. They are waiting for the rapture or death before they join the banquet. I blame the teachers, not the people. Our teachers are mostly self-taught and have embraced a pop-Christianity, or are stuck in traditional structures that will not allow the Holy Spirit to improve and refine their thinking. Yet, we progress steadily :)