It's a little weird to be writing this one, but since seeing the band in our hometown on March 1st - just over a week ago - on the Join The Tribe Tour, I've been on a bit of a Newsboys kick, listening to all of the records from Not Ashamed through to Thrive and so on. Then, this past weekend, the rumors (as well as the confirmation) dropped that dc Talk's Michael Tait is replacing Peter Furler (in live shows at least)... so it's just been a surreal couple of days. But, alas, no matter what's going on, the fact remains they have a wealth of music past and present that still makes for fantastic listens. Their 1994 album Going Public was a real gem. Not only was it the debut of their smash hit "Shine" (whether you love it or hate it), it's home to some extraordinary ballads like "Let It Rain," "When You Called My Name," "Be Still," and "Elle G," while also offering fun ones like "Truth & Consequences," "Lights Out," and "Spirit Thing." It's a great record that should not be forgotten. Check it out if you need a little melodic pop with heart and soul in it -- and don't mind a mid-90's production sound.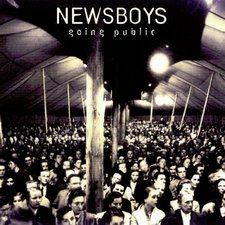 Newsboys
Going Public (1994)
Click here for a JFH Staff Review.
Our synopsis: "A solid melodic pop record that balances the fun and the serious quite nicely. Still a gem." (Recommended by JFH's John DiBiase)
Perfect For: Encouragement, Fun, Worship, Faith
Song Highlights: "Let It Rain," "When You Called My Name," "Spirit Thing," and of course, "Shine"
So, what are your thoughts on and experiences with the album Going Public? Do you recommend it? If so, why?