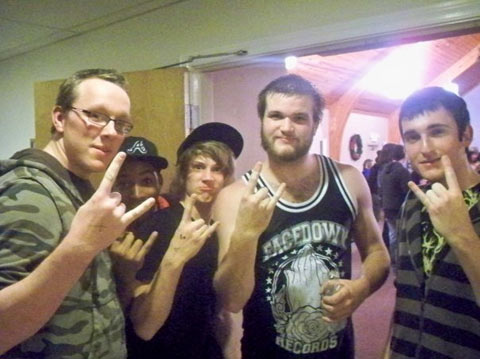 John, his friend Chris, the lead singer of Onward To Olympus, and two random guys that jumped in our picture.

Favorite Band/Artist: Onward To Olympas
Featured Fan: John Rogney
Location: Wytheville, Virginia
When/Where Was The Above Photo Taken: Lynchburg, Virginia
What About This Artist's Music Speaks To You: I have seen these guys twice now, and they connect with the fans on a very down-to-earth level. Their music is very heavy, but being in the crowd for two of their concerts completely changed my attitude towards new Christian hardcore bands. They spoke to me the same way that Sleeping Giant did at one of their shows, and they remind me a lot of them because of their openness about Christ and the messages their music speaks.
Favorite Album by This Artist: This World Is Not My Home
Favorite Song by This Artist: "Sink or Swim"
Number of Times Seen This Artist Live: Twice
Favorite Live Show Experience: The first time I saw them in Lynchburg, Virgina at a local church.
Favorite Piece Of Merch/Item You Own From This Artist: A hard copy of their album, as well as two shirts.
Website: John's Facebook

Submit your photo and reasons why YOU'RE a fan for a chance to be featured here!