CASTING CROWNS HAS TOP-SELLING TOUR OF FALL SEASON DRAWING 200,000 FANS TO "THE ALTAR AND THE DOOR" SHOWS
Tour Plays 20 Sold-Out Cities Including San Antonio, Portland, Birmingham and Atlanta
NEWS SOURCE: Provident Music Group
December 4, 2007

(Nashville, Tenn.) Dec. 4, 2007 – Christian music's top-selling artist Casting Crowns and featured guests Leeland with breakout artist John Waller, corporately known as the "The Altar and The Door Tour," recently sang to the final packed-house this fall after a three month, 36-city run that marked an unprecedented 20 sellouts and connected them with an incredible 200,000 fans in attendance.
The tour comes in as the highest-ranking Christian music concert event of the fall tour season at No. 30 overall in Pollstar magazine's concert pulse. In addition to remarkable ticket sales the tour also had a profound humanitarian impact. The tour allowed Casting Crowns the opportunity to unite more than 8,000 children with sponsors through the World Vision child relief organization.
Among the tallied 20 sellouts for the 3-hour concert were shows held at San Antonio's Municipal Auditorium, Alltel Arena in Little Rock, Ark., Cal State University of Bakersfield and the hometown Atlanta crowd at the Gwinnett Center arena.
The artists, partnering with KLOVE 106.7 and WBFJ 103.5 in Greensboro, N.C., drew the largest audience on the tour at the Greensboro Coliseum, gathering 14,004 eager fans at the sold-out show. "This Tour has been nothing short of amazing," says Shane Quick of Premier Productions, who promoted the Greensboro date along with 5 other sold-out markets. "I've never seen crowds like this in my six years of promoting Christian events. I've never seen a band connect with the church like Casting Crowns. I think we're seeing one of the greatest bands of our time. God Bless Casting Crowns!"
DC Concert promoter, Carol Auxier saw combined sales of over 18,000 tickets between the Patriot Center in Fairfax, Va., the Scope Arena in Norfolk and the Rupp Arena in Lexington, Ky. "Casting Crowns is one of the most amazing Contemporary Christian music artists that I have worked with," says Auxier. "It's an awesome feeling to stand stage side and look out into the crowd and see thousands of people in praise and worship, responding to the band in concert. Casting Crowns has a humble spirit like none I have seen, even though they have reached peaks in the music industry that few artists have reached."
Promoter Lowell MacGregor's five shows yielded 22,000 tickets including sold-out shows in Portland, Ore., and Redmond, Wash. He notes, "Working with Casting Crowns in the Pacific Northwest was the most uplifting experience I have had in my professional career, what an amazing five-day weekend!"
"Promoting the 2007 Casting Crowns concerts in Phoenix and Anaheim was one of the more delightful, spiritually enriching and professionally rewarding concert experiences I've had in recent years," added Jon Robberson of Celebration Concerts. "The Casting Crowns concerts reminded me of why I love promoting Christian concerts and the purpose I've dedicated my professional life to."
For more information on Casting Crowns and for updated spring concert listings, please visit www.castingcrowns.com or www.reunionrecords.com.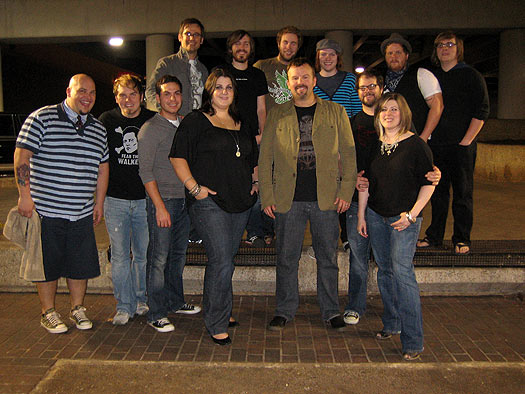 [2020]
Jan. | Feb. | March | April | May | June | July | Aug. | Sept. | Oct. | Nov. | Dec.
[2019]
Jan. | Feb. | March | April | May | June | July | Aug. | Sept. | Oct. | Nov. | Dec.
[2001 - 2018]
Visit our complete MUSIC NEWS ARCHIVE