MERCYME KICKS OFF 2008 HEADLINING WINTER JAM TOUR AND CELEBRATES RECORD-BREAKING RADIO AND SALES IN 2007
NEWS SOURCE: The M Collective
January 9, 2008

NASHVILLE, TN...1/9/07....With their latest project All That Is Within Me outpacing sales of their previous RIAA Gold-certified recording, the multi platinum, Dove Award winning and Grammy-nominated band MercyMe is kicking off 2008 as the headline act for Winter Jam, and also celebrating a record-breaking year in 2007. WinterJam begins this Thursday, January 10th, in Johnson City, TN, and will hit over 30 markets through mid-March.
As the lead act, MercyMe will be partnering with WinterJam and Mozes to continue to build their already growing mobile fanbase. During the course of this tour, they will be encouraging fans to join their Mozes mobile MOB to get a free ringtone and wallpaper. Last year, Mozes partnered with WinterJam and saw over 40,000 texts from fans getting involved in the SMS revolution, and saw their mobs grow to over 12,000. MercyMe expects a great involvement rate for this year's tour, as they were able to kick off their mob during their fall tour, ending it with 2500 members. Mozes is a growing company that provides tools to send and receive mobile messages to and from bands, social groups, and friends.
With three No. 1 singles from their 2006 release Coming Up to Breathe, ("So Long Self" "Hold Fast", "Bring the Rain") and six previous consecutive No. 1's under their belt, their latest track continued MercyMe's reign as one of Christian radio's premiere artists when "God With Us" set the record for most AC adds in a week with over 75% of R&R's AC panel, and 79 total R&R and CRW reporting stations immediately adding the song. The single went on to hit No. 1 in a fast and furious eight weeks.
At the close of 2007, MercyMe was the No. 1 Most Played AC artist (R&R/CRW) and Inspo artist (CRW) in 2007, and after reaching as high as No.16 on iTune's Top 100 Albums list, and No. 1 on iTunes Top Christian Albums list since its release, "All that is Within Me" was also named No. 1 on iTunes Best of Chart for Christian/Gospel in 2007, a list created by iTunes staffers. In addition, the album remains in the top five on Billboard's Contemporary Christian SoundScan chart after entering the Top 200 chart at No. 15 and selling an impressive 83,626 units, a personal record for units sold in a project's first week.
www.mercyme.org
###
Since their debut in 2001, Grammy-nominated, American Music Award and multiple GMA Music Award winners MercyMe have sold over 5 million units in CD and DVD sales, including "Almost There", nearly triple platinum, their 2003 project "Spoken For" which is approaching platinum sales, and the RIAA Gold certification for "Undone," the MercyMe Live DVD, and "Coming Up to Breathe". Their latest, "All That Is Within Me," entered the Billboard Top 200 chart at No. 15 and sold an impressive 83,626 units, the most they've ever sold in a project's first week. MercyMe is one of few Contemporary Christian music groups to have had all of their recordings certified Gold or Platinum, as well as garner four consecutive mainstream radio hits with "I Can Only Imagine", (No. 4 AC/top 25 on Top 40/Hot AC), "Here With Me" (No. 4 AC), "Homesick" (top 10 AC), and "So Long Self." With their multi-platinum sales, and one of the industry's most notable talents, MercyMe has sold out venues including Radio City Music Hall and received media attention from the likes of The Tonight Show, CNN, Fox New Channel's Fox & Friends, ABC News, CBS' Early Show, and has been seen on the pages of Entertainment Weekly, The New York Times, USA Today, Billboard, and more.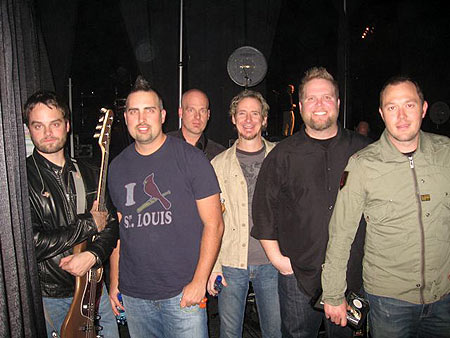 [2019]
Jan. | Feb. | March | April | May | June | July | Aug. | Sept. | Oct. | Nov. | Dec.
[2018]
Jan. | Feb. | March | April | May | June | July | Aug. | Sept. | Oct. | Nov. | Dec.
[2001 - 2017]
Visit our complete MUSIC NEWS ARCHIVE