CAMP ELECTRIC: UNIQUE MUSIC EXPERIENCE OFFERS TEENS 13-18 THE OPPORTUNITY TO ROCK WITH TOP CHRISTIAN MUSICIANS
K-LOVE, AIR 1 & THE PREMIER GROUP TEAM TO PRESENT CAMP ELECTRIC IN NASHVILLE, JUNE 29TH-JULY 3RD.
NEWS SOURCE: Morning Star PR
January 9, 2008
(Nashville, Tennessee) –January 9, 2008 – "An all access pass to a total music experience," best describes the unique concept of Camp Electric, a ground breaking Christian worship and rock & roll summer music camp being hosted for youth aged 13-18, at Trevecca University in Nashville, June 29th-July 3rd.
'Inter-action' is the key emphasis at Camp Electric-- an event targeted to bring a unique mix of nightly concerts by top Christian rock bands, and top Christian musicians to teach instructional sessions. The 'all access' schedule will offer five power packed days of hands-on music/ministry instruction, worship, personalized tips and tune-ups, and overall encouragement to spiritual and performance excellence for young musicians seeking to perfect their skills on vocals, keyboards, drums, bass, and guitar. Camp registrants will have ample informally organized 'hang time' with their professional instructors as well as the opportunity to personally jam with their favorite musicians.
Major chart topping groups set to perform in the nightly concert presentations include TobyMac, Skillet, Pillar, Leeland, Phil Joel, Britt Nicole, and a to-be-announced 'mystery artist.' Leading Christian author/youth minister, David Nasser, will also be on campus to speak at the event.
Camp Electric is being produced by The Premier Group, America's top producer of Christian themed events, and presented by K-LOVE and Air 1 Radio, the leading voice of Christian radio under the EMF Broadcasting banner.
Noting that the event is filling up fast, John Sanders of Camp Electric, comments: "We've themed Camp Electric not only as a ''first' of its' kind event, but with a strong commitment to Christian music that will give aspiring young musicians an opportunity to maximize their individual potential as well as grow in their spiritual walk."
Adds Mike Novak, President of EMF's radio family: "To raise future generations we have to invest in ways to reach kids where they are today. For many Camp Electric is a perfect example of how families can partner their teens with some of the leading Christian artists in the world. The opportunity for these young people to learn and fine tune their musical skills in a Godly environment is priceless."
Camp Electric will be conducted as a full-on 'campus experience.' The five days of activities will be totally staged onsite at Nashville Trevecca University campus and will be staffed with adult chaperones. Accomodations are available on campus for the first 500 registrants.
Instructors include some of the top road/studio musicians in today's Christian market, hand picked by event presenters for their passion for teaching, modeling Christianity through communication in music, and keeping God central in their personal lives and roles within the music industry as professional musicians.
Camp Electric instructors already set include:
Rob Beckley –Vocalist for Pillar. Rob is a defining voice in today's Christian rock music.
Lucio Rubino--Vocals and guitarist for Storyside B, Lucio is a respected vocal coach and producer.
Brian Haley – Drummer with tobyMac/Diverse City, who has also toured extensively with artists such as Out of Eden, Bobby Jones, and Donnie McClurkin.
Justin York—Guitarist for artists such as Tait and Steven Curtis Chapman, songwriter, and record producer, he received a Dove Award for "rock record of 2004.'
Noah Henson –Guitarist with more than 14 years of road experience—he has for the past seven years performed and written songs as a part of Pillar's amazing music ministry.
Todde 'Toddiefunk' Lawton –Bass guitarist on tour with multi-platinum tobymac and Diverse City.
Chad Chapin—Drummer, songwriter and consummate road musician with artists such as is current road gig with Tait, Casting Crowns, and dcTalk. He has had more than 40 songs recorded by major name artists.
Rich Gilliland--Bass--Has been active in Christian music since he was a teenager--now touring on bass with KJ-52, he also frequently does road work with Natalie Grant and Brandon Heath.
James Holloway—Drums – Now touring with Mandisa, he has been a studio drummer for artists such as dcTalk, and also performed with Grits, tobyMac, any many of Nashville's top Christian artists.
Pete Prevost –Guitarist for Sanctus Real, has been a professional musician for the past 13 years—including six years with a indie Christian band.
Barry Graul—Guitarist for MercyMe, he has performed with over 20 top rock, pop, and R&B artists, received multi-Dove Awards, as well as ASCAP Awards as a songwriter.
Michael 'Kalel' Wittig – Guitarist for Pillar, has toured internationally, won 3 Dove Awards, produced #1 hits, co-founded JMA Consulting to pass his knowledge down to aspiring artist/musicians.
Josh Gonzales –Bass guitarist for Salvador, he's toured internationally with the band.
Jeff Jones –Drummer with Big Daddy Weave for the past nine years, he's taught drums for the past 17 years, in addition to touring and studio work.
Dave Luetkenhoelter—Bass Guitarist for Christian rockers Kutless, he has recorded with them in studio and toured internationally.
Lester Estelle –Drummer for Pillar as part of the award winning rock band that has sold more than 700,000 units of their music.
Daniel Carson –Guitarist for leading artist, worship/songwriter Chris Tomlin, brings his unique musicianship to the worship genre.
Adam Nitti--Bass--has worked for the past four years on tour with Steven Curtis Chapman. With three solo albums of his own and several major national endorsements, he is a frequent contributor to Bass Musician Magazine and Bass Player Magazine.
Dave Wyatt—Keyboardist for tobyMac/Diverse City, he has played with a 'who's-who' of top Christian artists.
Registration for Camp Electric per attendee covers all instruction, bible studies, concerts, electives, sessions, recreation and supplies, as well as housing and meals during camp. Full details are available online at the official event website http://www.campelectric.com/ and by calling: 1-800-755-0242.
# # #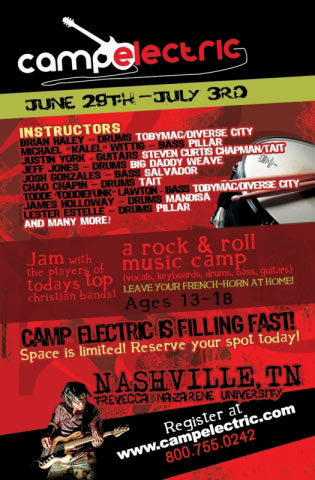 [2019]
Jan. | Feb. | March | April | May | June | July | Aug. | Sept. Oct. | Nov. | Dec.
[2018]
Jan. | Feb. | March | April | May | June | July | Aug. | Sept. | Oct. | Nov. | Dec.
[2001 - 2017]
Visit our complete MUSIC NEWS ARCHIVE