COMPASSIONART INTERNATIONAL SONGWRITER'S RETREAT BEGAN THIS WEEK IN SCOTLAND, UK
Multiple GRAMMY, Dove Award Winning Artists in Attendance
Delirious? Blog Site Offers Inside View of Retreat, Associated Press Lauds Effort
NEWS SOURCE: Hoganson Media
January 10, 2008

(Littlehampton, England) January 10, 2008 – Compassionart is hosting internationally recognized songwriters at a retreat that began Monday in Perthshire, Scotland. The songwriters' unprecedented goal is to collectively write 10-12 songs that will be given to the world not just to sing, but to raise money for the relief of suffering for the poorest of the poor around the planet.
As the songwriters gathered for the first time at dinner on Monday, Michael W. Smith spoke about Isaiah 58 and his hope for something supernatural to take place during the retreat. After a time of devotion the following morning, Matt Redman led the songwriters in a time of worship and then they divided into three writing teams, with teams changing each day of the retreat.
Songwriters participating are Paul Baloche, Steven Curtis Chapman, Stu Garrard (Delirious?), Israel Houghton, Tim Hughes, Graham Kendrick, Andy Park, Matt Redman, Martin Smith (Delirious?), Michael W. Smith and Darlene Zschech.
"We gathered around the piano and played each other ideas, and we've ended up with eight songs that all sound like they have potential," writes Martin in a blog at www.delirious.co.uk/livingroom during the second day of the retreat. "I can't quite believe this is happening; we are doing something together that none of us could achieve individually. It's family and we are learning to dream together."
Author and journalist Christa Banister, sitting in on the retreat and contributing to the blog site as well, writes, "As the week continues, it'll be exciting to see what stays and what goes. But whatever happens, one thing's for sure: Community isn't just a cute concept for the artists of Compassionart. It's something preached that they're willing to practice. And the results just may be the new songs you'll be singing in church in the not-so-distant future." (See her full entry from yesterday's blog below or attached.)
To get a insiders view this week of the songwriting process along with photos and more, anyone can sign up to see the blog at www.delirious.co.uk/livingroom/blog.php.
In an Associated Press wire story that hit such well-known media outlets as the Chicago Tribune, Washington Post, Houston Chronicle, MSN, Canadian Press and hundreds of other publications across the U.S. and internationally, John Gerome writes, "Musicians thinking they can change the world? Nothing new there. But a group of big names from the Christian recording industry are putting that idea to the test with an unusual plan to collectively write 10 to 12 songs and basically donate them to charity. Any money the tunes generate -- and with people such as Michael W. Smith, Steven Curtis Chapman and Chris Tomlin involved, it's a safe bet there will be a good bit -- will help the poor for as long as the songs are around." (Though he originally planned to attend, Chris Tomlin is unable to participate in the retreat due to a short-term illness.)
Remarkably, the songwriters, publishers, managers, copyright institutes and agents involved have all waived their rights and are donating their efforts on this project to Compassionart, a charity based in Littlehampton, England that is dedicated to seeing works of art generate income for the poorest of the poor. One hundred percent of the proceeds derived from the songs written at the Compassionart retreat will go directly to charity. One half of the monies will go to the songwriters' charity of choice, and the other 50% will go to a charitable project agreed upon by all the songwriters involved.
"All the royalties these songs will ever earn will go to the charity Compassionart, and that will invest in loads of projects around the world that will give the poorest of the poor some hope," says Martin.
For more information on the Compassionart songwriter's retreat, go to http://www.compassionart.co.uk/
###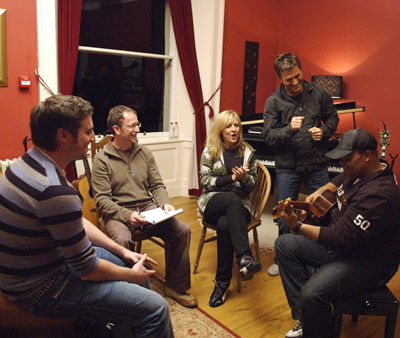 CAPTION:
Compassionart songwriters work on a song in one of the writer's rooms in Scotland. Pictured (l-r) are: Tim Hughes, Graham Kendrick, Darlene Zschech, Michael W. Smith and Israel Houghton.
January 9, 2008
Re-imagining Community
By Christa Banister
Perthshire, Scotland—While the concept of community-focused living is hardly anything new, it's become a prominent buzzword in Christian circles that's often better in theory than practice.
In the artistic community, it's even more challenging not to embrace the "every man for himself" mentality. After all, one's livelihood (namely record sales and headline-making awards) ultimately depends on beating the next guy/girl—even if you're inevitably in the music biz for the same heavenly-minded purpose.
And that's precisely what makes the Compassionart event such a landmark effort. Not only have the industry's top singer/songwriters and worship leaders (from around the globe, no less) carved time out of respective schedules to write songs together to benefit the poorest of the poor, but they're also getting vulnerable in the process.
In a crowded room of your peers, most artists wouldn't exactly be forthcoming with new songs, let alone new songs after only an afternoon of writing. And being open to suggestions after the fact? Well, forget it. But that's exactly what happening every day at the cozy yet rustic confines of the Cantle House. After splitting into groups and working on their respective ideas, a feedback season held later on allows everyone to offer his/her proverbial two cents—a lyrical tweak here, a more dynamic key change there. And while certainly done in the spirit of love, the commentary is no less honest. It's not rude and over-the-top like Simon Cowell, but it sure ain't Paula Abdul either.
As a result of this well-meaning give and take, more than 20 song ideas have emerged in a record two days. Everyone in the business knows that it's rare for an artist to meet a deadline, let alone a room full of talented ones with a random slate of ideas and only a week to develop them. But when given the rare opportunity to be joined together for one common purpose, the results have been one stellar worship track after the next.
Many of the artists involved have attributed the project's success to it "not being all about me." And that thriving community spirit didn't even stop when the power went out. In fact, it may have even inspired them more.
With a simple array of candles illuminating the room, the vibe is laidback and loose. Only seconds into the first track, it's clear that everyone from Michael W. Smith to Israel Houghton to Tim Hughes to Darlene Zschech is clearly having the time of their lives.
It's often been said there is strength in numbers. But that has never been more apparent in songwriting than today. Aside from some really catchy, encouraging tracks, there's unbelievable improvisation that's stretching artists out of his/her comfort zones. Steven Curtis Chapman starts off one his collaborations on the piano—not necessarily his go-to instrument. Delirious? frontman Martin Smith has written an old-school Gospel song while Smitty accompanies him with a melody so soulful and inspired that Elton John would be a little jealous. And Andy Park has given the Gospel-era Bob Dylan a run for his money with one of his tracks.
Unintentionally focusing on the theme of holy lament, the discussion of the theological implications of each song's lyrics virtually assures that these songs aren't of the cookie cutter praise & worship variety, which is about as refreshing as the emphasis on community itself.
As the week continues, it'll be exciting to see what stays and what goes. But whatever happens, one thing's for sure: Community isn't just a cute concept for the artists of Compassionart. It's something preached that they're willing to practice. And the results just may be the new songs you'll be singing in church in the not-so-distant future.
# # #

[2019]
Jan. | Feb. | March | April | May | June | July | Aug. | Sept. | Oct. | Nov. | Dec.
[2018]
Jan. | Feb. | March | April | May | June | July | Aug. | Sept. | Oct. | Nov. | Dec.
[2001 - 2017]
Visit our complete MUSIC NEWS ARCHIVE