FORMER CHASING FURIES LEAD SINGER SARAH MACINTOSH TO RELEASE FIRST SOLO POP/ROCK ALBUM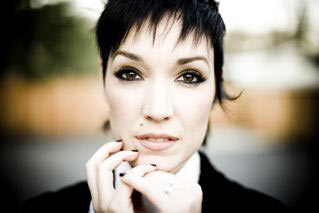 THE WAITERS, THE WATCHERS, THE LISTENERS, THE KEEPERS, AND ME
AVAILABLE NOW ON ITUNES; EXTENSIVE WINTER/SPRING TOUR SET
NEWS SOURCE: Bookend Media
January 11, 2008
(SAN DIEGO, CA)— Sarah MacIntosh burst onto the Christian music scene in 1999 with her band Chasing Furies and released their critically acclaimed album With Abandon. Nine years later, MacIntosh is poised to release her first record as a solo artist entitled The Waiters, The Watchers, The Listeners, The Keepers, And Me, which features original songs and a renewed personal purpose. The independent release is available on iTunes and through www.myhorizonstore.com.
Produced by her husband Jonathan MacIntosh (Luna Halo, Trevor Davis) the album holds a powerhouse of musical backing with Vinnie Colaiuta (Sting, Billy Joel, Josh Groban) on drums, Brent Milligan (Michael W. Smith, Tobymac) on bass, and Jonathan on guitars. This incredible melodic landscape blended with MacIntosh's angelic and hauntingly vulnerable vocals sets the stage for an original and riveting musical experience that will certainly make fans and critics sit up and listen.
When the Chasing Furies disbanded in 2000, MacIntosh shared the stage with Michael W. Smith and Matt Redman as a background vocalist and has lent her vocals to recordings including Can You Hear Us Now (David Crowder Band) and Worship Again (Michael W. Smith). In 2002 the MacIntosh's relocated to San Diego and accepted ministry positions at Horizon Christian Fellowship. Following this change of focus, MacIntosh is ready to return to the international Christian music stage with a new record, fresh focus, and a dynamic sound.
"I believe we are here on this earth to worship God, and to lead other people to Him," shares MacIntosh. "As far as I know, the best way that I can do both of these things is through music. My hope is that these songs are deep and thought provoking enough to draw people into a closer relationship with the Lord."
MacIntosh also has an extensive tour in place that spans from mid-January through the end of April 2008. For more details and information, please visit www.sarahmacintosh.com.
###

[2019]
Jan. | Feb. | March | April | May | June | July | Aug. | Sept. | Oct. | Nov. | Dec.
[2018]
Jan. | Feb. | March | April | May | June | July | Aug. | Sept. | Oct. | Nov. | Dec.
[2001 - 2017]
Visit our complete MUSIC NEWS ARCHIVE