EVERLIFE: IN FRONT OF THOUSANDS OF SCREAMING FANS AND ON STAGE WITH MILEY CYRUS
NEWS SOURCE: Vining Media
January 31, 2008

Nashville, TN - (January 31, 2008) – Sister trio Everlife have had one amazing week as they have been performing to sold-out crowds, estimated at over 105,000 people for just six dates. Tonight, at Miami's American Airlines Arena, concludes touring with friend and fellow performing artist, Miley Cyrus (Hannah Montana), as Everlife was asked to join in on the last leg of the Best of Both Worlds Tour.
Attached is a photo of the girls with Cyrus (left to right: Julia, Cyrus, Sarah, Amber) from the show on January 26th while performing at the New Orleans Arena. Photo courtesy of Chance Hoag, Platform Artist Management.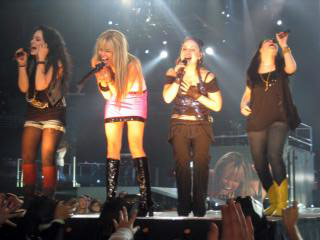 * About Everlife *
Since the release of their self-titled debut in 2004, Everlife has sold over 70,000 units. They have had numerous songs on various Disney compilations, such as the gold-certified Disneymania 3 CD/concert DVD, Radio Disney Jams 7, Disney Girlz Rock, and the three-time platinum-selling Hannah Montana soundtrack. The girls have had continuous airplay on Radio Disney, with four of their singles on Radio Disney's Top 30 playlist. You can also hear Everlife performing the title track for Disney Channel's Original Movie "Go Figure," as well as the single "Strangers Like Me" on the Tarzan Special Edition DVD. They have also hit the live stage with The Cheetah Girls and co-headlined with B5.
Following the arena tour with Cyrus, Everlife's music will be heard in thousands of movie theatres nationwide. Their single, "Find Yourself In You," is the title song to be featured in the upcoming Hollywood comedy movie, Penelope, hitting theatres February 29th (starring Reese Witherspoon, Christina Ricci, and James McAvoy). The song was written by Everlife and Matthew Gerrard, a producer and songwriter (Kelly Clarkson, Jessica Simpson, Hannah Montana/Miley Cyrus, Disney's High School Musical).
Amber (23), Sarah (21) and Julia (18) have been writing and performing together since 1997, starting in their hometown of Indiana, PA. The sisters now reside in Nashville and are managed by Platform Artist Management.
###

[2019]
Jan. | Feb. | March | April | May | June | July | Aug. | Sept. Oct. | Nov. | Dec.
[2018]
Jan. | Feb. | March | April | May | June | July | Aug. | Sept. | Oct. | Nov. | Dec.
[2001 - 2017]
Visit our complete MUSIC NEWS ARCHIVE