HAWK NELSON IS GRANTING "ONE LITTLE MIRACLE" AT A TIME
HAWK NELSON JOINS TOM SHOES
BAND PLANS VISITS TO RONALD MCDONALD HOUSES
AIR1 RADIO AND HAWK NELSON LAUNCH REVOLVE CAMPAIGN
NEWS SOURCE: Overture Media
September 24, 2008
SEATTLE, WA...September 24, 2008...From the band that knows how to make teen girls swoon as well as impact the lives of the youth generation, Hawk Nelson is on target to make a difference with the "One Little Miracle" campaign in multiple facets. The band is partnering with various organizations to urge others to reach outside and be that "one little miracle" that can change someone's life. The moniker for the newly launched program is based of the band's newest single "One Little Miracle," which is currently charting at No. 6 on CHR formats. As the song states:
One little revolution could turn it all around.
Back to the Kingdom we once knew
Just a little bit of me, just a little bit of you
One little miracle to get us through
Not just focusing on one area of need, Hawk Nelson has chosen three avenues to be the "one little miracle" across the nation; however, the band needs the help of their truly devoted fans and following to make an impact. Each outreach will enforce the band's ongoing involvement with the Hands & Feet Orphanage in Haiti, which the band visited last summer and recently purchased a van from proceeds raised during the spring tour (pictured below). The orphanage was directly hit in the recent Gustav hurricane, and the band is striving to help provide aid as many others.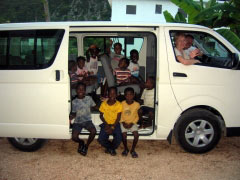 Hawk Nelson & TOMS Shoes
Hawk Nelson loves TOMS shoes and the cause they support: providing shoes for children in poverty stricken countries. For every pair of shoes purchased, TOMS donates a pair to someone in need. Their motto: One for One. Hawk Nelson is joining TOMS outreach. For every pair of shoes sold through this relationship (by clicking on the TOMS logo on the Hawk site or by clicking here), TOMS will give $8 back to the Hands & Feet Orphanage in Haiti. Coming soon will be an exclusive Hawk Nelson designed shoe (see sketch).
TOMS Shoes was founded in 2006 and in their debut year gave more than 70,000 shoes to children in need from Argentina and South Africa. In 2008, TOMS plans to distribute more than 200,000 pairs of shoes across the world. For more information on Hawk Nelson & TOMS SHOES visit Hawk's site.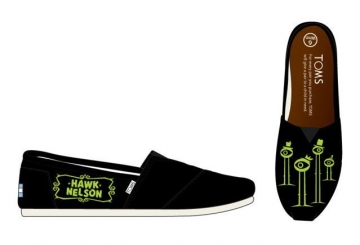 Hawk Nelson & Ronald McDonald Visits:
As the REVOLVE 2008 tour gets underway, Hawk Nelson is planning on visiting select Ronald McDonald homes in the tour cities (below). The guys will visit the homes on Friday afternoons before the REVOLVE events take place and take goodie bags with CDs and t-shirts. They hope to encourage teen girls and families at these homes to attend the event, which REVOLVE will provide transportation and passes.
For nearly 35 years, Ronald McDonald House Charities® (RMHC) has been creating, finding and supporting programs that directly improve the health and well being of children worldwide. RMHC is making a global impact on the most pressing problems facing families today. As a trusted non-profit for 35 years, RMHC has three core programs that help families in need: Ronald McDonald House®, Ronald McDonald Family Room® and Ronald McDonald Care Mobile®.

Hawk Nelson & Air1:
To help support the REVOLVE tour and the Hawk Nelson "One Little Miracle" campaign, Air1 Radio is partnering with the band to giveaway 75 signed records along with REVOLVE tickets. The grand prize will be a fly away package to Orlando (Feb. 6-7,2009) for the REVOLVE event. The winner will go with Hawk Nelson to the Ronald McDonald house as well as the event. In addition, Hawk Nelson and Air1's Scott Smith will do weekly vodcasts as well as live broadcast with Hawk every Friday night on air from the REVOLVE dates.
For more information on all of these initiatives and Hawk Nelson's involvement, please visit www.hawknelson.com . In addition the "One Little Miracle" EP, featuring Amy Grant special recording at Creation Northeast, will be available on October 14th at iTunes.
###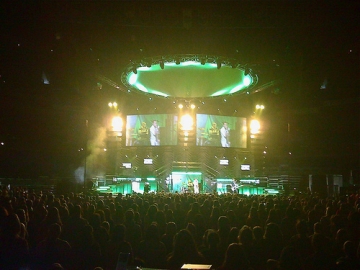 Hawk Nelson Kicks off REVOLVE in Columbus, Ohio
Ronald McDonald House Visits:
Minneapolis, MN OCT 3 - 4
818 Fulton Street S.W.
Minneapolis, MN 55414
Anaheim, CA OCT 10 - 11
383 South Batavia Street
Orange, CA 92868
St. Louis, MO OCT 17 - 18
4381 West Pine Boulevard
St. Louis, MO 63108
Sacramento, CA OCT 24 - 25
2555 29th Street
Sacramento, CA 95817
Spokane, WA OCT 14 - 15
1015 W. 5th Avenue
Spokane, WA 99204
Portland, OR OCT 21 - 22
2620 North Commercial
Portland, OR 97227
Oklahoma City, OK JAN 30 - 31
1301 North East 14th Street
Oklahoma City, OK 73117
About Hawk Nelson:
This powerhouse, punk foursome hailing from Canada has won the hearts of fans and media nationwide since their debut release in June 2004 with "Letters to the President." HAWK NELSON has appeared on NBC's "American Dreams", had a cameo appearance in the hit Nickelodeon film "Yours, Mine, & Ours," where they played their original song "Bring Em Out," as well as had their songs featured on NBC's 2006 Stanley Cup promo spots, WB's Smallville, Summerland, & Laguna Beach. Their most recent release Hawk Nelson Is My Friend debuted at #34 on the Billboard Top 200 selling more than 18k units. Hawk Nelson Is My Friend was also the top selling new release on the Christian album chart in addition to the comprehensive chart. The album also successfully debuted on the digital store iTunes with a No. 13 debut on the Top 100 albums chart on street day and remains on that chart one week later. Also the debut single "Friend Like That" sold 25,000 digital copies up to street week on iTunes.