FAMILY FORCE 5 BASSIST JOSHUA "FATTY" OLDS HOSPITALIZED
Please keep the Olds family and band in your prayers as he recovers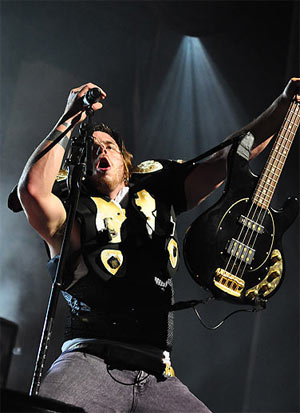 photo by John DiBiase
NEWS SOURCE: a Jesusfreakhideout.com report
December 1, 2009
We'll be honest - it always seems like a sensitive matter to report an illness publicly as "news," but as people have been writing to us asking us to post something, and Family Force 5 frontman and brother of "Fatty," Solomon "Soul Glow Activatur" Olds has been posting regular updates on his Twitter, we decided to loop you all in to support the band and Olds family in prayer.
Two nights ago, on Sunday evening, November 29th, Family Force 5 bassist Joshua Olds (best known as "Fatty") was admitted to the hospital in Grayslake, IL due to some urinary issues and vomiting. Solomon posted regular updates on Twitter about his brother, keeping the mood a little light at times, but clearly showing concern over his brother's illness ("Fatty is n pain but he is getting meds. He's also singing some Micheal Jackson 2 me. Just put a blanket on'm. DR's r testing his pee now.") Later that night, just a few hours after being admitted, Joshua was transferred to another hospital. Solomon wrote, "Fatty is being transfered to another hospital. He is having kidney trouble. No stones. Please pray for my brother if you can!" The next morning, Solomon updated everyone, "Fatty is doing better. DR say that he will need a few days to get back up to par and rehydrated his body. Our mom is flying to see him."
Despite Fatty's condition and his key role in the band, Family Force 5 has decided not to cancel any of their upcoming Christmas Pageant Tour shows, even if that means they have to play without him. Later on yesterday morning, Solomon updated again about Fatty, "They are moving my brother up to the ICU and doctors are saying it's serious. We are getting a kidney specialist on the way." But later on in the day, some more positive news was posted, "That's the most I've heard him talk all day!! His kidneys need to regenerate because they have been failing! Send pictures to cheer him up!" Solomon's most recent Tweet, as this report goes up, reflects on the band's first ever Family Force 5 show without his brother, which they performed last night in Bourbonnais, IL, "Played our 1st show ever w/o Fatty! He was sorely missed!! Saw him at the HOSP & he looks like he is doing better. Dad is staying w him."
Please keep the Olds family, Joshua, and the band in your special prayers during this time! And keep your eyes focused on Solomon's Twitter page for the very latest about Josh and the band. Hopefully there will be nothing but good news here on out.
For more info on Family Force 5, visit the JFH Artists Database.


[2022]
Jan. | Feb. | March | April | May | June | July | Aug. | Sept. | Oct. | Nov. | Dec.
[2021]
Jan. | Feb. | March | April | May | June | July | Aug. | Sept. | Oct. | Nov. | Dec.
[2001 - 2022]
Visit our complete MUSIC NEWS ARCHIVE