CHRISTIAN RECORDING ARTIST, CARMAN, STARS IN NEW BIBLICAL FILM FROM PURE FLIX ENTERTAINMENT
Releasing Just In Time for Christmas 'The Book of Ruth' Will Hit Stores Nationally December 15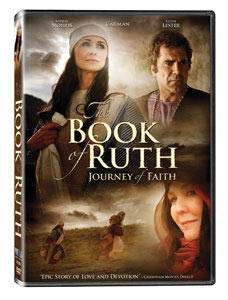 NEWS SOURCE: Provident Label Group
December 14, 2009
NASHVILLE, TN (December 14, 2009) – Carman, the widely recognized Christian recording artist turned actor, is making his return to film after an eight-year hiatus from the big screen. The man who starred as Orlando Leone in the 2001 family hit, The Champion, is playing the lead role in the latest family release from Pure Flix Entertainment. The Book of Ruth will release nationally on DVD December 15 and is being distributed through EMI CMG.
The film, which shares the message of a triumphant love story in the face of adversity, chronicles the selfless journey of love and devotion seen through the eyes of a young widow named Ruth. Choosing to leave her homeland of Moab, she follows her mother-in-law Naomi to Israel after the death of her husband. Upon reaching Bethlehem, she meets and marries a man named Boaz, who is of the Royal House of Judah. In time, this chain of seemingly unrelated events sets the stage for the future of kings of the nation of Israel, and ultimately, the glorious coming of the Messiah.
Carman, who stars as Boaz in the film, had this to say about his most recent role.
"To work on a film that takes an in-depth look at conflicting relationship issues has been a great experience. From an acting perspective, it required each of us to take our performances to a new level, and artistically challenge anything we've done before. I believe everyone involved did just that. This film will be around for a long time."
The Book of Ruth is a Biblical Cinderella story from the archives of the royal Jewish bloodline, masterfully revealing the redemption of inheritance through the child Obed, who was the great grandfather of King David.
The film also stars Eleese Lester (Friday Night Lights) and newcomer Sherry Morris.
The DVD, which includes bonus featurettes including "The Making Of," "Trailers," and "Commentary," will be available at all major Christian stores December 15.
For more information or media resources for The Book of Ruth, please visit www.pureflix.com/ruth
ABOUT PUREFLIX ENTERTAINMENT (www.pureflixentertainment.com):
Pure Flix Entertainment, LLC (PFE ) produces, distributes, acquires and markets Christian and family-friendly film properties. Pure Flix Entertainment unites some of the most respected and successful members of the Christian film community with the objective of positioning itself as the industry leader for the production and distribution of high quality, inspiring movies and television programs, while doing so with integrity. Media in the form of entertainment and education owns a sure path to how people think about life. Impacting how they think can impact how they live and the choices they make. And because the human mind thinks in pictures, we believe that film is a powerful social and spiritual influence. For these reasons, our work and passion is the profitable production and distribution of inspiring, Christian and family values based forms of media. Mission Statement: transforming the human spirit through values based entertainment. For additional information please go to www.pureflixentertainment.com.
ABOUT EMI CMG DISTRIBUTION (www.emicmgdistribution.com):
Billboard Magazine's annual Top Christian Music Distributor since 1995, EMI CMG Distribution was founded in 1994 to serve as the main distribution outlet for EMI CMG's owned and distributed labels to the US Christian and general retail marketplace, and the international Christian marketplace. In addition to distributing EMI CMG fully-owned labels, which include EMI CMG Label Group's Sparrow, ForeFront, and Credential imprints, as well as EMI Gospel and Worship Together, EMI CMG Distribution has exclusive distribution agreements with Tooth & Nail/BEC, Creative Trust Media, EE-Taow Records, Gaither Music Group, Green Hill Productions, Hal Leonard, Inpop, Just Me Music, Madacy Entertainment, Spring Hill Music Group, Troubadour for the Lord, Universal Music Group, VSR Music Group, Anchor Bay Entertainment/Starz, Cloud 9 Games, First Look Studios, Genius Products, GT Media, Guardian Studios/Bananas, Kelly's Filmworks, PureFlix Entertainment and Third Day Games. EMI CMG Distribution is a division of EMI CMG, a unit of EMI Music, part of EMI Group (www.emigroup.com); one of the world's leading music companies.
# # #
For more info on Carman, visit the JFH Artists Database.


[2022]
Jan. | Feb. | March | April | May | June | July | Aug. | Sept. | Oct. | Nov. | Dec.
[2021]
Jan. | Feb. | March | April | May | June | July | Aug. | Sept. | Oct. | Nov. | Dec.
[2001 - 2022]
Visit our complete MUSIC NEWS ARCHIVE