Show Hope Presents
The 2nd Annual Spring Celebration Featuring
Rodgers And Hammerstein's Cinderella, Enchanted Edition

Friday, April 15th, 7pm
At Nashville's Schermerhorn Symphony Center

This Show Hope Spring Celebration Honors The Life
Of Maria Sue Chapman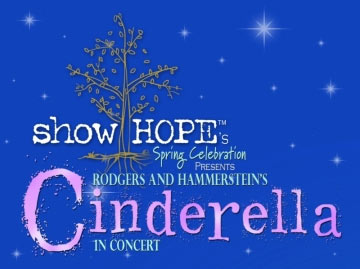 NEWS SOURCE: Vining Media
November 15, 2010
Nashville, TN - November 15, 2010 - Show Hope™ founders Steven Curtis and Mary Beth Chapman dreamed for years about creating a major entertainment event for Nashville. They wanted to be able to give back to the supporting community as well as to serve as a platform to celebrate and illuminate the mission of Show Hope, their adoption assistance and orphan care organization. They are proud to announce that for the second year in a row, their dream will again become a reality! On Friday, April 15th, 2011, Show Hope will present the 2nd Annual Spring Celebration featuring the concert production of Rodgers and Hammerstein's Cinderella, Enchanted Edition.
The event promises to be a stellar evening, just as it was in May 2010, when Cinderella first appeared on a Nashville stage. The performance showcases colorful costumes, a bit of dancing and a good measure of magic. This year, the set will be Nashville's breathtaking Schermerhorn Symphony Center and the music will again be performed by the Nashville Symphony.
Friday, April 15th, 2011
7:00 pm
Schermerhorn Symphony Center
One Symphony Place, Nashville, TN
Tickets go on sale to the public in February
Reminiscent of the spirit from this year's star-studded production, the majority of the 2010 cast will be returning to the 2011 Cinderella stage. Those returning will be Jodi Benson (the voice of Ariel from Disney's "The Little Mermaid") as The Queen; Alli Mauzey (from Broadway's Wicked, Hairspray) as Cinderella; Anthony Federov (from "American Idol" 4th season) as Prince Christopher; Jake Speck (Broadway's Jersey Boys, Forever Plaid) as Lionel; Nan Gurley as the Stepmother; and Bonnie Keen and Carolyn German as the Stepsisters.
This not-to-be missed one night only Show Hope Spring Celebration of Cinderella again features Steven Curtis Chapman as executive producer and Studio Tenn's Matt Logan as director. According to Jeffrey Ellis of BroadwayWorld.com, "Logan's sheer chutzpah in bringing such a star-studded cast together to bring the musical to life is laudable and, clearly, it raises the bar higher for Nashville theatre." Ellis also stated, "No matter how you look at it, Cinderella was a completely magical and enchanting success."
The return performance of Cinderella is the ideal selection for this Spring celebration because it is also the same title of one of Steven Curtis Chapman's most loved songs from his 2008 project, This Moment. The tune "Cinderella" was inspired by the Chapman's two youngest daughters, Stevey Joy and Maria Sue. With Maria's tragic passing in May of 2008, the story of both the song and musical of Cinderella makes this event, as well as the compassionate work of Show Hope, more poignant than ever. The Chapman's continue to see the Show Hope Spring Celebration as a perfect way to honor the life of Maria while and celebrate the mission of their organization, which exists to help orphaned children around the world.
About Show Hope:
A ministry founded by Steven Curtis and Mary Beth Chapman to help care for the millions of orphans around the world, Show Hope helps to provide waiting orphans with forever families by giving financial grants to adoptive families. To date, Show Hope is now an internationally recognized voice for orphan advocacy and has given more than 2,600 financial grants, affecting the lives of children from 45 different countries, including the U.S. In addition to giving financial grants, Show Hope also empowers families, churches and communities with adoption and orphan care resources and advocacy efforts to change the world for orphans.
Show Hope also provides for orphans with special needs in China through Special Care Centers. One of these centers is Maria's Big House of Hope, a six-story healing home facility located in Luoyang, China. Opened since the summer of 2009, its mission is to provide the highest level of care for orphans who are in desperate need of surgeries and medical attention, thus enabling the children to thrive and increase the orphans' chances of being adopted. In recent months, additional centers have opened in the Henan province of China, operating in two state-run orphanages as an extension of the care being provided at Maria's Big House of Hope.
ShowHope.org
For more info on Steven Curtis Chapman, visit the JFH Artists Database.


[2020]
Jan. | Feb. | March | April | May | June | July | Aug. | Sept. | Oct. | Nov. | Dec.
[2019]
Jan. | Feb. | March | April | May | June | July | Aug. | Sept. | Oct. | Nov. | Dec.
[2001 - 2018]
Visit our complete MUSIC NEWS ARCHIVE