ABANDON KANSAS FRONTMAN JEREMY SPRING TO EMBARK ON SOLO DATES THE LIVING ROOM TOUR II
ABANDON KANSAS LOOKS FORWARD TO UPCOMING ALBUM
AD ASTRA PER ASPERA TO STREET IN EARLY 2011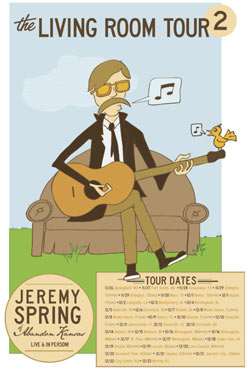 NEWS SOURCE: Independent Music Media
November 23, 2010
Abandon Kansas singer Jeremy Spring gets set to hit the road where he will play living rooms across America, literally on a solo acoustic run deemed The Living Room Tour II, dates kick off on November 26. For show specific information visit www.abandonkansaslovesyou.com or http://jeremyspring.tumblr.com/
"Basically, I would like to sit in your living room and share some music with an acoustic guitar. I'll be playing Abandon Kansas songs from past releases and the new record, and of course some Christmas tunes. I also intend on sharing stories from my trip to Ecuador and some stories behind the songs I've written. No lights, no sound system, no microphones and no lines outside in the cold. Picture a laid-back house party vibe with plenty of hot beverages, warm sweaters, and a circle of friends telling stories and singing songs" says Jeremy.
Abandon Kansas recently finished recording their full-length album for Gotee Records, Ad Astra Per Aspera (latin for "to the stars through difficulties") with producer Mark Lee Townsend (Deas Vail, House of Heroes). To give fans an early taste of Ad Astra Per Aspera, the first single from the release 'The Golden State' is available now at iTunes and all digital outlets, the digital single includes the new single, music video and the never-released acoustic version of 'Close Your Eyes' (studio version available on the band's 2009 EP release We're All Going Somewhere).
Abandon Kansas' version of "O Come All Ye Faithful" is included on 'Tis The Season To Be Gotee Christmas compilation, out now at all digital outlets. Tis The Season To Be Gotee also features label-mates Relient K, House of Heroes, Ayiesha Woods and Stephanie Smith performing a variety of holiday classics and favorites.
If you would like to host one of the dates that still says 'available' please e-mail thelivingroomtour@hotmail.com
11/26 Springfield, MO The Hub
11/27 Fort Smith, AR The Regeneration
11/28 Texarkana, TX David Farren's House
11/29 Arlington, TX All Saints Lutheran Church
11/29 Arlington, TX Steven's House
11/30 Dallas/Fort Worth Live on 89.7 POWER FM
11/30 Waco, TX Details coming soon
12/1 Belton, TX First Baptist Church
12/1 Austin, TX University of Texas
12/2 Lafayette, LA Details coming soon
12/3 Montgomery, AL Details coming soon
12/4 Birmingham/Mobile/Pensacola AVAILABLE FOR BOOKING
12/5 Nashville, TN Kayla's House
12/6 Cleveland, TN Clayton, Zack, Jordan, Tony's Place
12/7 Atlanta, GA AVAILABLE FOR BOOKING
12/8 Winter Haven, FL Ridge Point Church
12/9 Valrico, FL South Brandon WC
12/10 Titusville, FL Party in the Cul-de-sac
12/11 Jacksonville, FL AVAILABLE FOR BOOKING
12/12 Greenville, SC The Alfonso Home for Wayward Souls
12/13 Cincinnati, OH Corner Bloc Coffee
12/14 Auburn, IN Adam's House
12/15 Madison, WI AVAILABLE FOR BOOKING
12/16 Minneapolis, MN Details coming soon
12/17 St. Paul, MN The Space
12/18 Cedar Falls, IA Details coming soon
12/19 Omaha, NE Bri's House
12/19 Lincoln, NE Andrew's House
12/20 Lees Summit, MO Evan's House
12/20 Overland Park, KS The Peterson's Home
12/21 Oskaloosa, KS The VanHoozier's House
12/21 Junction City, KS Details coming soon
12/22 Clay Center, KS First Presbyterian Coffee House
12/23 Wichita, KS Mead's Corner
For more info on Abandon Kansas, visit the JFH Artists Database.


[2022]
Jan. | Feb. | March | April | May | June | July | Aug. | Sept. | Oct. | Nov. | Dec.
[2021]
Jan. | Feb. | March | April | May | June | July | Aug. | Sept. | Oct. | Nov. | Dec.
[2001 - 2021]
Visit our complete MUSIC NEWS ARCHIVE