KINGSWAY CELEBRATES FAMOUS CHARLES WESLEY HYMNS FOR
A NEW GENERATION WITH RELEASE OF LOVE DIVINE APRIL 19
Recording Features Some of Today's Most Acclaimed Worship Leaders/Vocalists: Aaron Keyes, Brenton Brown, Brian Johnson, Chris Eaton, Chris McClarney, Chris Quilala, Jason Roy, Jenn Johnson, John Ellis, Kim Walker-Smith, Leigh Nash, Mark Roach, Tim Hughes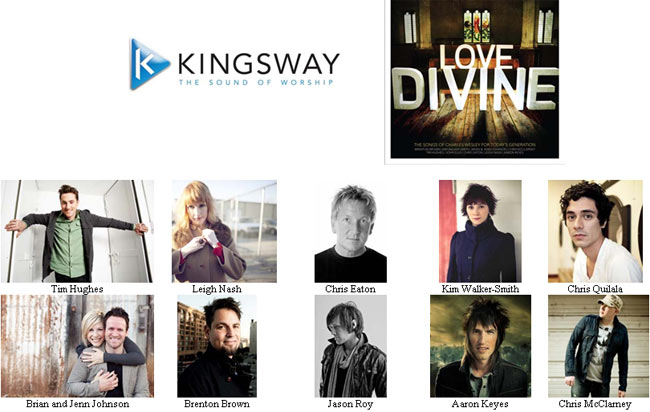 NEWS SOURCE: Hoganson Media
March 17, 2011
Kingsway announces the North American launch of Love Divine, an album that celebrates the legacy of one of the most significant voices in church hymnody: Charles Wesley. The project, which releases April 19 with distribution in the U.S. through EMI CMG, unites the treasured hymns of Wesley with today's modern expression, joining the dots between two centuries of the worshipping church.
Each of the thirteen tracks on Love Divine has been arranged by Chris Eaton and John Hartley, and recorded by some of the leading contemporary vocalists today, including: Aaron Keyes, Brenton Brown, Brian Johnson (Bethel Live), Chris Eaton, Chris McClarney, Chris Quilala (Jesus Culture), Jason Roy (Building 429), Jenn Johnson (Bethel Live), John Ellis, Kim Walker-Smith (Jesus Culture), Leigh Nash (Sixpence None The Richer), Mark Roach and Tim Hughes.
"Our church society throughout the world has maybe become too 'familiar' in our expression of worship at times," says Chris Eaton. "I longed to paint a musical picture in production of these new melodies, that truly enhances the text, born out of great liturgy, so that our modern experience of worship links us directly to the passion of the early hymn writers. John Hartley shared my vision, and we set about finding great hymns of faith and writing new music to enhance worship experiences of each personal heart, within local church congregations. I believe that God will powerfully use music such as this to change our hearts, and our world."
"Each of the singers on the resulting recording drank deep from Wesley's well and came up with some stunning covers," says John Hartley, who also produced the album. "Wesley's legacy remains a powerful force for good upon the church."
Having written and published well over six thousand songs during his lifetime, 150 of Wesley's songs are found in the Methodist Hymns and Psalms hymnbook, and in the three centuries that have passed since his birth, few hymn writers have exceeded his output. Charles Wesley's hymns enabled the church of the time to remember and experience the Bible, even if they were unable to read it.
"Love Divine unites a distant age and contemporary society," continues Hartley. "This album has plenty of curb appeal, but dive into the tracks themselves and the real power is clear. Love Divine may be rooted in a time before the industrial revolution, but Wesley's songs can be communicated with just as much passion and purpose as when they were first aired."
"Charles Wesley is such an inspiration to any modern songwriter. The depth and power of his songs continue to be relevant and inspiring for worshippers today," says Tim Hughes as Brian and Jenn Johnson jointly reveal, "This project gave us the express opportunity to release the powerful truths that Charles Wesley preached, in the context of worship." Leigh Nash relays, "I am so happy to be a part of this project and to sing a hymn by the legendary Charles Wesley!" while Aaron Keys confesses, "So many of Wesley's hymns absolutely wreck me; I literally can hardly sing through them without breaking into tears. I'm so grateful for these new and fresh arrangements of such rich and ancient content."
The full Love Divine track listing follows:
01) I Know That My Redeemer Lives – Tim Hughes
02) Rejoice The Lord Is King – John Ellis
03) And Can It Be – Jason Roy
04) Jesus We Look To Thee – Kim Walker-Smith
05) Jesus Lover Of My Soul – Chris Eaton
06) Come Thou Long Expected Jesus – Brian Johnson
07) Praise The Lord Who Reigns Above – Leigh Nash
08) Jesus The Name High Over All – Chris Quilala
09) O For A Thousand Tongues To Sing – Chris McClarney
10) Love Divine – Jenn Johnson
11) Christ The Lord Is Risen Today – Aaron Keyes
12) Christ Whose Glory Fills The Skies – Mark Roach
13) O For A Heart To Praise my God – Brenton Brown
About Kingsway:
Tracing its music heritage to 1969, Kingsway today is known as a leader in Worship Music. As the creator of Thank You Music, and later in partnership with EMI, its catalogue includes songs such as "Here I Am to Worship," "In Christ Alone," "Everlasting God" and "Blessed Be Your Name" to name a few.
Kingsway's songs are sung in more than 300,000 churches worldwide accounting for over 30% of CCLI's (Church Copyright Licensing International) bestseller list. With writers and artists like Tim Hughes, Matt Redman, Delirious?, Graham Kendrick and Stuart Townend, Kingsway is dedicated to feeding the Church with songs that will change the world. As the music arm of David C Cook, a non-profit organization located in Colorado Springs, CO, a significant portion of the profits that Kingsway and David C Cook generate are used to provide discipleship and music materials free of charge to church leaders in developing parts of the world who wouldn't be able to get them any other way.
# # #


[2021]
Jan. | Feb. | March | April | May | June | July | Aug. | Sept. | Oct. | Nov. | Dec.
[2020]
Jan. | Feb. | March | April | May | June | July | Aug. | Sept. | Oct. | Nov. | Dec.
[2001 - 2020]
Visit our complete MUSIC NEWS ARCHIVE