SWIMMING WITH DOLPHINS TO RELEASE "WATER COLOURS" MAY 17TH

Band Also To Tour With Family Force 5 This Spring
Swimming With Dolphins will release WATER COLOURS on May 17th in stores and online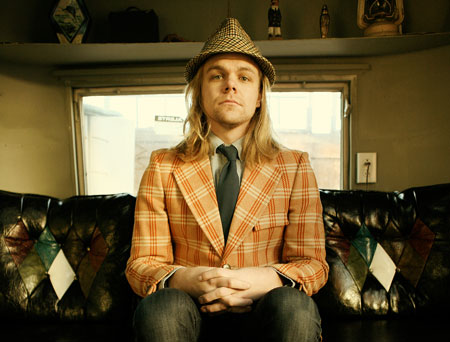 NEWS SOURCE: Tooth & Nail Press
April 6, 2011
Austin Tofte, the digi-centric singer/songwriter who popularly composes under the moniker Swimming With Dolphins, completed the debut full-length this March, apparently spending much of his time dreaming up ways to take his exciting brand of contemporary synth-pop into even broader, grander directions. WATER COLOURS, the band's debut on Tooth & Nail Records, comes after 2008's AMBIENT BLUE EP and was produced by Aaron Sprinkle (Anberlin, The Almost) as well as Zack Odom and Kenneth Mount (Cartel, Mayday Parade).
Spanning 10 tracks, WATER COLOURS represents the two-plus years Tofte has spent writing since releasing AMBIENT BLUE; the locations where it was written and/or recorded range from random places on the road, to urban Minneapolis, to the Minnesota countryside, chronicling multiple stages of Tofte's personal life along the way. It's so deep and sublimely arranged, it sounds like Tofte almost had a little too much time to work his magic.
"It was just a long process, and quite honestly, probably longer than it should have been. You start second-guessing things you have too much time to work on," he reflects. "I'm not going to lie - some days are really trying times where you just want to pull the plug - but you just have to keep positive and say, 'This is going to get done.' I have an awesome family, friends and fans that really kept it alive; the days you feel like you're not going to have the energy to finish it, you get that message you need or a phone call that can really help you pull through. Despite being stranded in a cabin by yourself, it was still an interactive, intimate experience as much as it could be, and I think that's just what I needed."
From its heartfelt lyrics to its vibrant sonic palette, WATER COLOURS marks a creative milestone for Tofte, and is his richest, most organic work to date. With a host of collaborators, co-producers and instrumentalists all pitching in, the record bears an endearingly human quality that is all too often lacking within the genre. For Tofte, it's the culmination of a very long two-plus years.
"I feel like the story of this record is''challenge,' right down to the lyrics and content, up to the actual release. We're pushing every button we can," says Tofte, happy that the toughest part is behind him, for now. "It's been an awesome ride, but I'm so ready to have it out and be able to look back and say, 'Man, that was a heck of an effort.'"
See Swimming With Dolphins on the Tourantula Tour Family Force 5, Stereo Skyline and Since Forever starting April 15th through May 12th. A full listing of dates and details can be found on the tour page.
For more information, please visit:
swimmingwithdolphinsmusic.com
facebook.com/swimmingwithdolphins
twitter.com/SWDmusic
# # #
For more info on Swimming With Dolphins, visit the JFH Artists Database.


[2019]
Jan. | Feb. | March | April | May | June | July | Aug. | Sept. | Oct. | Nov. | Dec.
[2018]
Jan. | Feb. | March | April | May | June | July | Aug. | Sept. | Oct. | Nov. | Dec.
[2001 - 2017]
Visit our complete MUSIC NEWS ARCHIVE