April Artist Update: Tooth & Nail Records, BEC Recordings, Solid State Records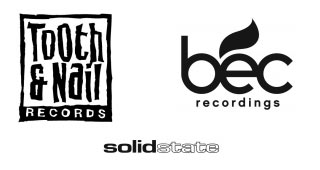 NEWS SOURCE: Overture Media
April 7, 2011
Check out the latest Tooth & Nail, BEC Recordings and Solid State Records Artist Updates!...

IN THE STUDIO
Oh, Sleeper just finished recording with Andreas Magnusson. The album is being mixed by Machine. The release date still TBD.
Nine Lashes has their T&N debut record wrapped up and will be on the road this summer, more plans TBA.
Seventh Day Slumber is wrapping up in the studio with Brent Milligan for their upcoming studio release. More information TBA.
ON THE ROAD
Aaron Gillespie on tour in April, May, and June supporting his recent solo release, Anthem Song.
August Burns Red on the road in Canada with Set Your Goals throughout April.
Hyland on tour with Fireflight through April sharing new music from their debut record that streets in May.
Poema will be doing a small headlining tour starting in May. More information will come regarding this tour.
Rocky Loves Emily is heading out on the road with Joy Island (Ryan from Rookie of the Years new band), The After Party, Freshmen 15 this month and May. Check www.toothandnail.com for tour dates.
Swimming With Dolphins is heading out with Family Force 5 for the "Tourantula" tour during April and May in support of their debut record Water Colours. Check www.toothandnail.com for tour dates. Fans can also check out SWD at Creation East and West this summer.
Underoath is touring overseas in Europe through April and then traveling to Australia through May.
**Check out the touring pages at the labels' site for all of the artists' schedules.
RECENTLY RELEASED
Emery, We Do What We Want
Becoming the Archetype, Celestial Completion
The Letter Black, Hanging On By A Thread Sessions Vol. 1
Ryan Stevenson, EP Yesterday, Today, Forever
Aaron Gillespie, Anthem Song
Hawk Nelson, Crazy Love
UPCOMING RELEASES
May 3rd:
Hyland - Weights & Measures
May 17th:
Jessa Anderson - Not Myself Anymore
Swimming with Dolphins - Water Colours
June 7th:
Thousand Foot Krutch - Live At the Masquerade- CD/DVD
Manafest - Live in Concert- CD/DVD
June 21st:
August Burns Red - Leveler
July 7th
Run Kid Run - Farewell Old Self
July 12th
Seventh Day Slumber - The Anthem Of Angels
July 26th
Icon For Hire - title TBA
FUN TIDBITS
Hyland & Poema were selected to be a part of the Alternative Press' 100 Bands to Know issue. Also included in this issue was the 4-star stellar featured review of Aaron Gillespie's Anthem Song.
Check out the story behind Bebo Norman's newest radio single, "God of My Everything" - music video coming soon.
Write This Down will be releasing their new video for "Alarm The Alarm" soon!
Emery lyric explanation podcast to be released soon as well as the new music video for "The Cheval Glass"
New video from Becoming the Archetype for "The Magnetic Sky" available now.


[2021]
Jan. | Feb. | March | April | May | June | July | Aug. | Sept. | Oct. | Nov. | Dec.
[2020]
Jan. | Feb. | March | April | May | June | July | Aug. | Sept. | Oct. | Nov. | Dec.
[2001 - 2020]
Visit our complete MUSIC NEWS ARCHIVE