Fair Trade Services Introduces Major Label Debut for Band Ashes Remain with What Iíve Become Releasing Nationwide on August 23
NEWS SOURCE: The M Collective
July 19, 2011
(Nashville, Tenn.) July 19, 2011ó Baltimore based rock/pop group, Ashes Remain, is preparing to release their major label album debut, What Iíve Become, with Fair Trade services on August 23.
Playing together for almost a decade, the band was formed after vocalist Josh Smith met guitarist/keyboardist Ryan Nalepa leading worship one summer in Maryland. After adding guitarist Rob Tahan, bassist Jonathan Hively and drummer Ben Kirk, the band hit the road in their converted 1987 Ford school bus performing in over 25 states across the nation for more than six years before signing with Fair Trade Services in 2010.
On their major label debut, Ashes Remain explores themes of hope through humanityís brokenness. Many of the albumís tracks discuss the idea that no matter how broken you think you have become there is always hope in the presence of God.
To help make What Iíve Becomeís grand entrance into the music world, Ashes Remain teamed up with producer Rob Hawkins (Disciple, Fireflight) who helped the band develop their accessible sound that draws from a wide range of influences from 3 Doors Down and 311 to Imogen Heap and Circa Survive.
ďEverything Good,Ē the first single recently released by Ashes Remain, is being well received at radio having already been added by their hometown station 95.1 Shine FM. Other stations on the song include WONU/Chicago, WHZN/Indianapolis, KGBI/Omaha, WAYG/Grand Rapids, WJYO/Ft. Myers among others. ďItís hope, it is praising God when nothing makes sense, says Smith. ďLike Paul singing praise while sitting in jail.Ē Watch Smith open up about the song here: http://www.youtube.com/watch?v=lbSEDafv-rA. Adding to the welcome response to Christian radio, Baltimoreís Active Rock mainstream station, 98Rock, is playing the bandís song Unbroken in regular rotation.
To hear more about Ashes Remain and What Iíve Become, check out their latest EPK at http://www.youtube.com/watch?v=62YiKOGTOak.
# # #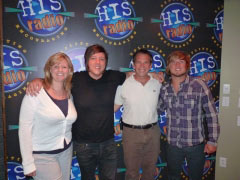 Smith and Hively of Ashes Remain with Rob Dempsey and Kristin Roberts from His Radio Network.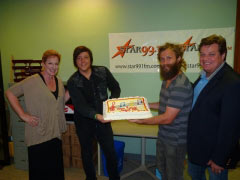 Smith and Nalepa of Ashes Remain with Johnny & Stacey Stone from Star 99.1 New York City.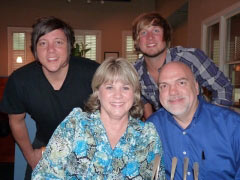 Smith and Hively of Ashes Remain with Steve & Sue Swanson from WAFJ Augusta, GA.
For more info on Ashes Remain, visit the JFH Artists Database.