MORIAH PETERS JOINS PROVIDENT LABEL GROUP FAMILY OF ARTISTS
Singer/Songwriter Featured On Forthcoming VeggieTales®: Princess and the Pop Star DVD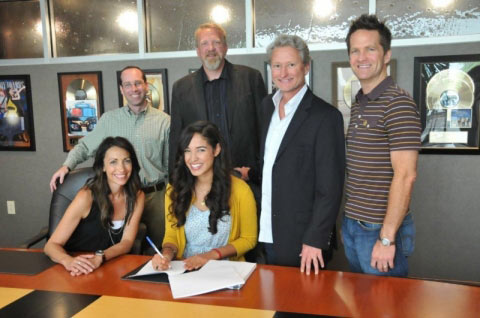 Photo (L-R): Holly Zabka, Senior Director, Essential Music Publishing; Jordan Keller, KTR Law Group; Scott Brickell, Manager, Brickhouse Entertainment; Moriah Peters, Terry Hemmings, President & CEO, Provident Music Group and Blaine Barcus, VP A&R, Provident Label Group
NEWS SOURCE: Provident Music Group
August 11, 2011
(NASHVILLE, Tenn.) Aug. 11, 2011--California native Moriah Peters is the latest talent signed to Reunion Records, a division of Provident Label Group. The eighteen-year-old singer/songwriter will make her national debut this month via a featured role in the upcoming Big Idea Entertainment DVD, VeggieTales®: Princess and the Pop Star.
Raised in Chino, Calif., Moriah grew up singing in church and at school. As a young teenager she began to pursue her calling to music ministry and will see that ministry flourish on a national level with the release of her first label project in 2012.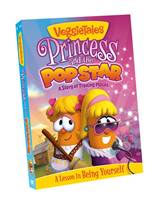 Moriah makes her introduction to mass audiences this week as the singing voice of Vanna Banana in the latest installment of best-selling children's animated series, VeggieTales®: Princess and the Pop Star. The DVD, which releases Aug. 13 and Aug. 16 in Christian and general market stores respectively, helps young girls understand their uniqueness based on Jeremiah 1:5, which reads, "Before I formed you in your mother's body, I chose you. Before you were born, I set you apart to serve me." Moriah's vocals are featured on four songs, including "That's Not Everything," "Radio Sweetheart," "Alone" and "Right Where I Belong."
The project's director, Brian Roberts, comments, "One thing that was really important to me, was that the voice of Vanna when she sings be something that you kind of instantly believe as the voice of someone who could really be a pop star. After weeks of auditioning people, Moriah came in and from the moment she started singing I was like, 'Oh this is it! It's so exciting!' It was just such fun hearing her put her really great sounding voice and her professionalism into these songs. It just brought them to life in a way that was even more than I hoped for."
A companion CD, VeggieTales: Songs for a Princess, will also be sold simultaneously with the release of the DVD. The CD contains five additional songs showcasing Moriah's vocals as Vanna Banana not on the original DVD. For more information, visit www.veggietales.com or watch the movie trailer at http://www.youtube.com/user/BigIdeaInc#p/u/1/21TrzfihD3E.
To learn more about Moriah Peters, visit www.facebook.com/moriahmusic. Also, follow Moriah on Twitter at twitter.com/moriahmusic.
# # #