THE GREAT TRANSPARENCY REACH # 1 WITH "REBUILD YOUR LOVE"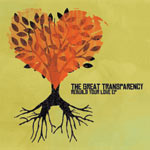 NEWS SOURCE: Razzbarry Records
August 17, 2011
The Great Transparency (Razzbarry) has secured their very first #1 spot on the Billboard Christian Rock Charts with the release of their latest single "Rebuild Your Love."
The word love is used by countless people in countless ways each and every day. The word describes a powerful force that affects us all. The meaning, however, is losing its power as the casualness of the word grows. With all the violence, stress, and frustration that surrounds our world, there are only two options left: give up on love, or set out to make it strong—rebuild your love. Jameson Leasure of the Great Transparency explains, "In the world we live in today, love is defined by music on the radio, TV, and magazines. We want to rebuild love to what it should be which is an unconditional love which is truly found with a relationship with Jesus Christ."
With the support from such radio stations as EffectRadio, Power FM, The Call, Z Radio, and Yes FM, the single has steadily climbed up the charts since its release to radio on April 29. "Rebuild Your Love" is the title track of the latest EP from the Columbus Ohio based band.
ABOUT THE GREAT TRANSPARENCY
The Great Transparency (Columbus, Ohio) consists of band members Tommy Clingan, Jameson Leasure, and Jerimiah Wagner. The band has toured the country while both independently selling over 2,000 copies of their first EP, If Worse Comes To Worst. The band is also excited about their newest EP, Rebuild Your Love.
ABOUT RAZZBARRY RECORDS
Razzbarry Records (Jacksonville, Florida) is an independent label and management company founded by Barry Blaze in 2007. Their current roster includes The Great Transparency, Code of Ethics, and Blaze's solo worship venture as Barry Blaze.
Make sure to see The Great Transparency at a show near you. For the latest information on the band, visit www.thegreattransparency.com or Razzbarry.com
# # #