NEWSBOYS REALITY SHOW PREMIERES TONIGHT
"MARI WHITE PRESENTS NEWSBOYS"
SHOWCASING A DAY IN THE LIFE OF NEWSBOYS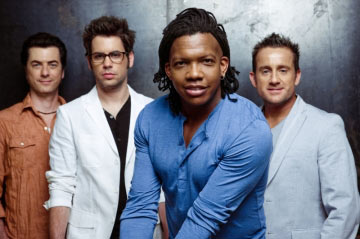 NEWS SOURCE: Merge PR
October 3, 2011
Nashville, Tenn - 3 October 2011 – A new family-friendly reality show based on Inpop Records' artist Newsboys, "Mari White Presents Newsboys," debuts tonight and will air on multiple networks. Following the lives of each of the band members - Michael Tait (vocals), Duncan Phillips (drums), Jody Davis (guitars), and Jeff Frankenstein (keys), - the ten-part series gives viewers an exciting and never-before-seen inside look to this GRAMMY-nominated and Dove award-winning band in both their professional and personal lives. Exclusive clips of the show can be viewed In THE VAULT, only on Newsboys' official Facebook page, Facebook.com/newsboys.official.
"Mari White Presents Newsboys" provides a front-seat view of the everyday life of being Newsboys, from the studio, as the band puts the finishing touches on a new album, to the stage as the 'Boys' do what they do best--perform live in front of thousands of fans.
"Over the years, our fans have seen small glimpses of our offstage moments, but now, we are so excited to share hours of exclusive, never before seen footage," shares Jeff Frankenstein. "Our fans will get a chance to hear more about our hearts, our families, and our ministry."
The show's producer and host, Mari White, chose the Newsboys over other Christian acts because of an experience she had at one of their concerts last year in New York City. White admits when she arrived to the show she saw how diverse the audience was, how people were singing along with them, and most importantly, how the band had no shame in sharing their faith. It was then that she realized she needed to share their inspiration.
With 27 No. 1 hits and seven million records sold over the last two decades, Newsboys have appealed to multiple generations of Christian music lovers. However, this is a show that goes far beyond the music to show how faith shapes the lives of these major performers within Christian music, sure to be compelling viewing to the wider faith-based audience that reaches well beyond the Newsboys' millions of fans.
Be sure to catch the premiere episode tonight on JCTV as well on multiple networks throughout the week:
JCTV: Mon 8pm ET, Fri 8pm ET, Sat 3pm ET
NRB: Fri 8pm ET, Midnight ET, Sat 10pm ET
Cornerstone TeleVision Network: Thurs 9pm ET and Sat 11:30pm ET
Legacy TV: Tues 10pm ET
TLN - Chicago: Wed 9pm CT and PT, Sun 9pm CT
KTLN - San Francisco: Wed 9pm PT, Sun 9pm PT
FamilyNet: Mon 3:30am ET
About Newsboys:
Boldly redefined by their best-selling Born Again project (Inpop Records), its three No. 1 radio hits, and a headlining slot on the world's biggest tour first quarter 2011 (playing to more than half a million people), Newsboys return on November 15, 2011 with their highly anticipated CD, God's Not Dead. This rock-driven worship album finds front man Michael Tait and his band mates who've played together for nearly two decades - Jeff Frankenstein, Duncan Phillips, and Jody Davis - with some of today's most widely church-embraced modern worship anthems as well as several original and never-before-released worship songs written by some of today's biggest worship songwriters.
This GRAMMY®-nominated and Dove Award-winning band has sold over 7 million units, garnered five RIAA certified Gold albums and 27 #1 hits. With last year's release of Born Again, its first week out was the largest street week of their careers by selling an astounding 45,311 units and hitting #4 on Billboard's overall chart, charting above new releases from such artists as Sting, Justin Bieber and M.I.A. Its self-titled single topped the charts for 8 weeks, gaining close to eight million impressions to date.
Renown for their heart-pumping live shows, the tight knit Newsboys unit continues to headline gigs in the U.S. and around the world. For more information and the most up-to-date concert schedule, please visit Newsboys.com.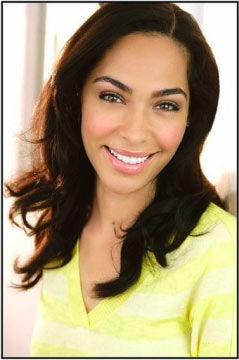 About Mari White/Lady White Entertainment:
Lady White Entertainment was created in 2009 by actress, model and Christian TV host Mari White. In honor of her late grandmother, commonly known as Lady White, the company was born from the mutual passion the two White women shared for both God and quality entertainment. The production company focuses on quality Christian and family friendly entertainment for all ages. Projects include new and innovative programming such as TV shows, webisodes, blogs and much more. For more information on Mari or her entertainment company, please visit www.mariwhite.com or www.ladywhiteentertainment.com.
About Inpop Records
Inpop Records is an independent music label based in Brentwood, Tenn and is home to some of the best-known bands in Christian music. Distributed by EMI Christian Music Group, Inpop Records has become one of the top-selling independent labels within the industry, having established a reputation for seeking out the best artists in emerging talent and for expanding the music marketplace with sound and ideas. Inpop's roster includes Newsboys, Mat Kearney, Jaci Velasquez, Tricia Brock, Jimmy Needham, and The Advice among others. For more information, visit inpop.com.
For more info on Newsboys visit the JFH Artists Database.