SPECIAL NEEDS CHILD WHOSE TRAGIC DEATH CAPTURED NASHVILLE'S HEART—CAPTURES SPIRIT OF "BELLA BASH 2011" IN THE QUEST TO BRING AWARENESS TO ANGELMAN SYNDROME
October 20 Nashville Event Will Headline Amy Grant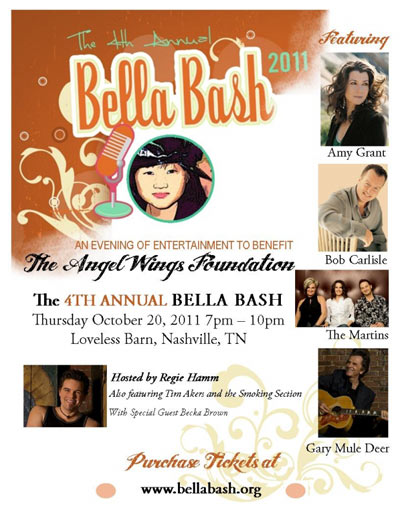 NEWS SOURCE: MorningStar PR
October 10, 2011
(Nashville, Tennessee) –October 10, 2011—When 10 year old Elizabeth Hathaway's body was discovered in the waters of Hidden Harbor Marine at Center Hill Lake over Labor Day Weekend, Nashville was saddened by the loss of a smart, happy, and loving little girl who couldn't cry out for help.
Like the 1 in 15,000 babies born each year with the rare neuro-genetic disorder known as Angelman Syndrome, Elizabeth suffered the characteristic AS disabilities –lack of speech, developmental delays, seizures and walking and balance disorders. "Angels" are missing a tiny piece of maternal chromosome that renders them in need of constant care throughout life.
Nashville will have a chance this month to honor Elizabeth's memory—and assist the incredible need for awareness, comprehensive therapy, diagnosis, and family support that surround the medical mystery of AS.
On October 20th, award winning Nashville singer/songwriter/producer Regie Hamm will join forces with his celebrity friends for Nashville's 4th Annual Bella Bash being held at the Loveless Barn on Highway 100
Artists set to perform include multi-platinum Grammy® winning artist Amy Grant, Grammy® winning artist Bob Carlisle whose "Butterfly Kisses" single rocketed him to national attention, multi-Dove Award winning southern gospel group, The Martins, and nationally known comedy legend Gary Mule Deer. Tim Akers & The Smoking Section will also perform live and provide back-up for the evening's event.
As the founding father of the Bella Bash, Regie Hamm is also the father of his own "Angel" –10 year old Isabella Xin Meng Hamm—the adorable baby girl he and wife Yolanda adopted from China in 2003. Once back in the U.S. the Hamms discovered their baby, Bella, had a severe, mysterious disability that no medical specialist could seemingly pinpoint. Through a labyrinth of medical mis-diagnoses and an inability to get insurance for their baby, the years that followed would be years of confusion, round-the-clock care giving, life-altering sleep deprivation, crushing medical bills, a career in music that was now suddenly spiraling into shambles, and ultimately near-financial ruin.
From his vantage point of four times being named SESAC "Songwriter of the Year," and launching more than 20 #1 hits up the charts, as well as through the pages of his 2010 book release Angels and Idols, Regie Hamm has now been able to give Angelman's Syndrome a national "voice" born out of the personal experience of parenting an AS child.
As a further step in his personal quest to raise awareness of AS, Regie established The Angel Wings Foundation in 2010. The vision is to not only assist in providing diagnoses for those suffering from rare mental disabilities, but to be a complete resource for the families, providing physical, speech/communication and occupational therapies, nutritional, emotional, and logistical 'real world' support for those facing the challenge and their caregivers. Registered as a 501(c)(3) non profit, The Angel Wings Foundation is dedicated to a quality of life and care for a segment of children too often under-served.
The long-term goal of the Angel Wings Foundation is to fully erstablish an "Angel Center" here in Middle Tennessee. Partnering with Vanderbilt Kennedy Center, plans are currently on the drawing board for a center that would offer a full array of medical services and comprehensive therapy for children and adults battling the most severe forms of mental disabilities. It would be the first center of its kind in the U.S, and would expand on some of the therapies and resources that The Kennedy Center already offers.
A portion of the proceeds of this year's "Bella Bash" are earmarked specifically towards the production and distribution of an Angelman Syndrome educational video targeted to reach every pediatrician's office in the U.S.
Tickets for the October 20 event are now on sale with general admission scaled at $50.00 in advance. VIP ticket packages with a fully loaded celebrity gift bag are $75.00 Tickets can be ordered online now through October 19th at www.bellabash.org The event is expected to be a repeat of last year's sell-out so early ticketing is encouraged.
Each VIP gift bag will be stocked with generous donations from this year's sponsors, including a $50 gift certificate to Valentinos Ristorante, new CD releases from Provident Records, a Nashville Lifestyles magazine, Starbucks coffee, and much more!
The real "heart" of the event echoes in the words Regie Hamm posted on his own personal blog following Nashville's loss of a disabled child that few knew but thousands of hearts in Middle Tennessee suddenly embraced in a single weekend.
Regie wrote:
"On Labor Day, my daughter's best little friend with Angelman Syndrome, an amazing little girl named Elizabeth Hathaway, drowned on Center Hill lake. She and her family were staying on their house boat. She had been up and down all night, as Angel kids are prone to do, and just when the family thought she was asleep, she slipped out of the house boat, without detection, and fell into the water. Being unable to swim or speak, she wasn't heard or seen until it was too late. This is the thing we all fear and the thing no one should ever have to go through. I've been trying to help the family in every way possible. I cannot imagine their pain. I've cried until my stomach was sore. I don't like this place we're all in. I'm angry and depressed and heart-broken. I'm sure Elizabeth's family is in a worse place than I can even know, and none of us will ever be the same from here on. I'm not equipped to deal with this, and it's going to leave a scar on my heart.
So as we wade through the waters of grief, the loss of angels, and the day-to-day struggles with the ones living, we hope to take a respite from tears and trials and have a night of celebration on October 20th, at the Loveless Barn. We hope to honor Elizabeth and the entire Angelman Syndrome community with The 4th Annual Bella Bash.
If there were a cure for AS tomorrow, half the people who have kids with it don't know it. A large percentage of doctors don't even know what it is. We are determined to remedy that, and this year it will all be done in memory of a special little girl who left us too soon."
As in the three previous presentations of the "Bella Bash," a full evening of world-class music, family friendly comedy, delicious food, and fun await all attendees. More than that, it's an evening of music that matters and the celebration of the life of a beautiful little "Angel" whose inability to cry out in the midst of tragedy someone spoke to all of us."
Resource full information on the "Bella Bash" online at: www.bellabash.org