JOHN WALLER SHARES STORY BEHIND TRIBUTE SONG TO HIS MOTHER ON PRAISE THE LORD
Popular Singer Performs 'Heaven Just Got Better' For First Time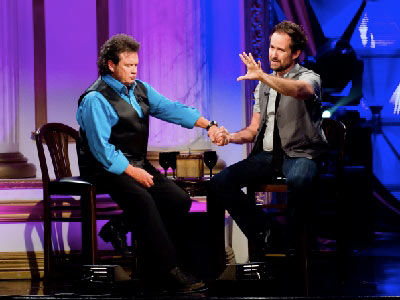 John Waller (on right) prays a benediction over the audience on the set of TBN's Praise The Lord (with host Russ Taff, on left).
NEWS SOURCE: McCain & Co. PR
October 14, 2011
Nashville, Tenn. (Oct. 14, 2011) - John Waller, the popular recording artist who touched the world with his song "While I'm Waiting" from the hit film Fireproof, recently appeared on TBN's Praise The Lord with host Russ Taff where Waller shared the behind-the-scene details of his latest song, "Heaven Just Got Better."
During the interview with Taff, Waller discussed the recent birth of his son, Josiah Emmanuel, and the death of his mother less than 24 hours later. Waller also performed songs from his current CD, As For Me And My House, as well as debuting "Heaven Just Got Better."
"I wrote 'Heaven Just Got Better' a couple of years ago, but never did anything with the song," says Waller. "After my mother's death, I went back to the song and finished it as a tribute to my mom. It was as if God was holding the song for just this time," he adds.
"I never thought a perfect place like Heaven could get any better," he says. "Now I know it is."
As the segment ended, Waller said prayers over the studio audience, as well as the TV viewers, using Jewish blessings from the Old Testament, including the Aaronic Benediction from Numbers 6:22-27.
"It was truly an honor to be interviewed by the legendary Russ Taff. He was one of my favorite singers growing up," Waller says of his experience at the show. "It was particularly special to sing 'Heaven Just Got Better' for the first time," he adds.
About John Waller:
Waller first captured the attention of the Christian music community as frontman for the pop band According to John. His major label debut, The Blessing, included the powerful title track, "While I'm Waiting," the theme song from Fireproof, the No. 1 independent film of 2008. Waller has long been known for injecting heavy doses of scripture into his songs, and his current CD As For Me And My House is no exception. He draws on Joshua 24:15 to boldly proclaim the Word of God to this generation through a rich variety of musical styles.
The title track, offered as a free download to those who sign the Joshua 24:15 Declaration for restoring our focus back to family values at Waller's website, highlights the album's theme of declaring our allegiance to God. The music video version of "As For Me and My House" has more than 190,000 views on YouTube so far. To sign the Declaration and to view the video, visit johnwallermusic.com.
Waller's As For Me and My House is available through City of Peace Media and Provident Distribution. For more information on Waller and As For Me and My House, visit johnwallermusic.com or cityofpeace.com.
###
For more info on John Waller visit the JFH Artists Database.