Josh Wilson Embraces the True Spirit of the Holidays with Christmas Single "Jesus Is Alive"
Sparrow Records' Artist Creates a
"Unique Christmas Experience" on Christmas Tour
Set to Launch November 27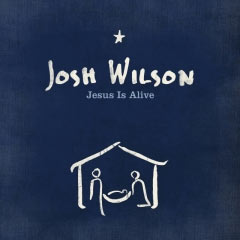 NEWS SOURCE: The M Collective
October 31, 2011
(Nashville, Tenn) October 31, 2011—On November 18, Sparrow Records' artist Josh Wilson will embrace the true spirit of Christmas as he releases "Jesus Is Alive," available on iTunes ®.
Wilson will be performing "Jesus Is Alive" on his Christmas tour this winter titled "Josh Wilson Presents Noel: A Unique Christmas Experience." This 18-city tour will be unlike any he has done before, as he will showcase his diverse musical talents by operating over 20 different instruments throughout the evening. Inspired by the recording process of See You, where Wilson played over 15 various instruments one at a time, he will use computers and pedals to record all of the sounds from each tool in front of the audience. This allows every sound to be recorded as the night goes on. The end result is an extraordinary and magical holiday experience for the whole family. Watch and listen to Wilson as he demonstrates what fans can witness live this Christmas here. For a full list of tour dates, see below.
"This is one of my favorite tours I've ever been on," explains Wilson. "It's fun and unique because we're essentially bringing a recording studio to the stage. Throughout the night, we'll use over 20 instruments to record Christmas carols in front of the audience. I'm so excited to share these songs that remind us, as C.S. Lewis said, 'The Son of God became a man to enable men to become sons of God.'"
While "Jesus Is Alive" will impact radio this holiday season, Wilson's current single "Fall Apart" is continuing to climb the radio charts, presently at No. 12 at AC Indicator, No. 16 on the National Audience Chart and No. 18 on AC monitored.
For more information on Josh Wilson and the Christmas tour, please visit www.joshwilsonmusic.com.
###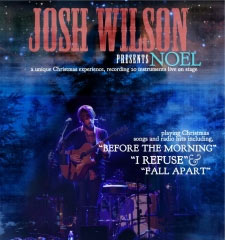 "Josh Wilson Presents Noel: A Unique Christmas Experience" Tour Dates (Dates Subject to Change)
27-Nov-11 Benton, KY Christ Fellowship Church
28-Nov-11 Collierville, TN Grace Crossing Church
29-Nov-11 Little Rock, AR Immanuel Baptist Church
30-Nov-11 Mountain Home, AR East Side Baptist Church
2-Dec-11 Owatonna, MN Bethel Church
3-Dec-11 Madison, WI Door Creek Church
4-Dec-11 O'Fallon, MO Morning Star Church
5-Dec-11 Louisville, KY East Side Community Church
8-Dec-11 Buford, GA Victory Hamilton Mill
9-Dec-11 Gainesville, FL Abundant Grace Community Church
10-Dec-11 Okeechobee, FL Okeechobee Church of God
11-Dec-11 Jacksonville, FL The Church at Argyle
14-Dec-11 Conroe, TX The Ark Church
16-Dec-11 Houston, TX Metropolitan Baptist Church
17-Dec-11 Athens, TX First Baptist Church Athens
18-Dec-11 Bridgeport, TX First Baptist Church
19-Dec-11 Lubbock, TX Southcrest Baptist Church
20-Dec-11 Ardmore, OK First Baptist Church Ardmore
21-Dec-11 Tulsa, OK Southern Hills Baptist Church
About Josh Wilson:
Singer/songwriter Josh Wilson grew up the son of a preacher in Lubbock, Texas. He signed to Sparrow Records in 2006 and released his major label debut, "Trying to Fit the Ocean in a Cup" in 2008. The album was met with critical acclaim, hailed by Christian Retailing as "the future of Christian pop" and named among the Top Ten Best Albums of 2008 by GospelMusicChannel.com. Since then he has released numerous No. 1 hits including "Savior Please" and the powerful track "Before the Morning," which recently landed the No. 4 spot on Billboard's Year-End Christian Songs chart, while also releasing a sophomore album, "Life Is Not A Snapshot" and a compilation self-titled record. This year he released his third studio album "See You," which was praised by critics across the board. Wilson also attracted national media attention with a breakout viral video when he had travelers at the Newark airport breakout in "Hey Jude" during a 6-hour security lockdown. For more information on Josh Wilson, visit www.joshwilsonmusic.com
###
For more info on Josh Wilson visit the JFH Artists Database.