PLUMB Gives Away 2 Free Christmas Songs and Great Prizes
in The FAN-Tastic Christmas Giveaway!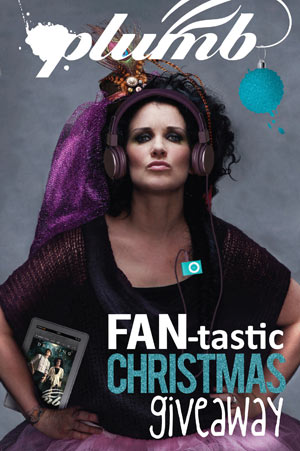 NEWS SOURCE: Biscuit PR
November 30, 2011
Nashville, TN - While Plumb is busy preparing her 2012 release Faster Than A Bullet she has still found time to not only record 2 Christmas songs - she's giving them away in The FAN-Tastic Christmas Giveaway.
Fans who "like" the Plumb Facebook page are able to download the two songs free by clicking the "FAN-Tastic Christmas" link on the page. Once they have the songs, fans can also enter the giveaway by spreading the word about the music with simple challenges. Prizes include fabulous stocking-stuffers such as a Kindle Fires, iPod Shuffles, CDs, Plumb merch and custom Facebook profile pics from Tiffany.
The song "What Child is This?" was recorded by longtime collaborator Matt Bronleewe, and her original Christmas song "It's Christmastime" was recorded with David Arnold.
The Plumb FAN-Tastic Christmas Giveaway will choose winners throughout the month of December, with the final Kindle Fire given on Tuesday December 20th.
Fans can receive their free download and sign up for the contest by clicking here: http://on.fb.me/PlumbChristmas
Plumb's seventh album Faster Than A Bullet releasing in early 2012, through Curb Records.
#####
For more info on Plumb visit the JFH Artists Database.