KIROS to Join The "REDvolution! 2012" US Tour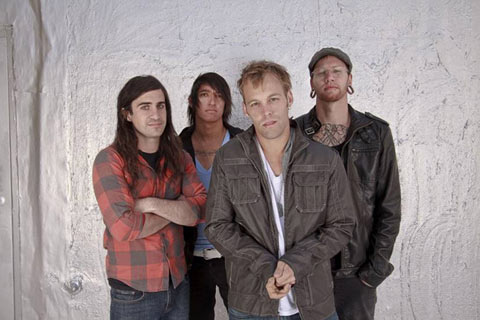 NEWS SOURCE: Century Media
January 19, 2012
Calgary's pop-rock quartet KIROS will bring their infectious and inspirational melodic rock across the US when they head out on the "REDvolution! 2012" Tour next month. Beginning in Rochester, MN on February 10th and wrapping up in Fort Wayne, IN on March 24th, KIROS will accompany influential modern rock acts RED, THOUSAND FOOT KRUTCH, MANAFEST and NINE LASHES on this exciting run. "We are very excited and honored to share the stage with such prominent and established artists! We're also ecstatic to be releasing our new record while on this tour and have these crowds be the first to hear our new music!" says vocalist Barry MacKichan. A full list of dates can be seen below.
This will be KIROS' first US tour in support of the forthcoming Ain't No Grave Records full length debut, Lay Your Weapons Down out on February 7th, 2012. After the release of their 3-song EP, Outlaws and Prodigals in September, KIROS fans demanded the group give them more new music. "Unshaken" is the first single that was released from Lay Your Weapons Down and not only has it received a great response from fans and at Christian radio, but it is also featured as one of the free downloads on FUSE TV's website and can be heard here.
The "REDvolution! 2012" Tour
2/10 - Rochester, MN @ Calvary Evangelical Free Church
2/11 - Thief River Falls, MN @ Ralph Engelstad Arena
2/12 - St. Cloud, MN @ St. Cloud Civic Center
2/17 - Richmond, VA @ The National
2/18 - Cary, NC @ Colonial Baptist Church
2/19 - Blountville, TN @ Celebration Church
2/24 - North Charleson, SC @ Northwood Baptist Church
2/25 - Jacksonville, FL @ Murray Hill Theatre
2/26 - St. Petersburg, FL @ Jannus Landing
3/8 - Corpus Christi, TX @ The Church of Acts
3/9 - Dallas, TX @ The Door
3/11 - Tulsa, OK @ ORU Mabee Center
3/15 - Las Vegas, NV @ Valley Bible Fellowship
3/16 - Redlands, CA @ Packinghouse
3/17 - Phoenix, AZ @ Castles and Coasters
3/21 - Wichita, KS @ The Cotillion
3/22 - Fort Smith, AK @ 180 Remix
3/23 - Sauget, IL @ Pop's
3/24 - Fort Wayne, IN @ First Assembly of God
For more information on KIROS, please visit:
www.facebook.com/kirosband
www.twitter.com/kiros
www.aintnograverecords.com
###
For more info on KIROS visit the JFH Artists Database.