AWARD-WINNING SINGER/SONGWRITER NATALIE GRANT
AND INTERNATIONAL SPEAKER & AUTHOR CHARLOTTE GAMBILL
CELEBRATE THE DEBUT WEEKEND OF DARE TO BE EVENTS

NEWS SOURCE: Merge PR
April 18, 2012
Nashville, Tenn –April 18, 2012 –This past weekend women in Oklahoma City and Lafayette gathered to celebrate the debut Dare To Be events. This revolutionary event features Nashville based four-time GMA Female Vocalist of the Year and 2012 GRAMMY Award® nominee Natalie Grant, alongside international speaker and author Charlotte Gambill.
Dare To Be, a brand new live women's event birthed from a realization of a dream from two close friends, kicked off its 2012 spring tour on April 12. The tour continues through April and May (dates below). Both events this past week included a packed house of women from all walks of life aiming higher, stretching further – rediscovering their God- given dreams.
Presented by World Vision and sponsored by Regent University, the Dare To Be nationwide events highlight Grant and Gambill's unique American, English combination. Each evening features Grant's musical talent and Gambill's powerful speaking, bringing to life a practical interpretation of God's word that remains alive for our everyday challenges.
In addition to the evening programming, Grant and Gambill are honoring a local extraordinary woman in every market – someone who is currently daring to be. Anyone can be nominated by sending a nomination email to info@daretoberevolution.com and sharing why the nominee should be honored.
Last weekend, two women were honored at the Dare To Be events. After a life of hardships and loosing her son in a tragic accident, the Oklahoma City honoree Fay Glenn remains a pillar of strength for those around her. In Lafayette, honoree Allison Prince is a wonderful example of a single mom working diligently to support her family while maintaining two jobs working 24-7 each week and still giving back to others in need. Crossroads Church partnered with Dare To Be and donated $1000 to Allison Prince in honor of her continuous dedication to her family and community.
What women are saying about Dare To Be:
"There really aren't words to express how amazing DareToBe was. If they're coming near you...GO!" ~ Tweet from @aguilbert
"Enjoyed "Dare to Be" in Lafayette, LA Had an AWESOME TIME!" ~ April, Facebook post
"Amazing weekend at Dare to Be in Lafayette, La. Thank you, the experience has forever changed me!!" ~ Jamie, Facebook post
"DareToBe rocked my world!!! I am forever changed...God encouraged me, challenged me & dared me to be" ~ Tweet from @karina268
"Such an inspiration!! Enjoyed tonight's Dare To Be." ~ Verna, Facebook post
"Dare To Be was amazing!! Thank you for the great messages!! Can't wait until tomorrow!! I'm blessed to have had the chance to be a part of something so great!!" ~ Allison, Facebook post
"Thank you for a wonderful evening in OKC. You and Charlotte spoke deep, meaningful and powerful words." ~ Roe, Facebook post
"Awesome tonight!!!! So inspiring and moving you guys rocked!!!! Thank you for an awesome show, your story was moving, and touching and so heartfelt. Thank you, Thank you, Thank you!!!! Best of luck with the rest of the tour." ~ Christina, Facebook post
Grant and Gambill are also asking women from around the world to join this movement and share how they "Dare to Be" - living for the one thing God has called them to be. Women can participate by writing their "Dare to Be" message on a piece of paper and signing it with their name and location. They are encouraged to take a picture while holding the sign and Tweeting the picture with the hashtag #daretobe or email to team@daretoberevolution.com.
Dare to Be dates & locations
Date City / State Location
April 24th Omaha, NE Bellevue Christian Center
April 26th Wichita, KS Countryside Christian Church
April 27th Austin, TX Shoreline Church
May 3rd Little Rock, AR Agape Church
May 4th Frisco, TX (Dallas) Hope Fellowship
May 5th Kansas City, MO Graceway
May 6th St Louis, MO Crosspoint Church
- ### -
ABOUT NATALIE GRANT AND CHARLOTTE GAMBILL:
No newcomer to the Christian arena, Grant's work has gained international acclaim, including a GRAMMY nomination and four consecutive Dove Awards for Female Vocalist of the year. She is married to producer Bernie Herms and they have three children Grace Ana, Isabella Noelle and Sadie Rose.
Gambill is an international speaker and author, best known for her practical and passionate application of God's word. Her messages of life and purpose are rallying a generation to embrace the broken and become ambassadors of hope. Gambill helps lead Abundant Life Church in England. She and her husband Steve have two children, Hope Cherish and Noah Brave.
For the first years of their friendship, Grant and Gambill ministered together on several occasions in the UK and USA. Complete strangers at first, God instantly knit their lives together. Now six year later, they are the closest friends and are excited to be walking out a purpose that God united them for.
For more information about Dare to Be events and to purchase tickets, please visit http://daretoberevolution.com/.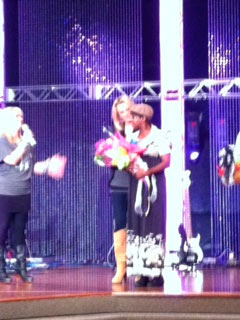 Oklahoma City honoree Fay Glenn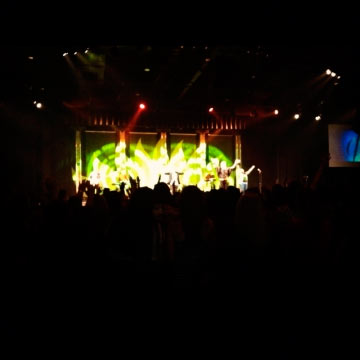 For more info on Natalie Grant visit the JFH Artists Database.