LOOKING FOR THE PERFECT 'FATHER'S DAY' READ FOR DAD?
"TO KILL A ZOMBIE" BY DAVID PIERCE OFFERS THE ANSWER!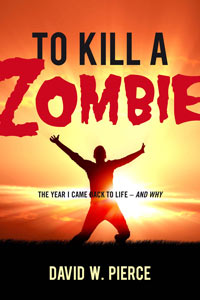 NEWS SOURCE: MorningStar PR
June 5, 2012
(Nashville, Tennessee) -June 5, 2012 -Men-need to restore your zest and vigor for life? The answer may not be in a little pill after all but between the pages of the new book from David W. Pierce-To Kill A Zombie (The Year I Came Back To Life-And Why).
From Leafwood Publishers, the new offering is a collection of stories of one man who was intentional about re-connecting with his fellow human beings. He took the challenge-killing the zombie within and ultimately offering readers the encouragement and challenge to find their own personal re-connection with God, faith, love, and inspiration that only comes from jumping into life feet first.
With wit, humor and practical strategies from a Christian prospective, To Kill A Zombie is the perfect Father's Day gift book from the women-and families-that have a dad who needs to re-energerize to the adventures of life all around him. The book takes readers on the kind of journeys many men only dream about as Pierce encourages guys to re-connect to the challenge of living life and taking faith to the limits.
An adjunct English professor, Pierce's journey towards writing To Kill Zombie began with the observation from his own wife, Chonda, that he had seemingly lost his own zest for life. His re-discovery of the renewed joy of living is a one-man expedition into the jungles of daily life that will both encourage and inspire.
To Kill A Zombie is the ideal companion for dad on a lazy summer day in the hammock -after the lawn is mowed!
About the Author: David W. Pierce was born in Nashville, Tennessee and received a master's degree in English from Middle Tennessee State University. An adjunct English profession since 1998, he has taught at Western Kentucky University and Taylor University in Fort Wayne, Indiana. He currently teaches at MTSU and Motlow State Community College in Middle Tennessee. His wife is nationally known Christian comedian, Chonda Pierce.
To Kill A Zombie
David W. Pierce
Leafwood Publishers
Trade Paper: $14.99
ISBN #978-0-89112-8
#####