REBECCA ST. JAMES: THIS WEEK TAKING HER MUSIC & MINISTRY TO A FOREIGN ROAD LESS TRAVELLED --JAPAN
Back In U.S. In Time For Salem Radio Network Concerts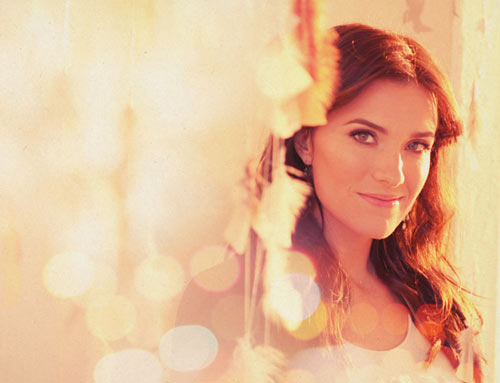 NEWS SOURCE: MorningStar PR
June 6, 2012
(Nashville, Tennessee) - June 6, 2012 --Recognized as one of the Christian music industry's most acclaimed foreign globetrotters, Grammy Award winning artist Rebecca St. James will take her music and ministry across the Pacific to Japan this weekend for a much anticipated concert and conference event at Yokota Air Force Base. The base located just outside of Western Tokyo is home to a military personnel community of more than 14,000.
"Rebecca this weekend has the very unique opportunity of reaching an audience of women in the military," notes Cathy Glenn. President of the International Protestant Women of the Chapel, and organizer of the event. The two day schedule will feature both a Friday concert and a Saturday "Deepen Your Roots" conference at which the Australian born singer and best selling author will speak.
"I saw Rebecca at a "SHE" conference she presented in the U.S. several years ago and from the power of her music and message I knew that she would be the perfect Christian speaker/performer to bring to Japan for this type of event," notes Cathy Glenn.
Rebecca will be back in the U.S. in time to continue her successful series of 2012 major market "Purity & Worship" concert dates for Salem Radio Network. She will be in concert on Friday, June 15 at Christ Place Church in Lincoln, Nebraska and at Omaha's Westside Church on Saturday, June 16 with both events being presented by Salem affiliate KGBI in Omaha.
With her for the "Purity & Worship" concerts will be her brothers Joel and Luke -now recording as successful duo for King & Country. Their highly- anticipated, critically acclaimed debut album Crave released in February has produced their second and current hit single The Proof Of Your Love. Now showing major connectivity nationally with Christian radio, September will provide the launch pad for King & Country's "Respect & Honor Tour scheduled to reach more than two dozen major markets.
For additional concert information resource: www.rsjames.com
Resource information on for King And Country: www.forkingandcountry.com
************
About Rebecca St. James:
Emerging on the music scene in the mid-90's while still in her teens, the Australian born St. James has become one of Contemporary Christian Music's most enduring and beloved artists, embraced by audiences worldwide. Her signature sound yielded 17 Top 10 singles (nine of which were No. 1) and two RIAA Gold Album certifications (commemorating sales of more than 500,000 units) for God (1996), as well as GRAMMY winning Pray (1999).
In addition to a successful recording and touring career, Rebecca is an accomplished author having released nine noteworthy Christian market titles including the popular devotional, Pure, (Hachette/Faithwords, 2009) that ranked in the Top 10 on the CBA Bestseller Chart. Her latest book release, What Is He Thinking?? has been embraced as a modern cultural handbook on Christian dating and marriage values.
While fully engaged in balancing the demands of recording, touring and authoring, this modern-day Renaissance woman made the decision in 2008 to pursue acting. Rebecca's first dramatic lead role in the film Sarah's Choice released in 2009 by Pureflix Entertainment and won both critical and audience acclaim for its strong pro-life message.
Having traveled the globe as an advocate of faith and values matters, ranging from purity to pro-life, Rebecca has been invited to speak or perform in a myriad of major venues including the White House and is a frequent guest on the highly rated FOX News show, "Hannity" anchored by Sean Hannity.
Rebecca St. James released her ninth career studio album, I Will Praise You, for the Provident Label Group in 2011.
For more information on Rebecca St. James' tour dates and events, please visit: http://www.rsjames.com/ and http://www.facebook.com/RSJames
# # #
For more info on Rebecca St. James visit the JFH Artists Database.