JENNY & TYLER'S OPEN YOUR DOORS YIELDS CRITICAL
ACCLAIM AS 'LITTLE BALLOON' TAKES FLIGHT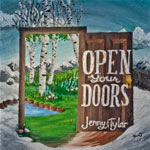 NEWS SOURCE: Turning Point PR
June 19, 2012
NASHVILLE, Tenn.— Open Your Doors, the latest full-length recording from folk/pop singer/songwriters Jenny & Tyler, released April 3 to widespread critical acclaim. Produced by Mitch Dane (Jars of Clay, Bebo Norman), the project features 10 selections written or co-penned by Jenny & Tyler Somers, along with two instrumental offerings.
CCM Magazine proclaims, "If you're looking for the next hot act (and if you're not already hip to them), then Jenny & Tyler are the husband/wife duo you've been searching for."
"…on Open Your Doors, Jenny & Tyler follow the lead of couples like Derek Webb and Sandra McCracken, with beautiful vocal harmonies and thoughtful arrangements," says ChristianityToday.com.
JesusFreakHideout.com praises, "…a highly-accomplished venture for any independent artist. Jenny & Tyler have already set themselves firm in many a listener's heart, and no doubt their old fans (and some new ones with a special taste for a rootsy folk style) will eat their newest effort up..."
The album's opening track, "Little Balloon," was penned by the couple during a season of personal struggle for Jenny. "This song was written in the midst of a time when I was trying really hard to be in a right relationship with the Lord," she says. "I was focusing so much on 'doing' that I failed to realize that what I really needed was to rest and be with the Lord. The song lands in a place of knowing that if the Lord has you in His hands, you can rest there, and He will not let you fall."
A music video for the song, produced by Yeah Yeah Creative's Tyler Evans and David Lavender, follows the journey of a single red balloon through the streets of Nashville. The unique concept was inspired by the Academy Award-winning 1956 French short film, The Red Balloon.
"He goes from a life of loneliness and despair — nearly deflating during a storm — to a place of fellowship and contentment," Jenny says of the balloon's symbolism. "When the guys at Yeah Yeah Creative suggested the concept I thought it was a beautiful interpretation of the song. Tyler and I are so pleased with the result."
Jenny & Tyler met as students at the University of Delaware where they began leading worship and writing songs together. Since their marriage in 2007, the couple has performed around the country in colleges, churches and homes, and has toured with such acclaimed artists as Sara Groves and Audrey Assad, among others. Open Your Doors is the duo's fourth full-length recording. Their previous projects include Faint Not; Love Came Down: Christmas EP; This Isn't a Dream; and A Prelude. Jenny & Tyler support the work of International Justice Mission (IJM) to fight human trafficking.
For further information, visit www.jennyandtylermusic.com