Paul Baloche, Travis Ryan Hit the Road For "Brown Bag RV Tour,"
With FREE Concerts In GA, NC, SC, TN, VA, MD, PA, DC
Baloche, the Dove Award Winning Writer of "Above All," and "Open The Eyes of My Heart," and Ryan, the Worship Leader for Rick Warren's Saddleback Church, are Joined by Newcomers Hayley Morgan Smith and Allan Scott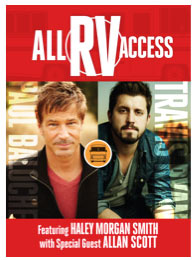 NEWS SOURCE: Indie Music
June 21, 2012
Dove Award winning songwriter and worship leader Paul Baloche ("Open The Eyes of My Heart," "Hosanna," "Above All," "Your Name") hits the road June 25 for a "Brown Bag" tour with his Integrity Music labelmate and Saddleback Church worship leader Travis Ryan, ("Fearless," "Jesus, Precious Jesus"). The two are joined by recording artists Haley Morgan Smith and Allan Scott for free worship concerts hosted by Christian radio stations in Georgia, South Carolina, North Carolina, Tennessee, Virginia, Maryland, Pennsylvania and Washington, DC.
In time for the summer road trip season, the foursome will be traveling in an RV to the following locations where radio listeners are invited to bring a "brown bag" breakfast, lunch or dinner while they enjoy a free concert at either the station, a local church or nearby LifeWay Christian store. The tour includes a special concert for the soldiers and their families at Fort Bragg in Fayetteville, NC, to which the public is also invited. And a worship music workshop hosted by Baloche and Ryan is planned for the DC area. (Commemorative "All RV Access" lanyards will be given to local worship/ministry leaders and Christian radio VIPs in each area.)
Monday, June 25
Noon - Hosted by WAFJ - Augusta, GA (Location: KROC Center, 1833 Broad Street)
7:30pm - Hosted by WCLN - Fayetteville, NC (Location: Fort Bragg)
Tuesday, June 26
10am - Hosted by WMHK - Columbia, SC (Location: 7435 Monticello Road)
7pm - Hosted by WLFJ - Greenville SC (Location: The Channel, 221 North Main Street)
Wednesday, June 27
Noon - Hosted by WCQR - Johnson City, TN (Location: Summit Leadership, 3104 Hanover Road)
5pm - Hosted by WHJB - Kingsport, TN (Location: LifeWay Christian Store, 2626 East Stone Drive, No. 10)
Thursday, June 28
10am - Hosted by WPER - Lynchburg, VA (Location: LifeWay Christian Store, 3901 Wards Road)
7pm - Hosted by WRBS - Baltimore, MD (Location: Faith Baptist Church, 7378 E. Furnace Branch Rd, Glen Burnie MD)
Friday, June 29
7am - Hosted by WJTL (Live Concert on the air) - Lancaster, PA (Location: 1875 Junction Rd. Manheim, PA)
Noon - Hosted by WCRH - Hagerstown, MD (Location: 12146 Cedar Ridge Road Williamsport, MD)
5pm - Hosted by WGTS - Washington, DC (Worship ministry workshop held at Capital Church located at 10233 Leesburg Pike, Vienna, VA)
8pm - Hosted by WGTS - Washington DC (Location: Capital Church at 10233 Leesburg)
*Additional tour information for Integrity Music's worship leaders can be found at http://bnds.in/Lr1yLC.
For more info on Paul Baloche visit the JFH Artists Database.