SHOW HOPE'S RED BUS PROJECT
RAISES MORE THAN $21,000 FOR ORPHAN CARE,
REACHES MORE THAN 67,000 STUDENTS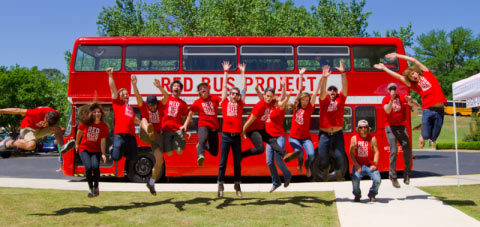 NEWS SOURCE: Merge PR
June 25, 2012
Nashville, TN - June 25, 2012 - Thousands of students from 25 colleges throughout the southeast contributed more than $21,000 to help provide waiting orphans with forever families through Show Hope™ adoption grants. In the process, more than 67,000 students were exposed to Show Hope's Red Bus Project this spring in the newly launched orphan care program featuring a British double-decker-bus-turned-rolling-thrift-store.
Show Hope is a movement to care for orphans founded by Steven Curtis Chapman and his wife Mary Beth, and this nonprofit organization created the Red Bus Project to engage college students to actively care in an ongoing way for the millions of orphans around the world.
This past spring, the unique initiative gave students an opportunity to give and buy clothes on the red double-decker bus to raise funds to help orphans find forever families. Stationed for a day in high traffic areas at various college campuses throughout Tennessee, Georgia, Kentucky and Alabama, the Red Bus Project saw visitors of all ages visit the bus and buy and donate clothes, all the while helping orphans around the world.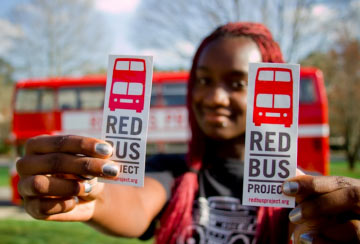 "We knew students would respond, but to buy over twenty grand of clothes was amazing," said Chris Wheeler, Show Hope's Director of Student Initiatives, responsible for overseeing the Red Bus Project.
In the evening, an outdoor concert featuring the Franklin, Tennessee indie band CALEB, attracted crowds that were directed to the bus for shopping after the concert. Lead singer Caleb Chapman (son of Steven Curtis and Mary Beth Chapman) played an instrumental role in creating the Red Bus Project. "I'm so excited to see the Red Bus Project happening. To see hundreds of college students getting pumped about helping orphans is a dream come true."
Ensuring that students continue to be engaged in orphan care activities after the on-campus event is at the heart of a robust post-tour student engagement strategy. More than 5,000 students who signed-up will receive regular action updates through social media and email. In addition, Red Bus Project student leadership teams have been established on 28 campuses to provide on-campus leadership.
"Our goal is not to just swoop on to a campus, have a fun event, then leave and never be heard from again," comments Wheeler. "We have a very intentional strategy in place to move students progressively towards deeper and deeper engagement in a lifestyle of orphan care. We are asking them 'What is your Red Bus?' - a metaphor for specific actions they will take to help the plight of the orphan."
"We've been thrilled by the response so far," said Scott Hasenbalg, Executive Director of Show Hope. "Students appreciate an 'out of the box' way of helping care for orphans."
More information is available at Facebook.com/redbusproject or RedBusProject.org.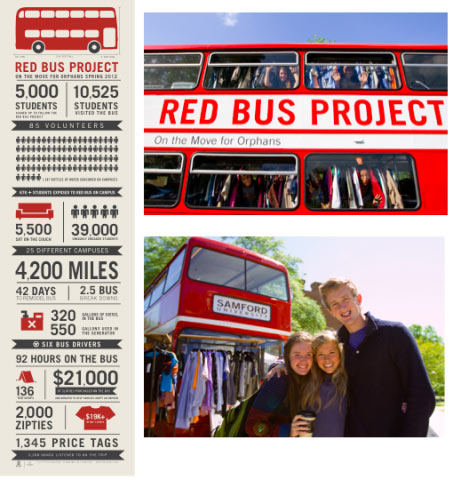 About Show Hope:
A ministry founded in 2003 by Steven Curtis Chapman and his wife Mary Beth to help care for the millions of orphans around the world, Show Hope helps to provide waiting orphans with forever families by giving financial grants to adoptive families. To date, Show Hope is now an internationally recognized voice for orphan advocacy and has given more than 3,200 financial grants, affecting the lives of children from 50+ different countries, including the U.S. In addition to giving financial grants, Show Hope also empowers families, churches and communities with adoption and orphan care resources and advocacy efforts to change the world for orphans.
Show Hope, expanding its remarkable worldwide impact, also provides for orphans with special needs in China through its Special Care Centers. One of these centers is Maria's Big House of Hope, a six-story healing home facility located in Luoyang, China. Opened in the summer of 2009, its mission is to provide the highest level of care for orphans who are in desperate need of surgeries and medical attention, thus enabling the children to thrive and increase the orphans' chances of being adopted. Additional centers have opened in the Henan province of China, operating in two state-run orphanages as an extension of the care being provided at Maria's Big House of Hope.
The Chapmans were most recently recognized for their adoption advocacy by The Christian Alliance for Orphans (CAFO) who presented them with the The Defender of the Fatherless Award. The Chapmans received the award this spring before 2,000 advocates of orphan care and adoption at the Christian Alliance for Orphans' Summit VIII, held at Saddleback Church in Lake Forest, California. Each year, the Defender of the Fatherless Award honors bold and sacrificial leadership that has inspired the church and transformed children's lives. Mary Beth and Steven Curtis Chapman were recognized for the immense impact they have had in re-awakening Christians to God's call for orphan care through Show Hope.