Daily Audio Bible Offers Hope to Rwanda's Children
A summer project has united a Nashville community who came together to build a state-of-the-art classroom that is being shipped to Rwanda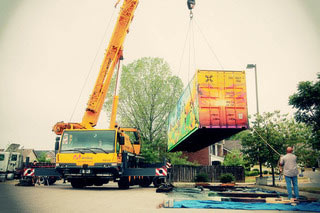 Pictured: Daily Audio Bible's state-of-the-art classroom is loaded onto a truck in Spring Hill, TN on July 9th, for the first part of a long journey to Butare, Rwanda.
NEWS SOURCE: Nashville Publicity
July 18, 2012
(SPRING HILL, Tennessee) -- In an effort to unite and engage the local community in their hometown of Spring Hill, Tennessee, Daily Audio Bible announced in May a monumental community project that would allow volunteers to literally change lives on the other side of the planet.
In mid-May, a 40-foot cargo container arrived in the parking lot of Daily Audio Bible's Wind Farm Café. Over the next two months, the container was transformed into a state-of-the-art classroom, complete with computer equipment and school supplies.
"The classroom will be a gift from the Daily Audio Bible and the people of Spring Hill, Tennessee," says Brian Hardin, founder of Daily Audio Bible. "It's a gift from our children to their children."
On July 9th, the container was picked up by a truck headed for Memphis, where it will be placed on a train headed to Savannah, Georgia. From there, it will be loaded onto a cargo ship headed to Africa.
"We thought this was poetic because Savannah was one of the largest slave ports," says Hardin. "It was a port that literally dealt in human cargo, so for us, to be able to ship this gift back to Africa from this port felt appropriate."
The container will eventually arrive in Butare, Rwanda, where in October, Daily Audio Bible team members will arrive to set up the classroom and serve those in need in the land torn by genocide.
"This was a lot harder than we thought it would be, but in hindsight, that seems appropriate," says Hardin. "Things that are built to last take time, and I believe as much was built inside the community as was built into the walls of the classroom. Our love and hearts are in that place and I pray that love comes rushing out into Rwanda when the doors swing open on the other side of the world."
About Daily Audio Bible
With over 1.5 million listens monthly and nearly 52 million downloads, Daily Audio Bible is one of the most-listened-to podcasts in the world. Created by Hardin in 2005, Daily Audio Bible is one of the world wide web's biggest success stories, and is now available in five languages, including the newly launched Arabic format. For more information, visit www.dailyaudiobible.com.
# # #