PLATINUM SELLING FLYLEAF
RETURN WITH FIRST SINGLE IN THREE YEARS
"NEW HORIZONS"
Available Tomorrow On iTunes

Band's Third Album Due Out On A&M/Octone This Fall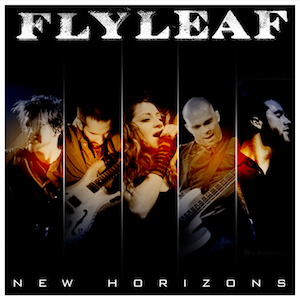 NEWS SOURCE: SKH Music
August 20, 2012
New York, NY - A&M/Octone recording group Flyleaf will release their first new single in three years tomorrow morning. "New Horizons" is the first new track and the name of the band's forthcoming third album. Full details about the album and the release date will be announced shortly.
"'New Horizons' expresses a feeling of looking toward the unknown future with hope," commented bass player Pat Seals.
Formed in Central Texas in 2002 when long-time friends Sameer Bhattacharya (Guitar) and Jared Hartmann (Guitar) merged their considerable talents with James Culpepper (Drums), Lacey (Lead Vocals), and later Pat Seals (Bass). Flyleaf quickly became a touring force on the road supporting their first two albums between 2005-2010. A break followed as Lacey and her husband announced her pregnancy in 2010 and gave birth of their baby boy in 2011.
The band regrouped in the studio last year and began work on their forthcoming album.
Their debut self-titled album has now sold 1.3 million copies and is certified Platinum. "All Around Me" reached the Top 10 on Top 40 Radio. Flyleaf have also charted six singles at modern and rock radio.
Flyleaf's last album, Memento Mori, debuted at #8 on the Billboard Top 200 album chart and has gone on to sell over 325,000 copies in the US alone. "Again" from the album went all the way #2 at Modern Rock Radio (Breaking through the #1 and #3 spots held by Muse).
For more info on Flyleaf visit the JFH Artists Database.