AMERICAN IDOL SEASON 11'S COLTON DIXON AND 19 ENTERTAINMENT SIGN MAJOR RECORDING DEAL WITH EMI CMG LABEL GROUP/SPARROW RECORDS
DIXON TO RELEASE DEBUT ALBUM FEBRUARY 2013
SINGLE "YOU ARE" TO IMPACT RADIO THIS OCTOBER 19th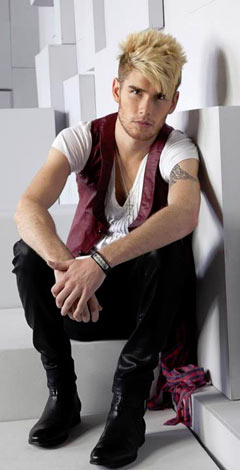 NEWS SOURCE: Rogers & Cowan
September 5, 2012
Nashville,TN - Colton Dixon, American Idol Season 11 top-10 finalist, signed a major recording deal with EMI CMG Label Group/Sparrow Records today. The deal was jointly announced by the label and Dixon's management, 19 Entertainment. Colton Dixon's highly anticipated debut album will be released February 2013, and his first single, titled "You Are" is set to impact radio October 19th.
"We are extremely excited to partner with 19 Management in presenting Colton Dixon's recorded music to the world," says Peter York, President of EMI CMG Label Group/Sparrow Records. "His successes on American Idol exposed his vocal abilities to millions of viewers. He is a world class vocalist with passion, a mission and a sincere depth of character. We are honored to bring his recordings to those fans that have championed him along his musical journey and introduce him to those who have not yet had the pleasure."
Adds Jason Morey, EVP and Worldwide Head of Music at 19 Entertainment, "We are looking forward to Colton releasing an album that is a reflection of who he is as an artist. He has the unique ability to connect with his fans through his music and we are proud to support him as he takes his next step into stardom."
Colton Dixon is a Tennessee native, and spent his high school years at Middle Tennessee Christian School. Following his American Idol elimination this year, Dixon participated in the American Idol LIVE! Tour and debuted "Never Gone," an original song which will appear on his upcoming album. His performance of "Never Gone" marks the first time an Idol contestant has performed an original song, which he or she has co-written, on any American Idol tour. American Idol LIVE! 2012 consists of 46 dates and will wrap on September 21st in the Philippines.
Says Dixon, "Two of the most important things in my life have always been my faith and my music. I am now blessed with the chance to combine both of these passions in working with 19 recordings/EMI CMG. With their support, I know I will be able to make an album that I am proud of and showcases who I am as an artist." Dixon's past television performances include The Tonight Show, The Ellen DeGeneres Show, The Today Show, Live! With Kelly, and Access Hollywood.
#####